Our new site is now ten days old and we're continuing to get feedback from readers. My first blog listed some of the comments we'd had to date, and our response to them. I'll keep blogging to update readers on the latest feedback.
We did our first post-launch release on Tuesday to mop up some of the launch bugs. We noticed soon after launch that all articles on the print table of contents were showing "web extra" immediately underneath. This has now disappeared. There were some missing articles from the the 1970s until 1993. Most of these are now showing again.
One feature we planned to have for launch was the ability to see quickly which articles had rapid responses from the homepage and four channel pages (research, education, news, comment). These are now appearing alongside other related links (podcasts, blogs, editorials). See below: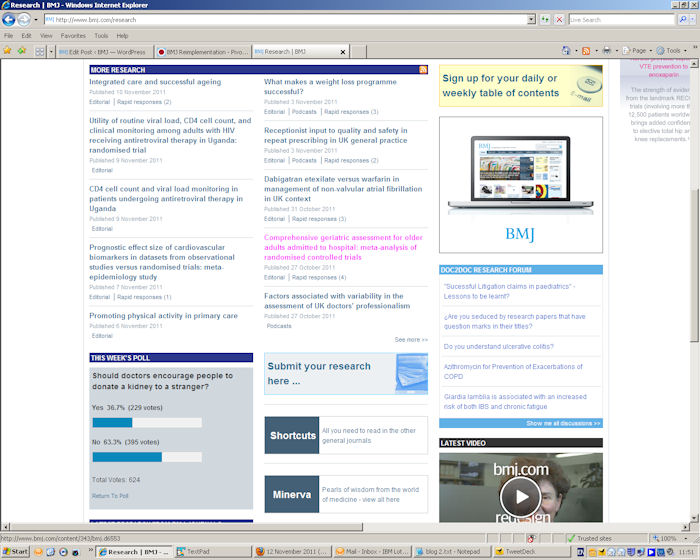 Some of you reported US dates on some sections. We have removed most of these. If you spot any others, do please let us know at bmjredesign@bmj.com
We also noticed that co-author details on rapid responses were not displaying. They should be now.
Non-article pages on the new site do not look great on mobile phones (although it does look lovely on the iPad). Many thanks to those of you who pointed this out on Twitter and via the redesign email. Our next release is set to go live at the end of next week, and we hope to fix this issue by then. Early signs look promising. We saw this on our development site yesterday and it looked lovely on both iPhone and Android devices. One project for 2012 is to get the site working even better on mobiles.
The new site launched with the facility to see how many views an article had had month by month, counting abstract/extract, full text and pdf. This should update daily, but we've noticed that it hasn't been. This has been logged and we hope it will be corrected soon.
We've also been notified that some "web extra" data supplements are not displaying. Again, we hope to fix this soon, and apologies if you are having trouble finding them.
We hope readers are using the Add article to BMJ portfolio facility. This replaces the old "add articles to folders" link. Some of you have been in touch to ask how to access saved articles in folders. I've updated our FAQs with the link. If you have used folders in the past and want to access them, go to http://journals.bmj.com/cgi/folders.
For more information about BMJ portfolio, go to http://learning.bmj.com/learning/info/portfolio_help.html
As I mentioned in my first blog, we hope to do site updates on a fortnightly cycle until Christmas, with our main focus on sorting out glitches. We were not able to launch with the ability for readers to sign up for alerts each time a correction or rapid response is posted. We hope to have this fixed before Christmas.
2012
This week we met to discuss our plans for 2012. We'll be conducting a user survey early in the New Year, and the feedback from that will inform what changes we make over the year.
We have some changes scheduled already. These include the ability to filter content types on the quick search. Our advanced search trawls articles only. The quick search now includes rapid responses, podcasts, pages from our About BMJ section, and articles. We plan to give readers the ability to limit which content types the quick search covers.
Many thanks again to all of you who have fed back. Please keep your feedback coming at bmjredesign@bmj.com, or by responding to this blog, of course. And don't forget to watch our video guide to the site. There's also a podcast and editorial explaining the new features, and our FAQs.
David Payne is editor, bmj.com