Latin America, and the global tobacco control community, lost a champion of public health on 1 May 2016. Yul Francisco Dorado was born in Popayán, in southwest Colombia, where he completed his studies in Law and Political Science. At a young age he became interested in the right to health and environment. He became a key leader in the fight against tobacco in Latin America.
With a postgraduate degree in Public Law, he moved to Chile and worked for Consumers International. In 2003, he returned to his native Columbia, where he later established the Latin America regional office of Corporate Accountability International.
Over the last 13 years, he devoted himself to contributing to the creation of national and international networks for tobacco control, as well as the protection of the right to water and healthy environment. His dedicated work as an advocate led him to find a way not only among international organisations, but also among health authorities, the media and general public opinion, for Latin America to trigger alarms on the epidemic of tobacco-related disease and death.
He was a key figure in the movement within Latin America to implement the standards and laws provided by the WHO Framework Convention on Tobacco Control. He worked energetically on high impact campaigns to prevent tobacco consumption, especially among minors. Every year, on May 31, Yul Francisco addressed the media to promote a message during the celebration of the World No Tobacco Day.
Governmental entities understood Yul Francisco's fight, not only in Colombia, but at an international level. Before he joined Corporate Accountability International in 2005 as Director for Latin America, he worked for Consumers International, supervising and supporting the ratification and implementation processes of the FCTC in Chile, Colombia, Ecuador, Guatemala and Costa Rica.
He travelled all around the world, bringing a message of solidarity and friendship to all meetings, winning the affection and recognition of several international organizations.
Yul Francisco Dorado was a determined leader, teacher and relentless health advocate. His work will live on through his many friends and colleagues who have learned from, and been inspired by him.
Dr Vera Luiza da Costa e Silva, Head of the FCTC Convention Secretariat, paid tribute to his legacy:
"Yul's impact on the tobacco control movement has, and will undoubtedly continue to save millions of lives. His work has ensured that people are valued above the profits of the tobacco industry and that this industry will no longer be allowed to have a voice in public health policy. Yul will be sorely missed and our COP meetings will never be the same as they will miss his kind and strong presence. Nevertheless, his legacy will live on for its support to the WHO Framework Convention on Tobacco Control".
Yul's colleage at Corporate Accountability International Patti Lynn, expressed the personal sadness of many of his friends and colleagues:
"Yul Francisco Dorado, our beloved Latin America Director and dear friend, died on 1 May after a life that touched and inspired so many of us. Yul was recently diagnosed with cancer, and was in Bogota with his family. He was surrounded by love and left in peace. Yul loved life. He loved his family – they were his heart and strength and joy. His colleagues became dear friends and there are so many of us around the world that have learned from and loved Yul. Today is a sad sad day and our hearts are breaking. All of our hearts and prayers are with Yul's family now. And even through our tears we see Yul's smile.
We think of how he believed we could accomplish what seemed impossible. And we are deeply grateful for the spirit and determination that he brought to the corporate accountability and tobacco control movements. The FCTC and its implementation are so much stronger for Yul's work and vision. And we who worked alongside, knew and love Yul are stronger too. We will continue to believe in and accomplish what seems impossible is his spirit. And we will be here for each other now, with care and warmth as he would, to support all who love him through this incredibly sad time."
Yul Francisco Dorado is survived by his wife and three sons.
More:
Click here to read a celebration of his life by Corporate Accountability International Executive Director Patti Lynn
Video interview with Yul at the 2012 World Conference on Tobacco or Health, speaking about an award for Coporate Accountability International's work: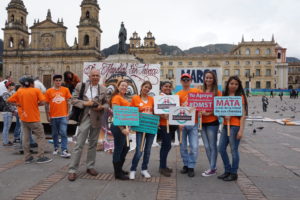 (Visited 451 times, 1 visits today)