Photo and report credit: Dr Łukasz Balwicki, Polish Society for Health Programs
A seminar entitled "Protecting children from tobacco industry's marketing" took place at the Ministry of Health in Warsaw, Poland, on May 29, 2013. The objective of the seminar was to integrate efforts for effective enforcement of ban on tobacco advertising, promotion and sponsorship.
The seminar was a joint initiative of the World Health Organization Country Office in Poland, Ministry of Health and Smoke Free Poland Partnership, which provided an opportunity to establish a discussion of the current state of law enforcement and protecting children against Big Tobacco marketing manipulations.
The meeting was accompanied by a photographic exhibition featuring examples of tobacco industry violation and circumvention of TAPS bans at sport events and other cultural, educational, social and political activities.
An example of a poster prepared for the exhibition: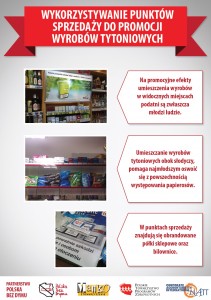 (Visited 215 times, 1 visits today)