Yesterday's opening plenary at the WCTOH 2012 was simply dynamite – one of the best sessions I have attended. (The only downer being that that the ballroom isn't big enough to accommodate all conference attendees.) Health ministers from Turkey, Uruguay, Australia and Norway took part in an exciting and inspiring panel discussion on how they are countering tobacco industry litigation and defending essential public health legislation. I got the real sense that tobacco industry legal threats are no longer as intimidating to governments – this will surely have a knock on effect to other countries once these court challenges are successfully resolved.
The plenary chair, WHO head Margaret Chan was passionate and frank (and surprisingly funny too). Delegates were pleasantly surprised at her "all guns blazing" approach. She also pledged that regional WHO staff would be empowered to act and speak as freely on vital tobacco control policy reform.
An interesting challenge was issued at the plenary by Greg Connolly – he believes there is no need for WCTOH after 2030 as this must be our target date of ending the global tobacco epidemic. When countries like Indonesia have yet to join the game, can we really be talking about endgame scenarios in tobacco control? What do you think?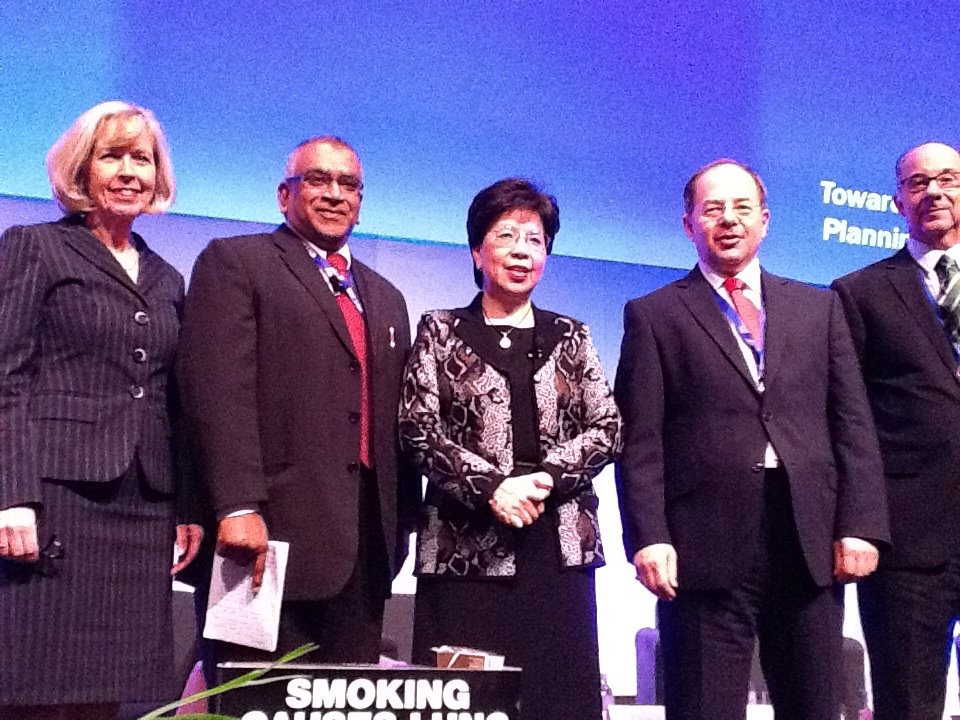 Margaret Chan (centre) with world leaders in tobacco control (photo courtesy of Elif Sezginer Dagli)
The Luther Terry Awards were also presented last night and an extra special shout out of warm congratulations goes to the recipients, all of whom have helped shape this journal over the past 20 years:
Stan Shatenstein (Canada), Mike Daube (Australia), Martin Raw (UK), Yussuf Saloojee (South Africa), Prabhat Jha (Canada) Melanie Wakefield (Australia), Mira Aghi (India)
And now for a few Twitter highlights from yesterday's sessions:


(Visited 119 times, 1 visits today)