Blog by Lisa P. Michelson, M.A., M.Phys., and Sara J. King, B.S.
Acknowledgements: Aaron Fox, Quinta Fernandes, Santiago Bejarano Hernandez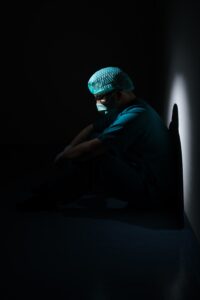 "You – hold pressure on the thigh wound!" "Peds Surg is on their way!" "Placing a second IV." "How much Morphine has he gotten?" "Can someone distract him with his bear?" These are the voices heard within the emergency room of a North Carolina hospital as the team cares for a six-month-old child shot through his bedroom window in a drive-by shooting. A medical student was tasked with holding a bloodstained teddy bear above the child's screaming face. This is just another trauma added to the collection of traumas experienced by medical students in the midst of clinical rotations. Trauma—the lasting psychological and emotional response to a distressing or disturbing event—is a regular experience for established clinicians. Many healthcare professionals have published reflections describing the traumas they have experienced on the job to help themselves as well as others destigmatize and cope with the emotions they feel following life-altering events.1 Yet few articles have recounted medical students' perspectives on the trauma we experience during clinical training. We aim to shed light on this underrepresented point-of-view, particularly in the thus-far tumultuous years following 2020.
When the world shut down in March 2020, those of us on clinical rotations feared spreading the COVID-19 virus, feared our family members might die, and feared we would become sick. When the COVID-19 vaccines were authorized, we hoped for a healthier nation. We thought patients would be begging for vaccinations, but were greeted with their emphatic refusals, even after exhaustive and informative vaccine counseling. We battled misinformation in the news, on social media, and amongst our own friends and family. We watched unvaccinated patients enter the ICU, sedated and intubated; some of them never left. These disputes became our norm. It was beyond disheartening.
When the Black Lives Matter movement gained significant momentum in May 2020, following the murder of George Floyd, we heard and witnessed painful stories of prejudice and inequity from our patients, our peers, and even from those of us who had felt its trauma directly. Not only did the movement highlight police brutality toward the African American population, it brought to the forefront the pervasive and systemic racism built into every aspect of American society, including healthcare. As two white women, our privilege to practice medicine without concern about the color of our skin became glaringly noticeable. Recognition of race as a social determinant of health was not just a factor in developing treatment plans, but also a factor in how our peers of color experienced medical training.
When a mass shooting in Uvalde, Texas on May 24, 2022 claimed the lives of nineteen elementary school students and two teachers, many of us in medical school grieved with the rest of the nation. We have seen the results of these horrific acts in trauma bays and operating rooms, It is shocking to see a teenager lose an eye, their life forever changed, because of a disagreement with a peer who had a gun. While medical students are often to the side of direct treatment within trauma bays and OR rooms, we too absorb the grief when we watch a patient die at the hands of another.
When the United States Supreme Court made a monumental decision by overturning Dobbs v. Jackson on June 24, 2022, a ruling that allowed individual states to make abortion illegal, as medical students, we were angered and distressed. We have witnessed therapeutic abortions save the lives of mothers who desperately wanted to give life and would have carried those pregnancies to term if they could, and we have seen what unsafe abortions look like in those without adequate access to healthcare. We have witnessed the benefits of abortion as a treatment, but now we must simply ignore this therapy. This is incredibly distressing not only for those of us wanting to pursue this type of care in our career, but for us as friends, as family members, and as women.
Although these four traumatic and historically significant events appear to be independent from each other, our medical school education highlights how they directly correlate with social determinants of health (SDOH), the nonmedical factors (e.g. social, racial and economic conditions) that impact an individual's physical and mental health.2 Yet vaccine accessibility, health literacy, racism, gun violence, abortion rights, and access to life-saving treatment are not just examples of SDOH; they also trigger traumatic events. We recognize that witnessing and, for some of us, experiencing the negative impacts of SDOH has left an indelible mark. Sadly, we also realize that medicine is not the solution to these weighty, far-reaching problems.
Learning about the impacts of SDOH versus living through the traumatic events they cause are two drastically different experiences. We wrote this piece as medical students studying in an unprecedented time filled with social, racial, and economic inequities, but also as human beings seeking a cathartic release for all the trauma surrounding us, whether we have witnessed the events or experienced them ourselves.
While we wish none of these events had happened, that 2020 and the years that followed in its wake could be taken back, the reality is our collective trauma. People should continue to share their stories, especially if their viewpoints are not often seen in publications. People seek out the narratives of those who endured similar traumas, looking to the writers for guidance on how to overcome their own tragedies. We thus encourage healing through storytelling, and hope to see more narratives of lives lived in the wake of 2020 that reflect diverse viewpoints.
To those who find themselves reading and relating to our narrative, write about your experiences and traumas; add a voice to your experience and allow yourself to begin the healing process.
References
[1] Allan D. Peterkin and Adrienne A. Prettyman, "Finding a Voice: Revisiting the History of Therapeutic Writing," Medical Humanities 35, no. 2 (December 2009): 80-88, https://doi.org/10.1136/jmh.2009.001636
[2] "Social Determinants of Health at CDC," Centers for Disease Control and Prevention, last modified December 8, 2022, https://www.cdc.gov/about/sdoh/index.html
Lisa Michelson and Sara King are medical students at the University of North Carolina School of Medicine (UNC SOM). Ms. Michelson and Mrs. King were leaders of the Clinical Ethics Discussion Group at UNC SOM, as well as appointed members to UNC's Hospital Ethics Committee.
(Visited 175 times, 1 visits today)