Humanitarian Evidence Week (HEW) is a week of both virtual and online events co-ordinated by the UK charity, Evidence Aid, which since 2004 has championed evidence-based approaches to humanitarian action. Additional support for HEW 2018 is provided by the Centre for Evidence-based Medicine (CEBM) at the University of Oxford.
This annual event takes place in November this year and will feature a series of roundtable events, webinars, discussions, workshops, blogs and more. 2017 was HEW's inaugural year, with over 20 participating organisations and hundreds of events having taken place throughout the week. HEW 2018 offers to build on this success to offer an exciting range of events for all interested in evidence-based practice in humanitarian action.
To find out more about HEW and ways to get involved, please visit Evidence Aid's events page for the event at http://www.evidenceaid.org/events-and-training/hew/. As HEW draws closer we shall be posting further articles about the event here at the Medical Humanities blog.
A flyer for HEW is available here: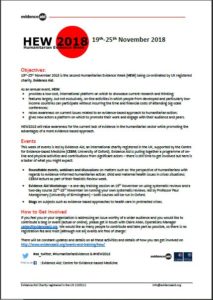 (Visited 314 times, 1 visits today)