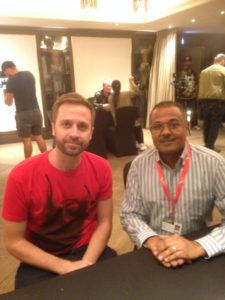 Review of The Wound (Inxeba), directed by John Trengove, South Africa
Winner of the best first feature film award, London Film Festival 2017
Opening film for Film Africa Festival, London, 27th October,
Recently Lesbian, Gay, Bisexual and Transgender (LGBT) issues have been the subject of heated debate in South Africa. While South Africa remains the only African country to legalise same-sex marriage, the incidence of crimes triggered by homophobia have risen over the last five years. 'Corrective' rapes are serious rape assaults perpetrated with the intention to 'cure some women of being lesbians'; sadly, these hideous crimes have been headline news of late.
The Wound tells the story of Kwanda (Niza Jay) a teenager from Johannesburg whose father takes him back to the village to become a 'man' following circumcision. The father, who comes from the Xhosa community, wants his son to go through the traditional circumcision rituals where a group of teenage boys stay in the mountains for two weeks to have the procedure done. Basic instruments such as scalpels and razor blades are used to perform circumcision, followed by a period of 'wound healing'. Each teenage 'initiate' is assigned to a caregiver, an older man who will train them on the 'rules of masculinity'. Kwanda's caregiver Xolani (Nakhane Toure) happens to be a closeted gay man who is secretly in love with another caregiver, Vija (Bongile Mantsai). To make matters more complicated, Vija is a married man with young children. The storyline follows these three characters struggling with their hidden desires, and homophobia till the devastating film end.
John Trengove, film director states: 'I wanted to make a film about same-sex desire set in Africa to challenge the notion that homosexuality is un-African, and that it is a threat to traditional African cultural and moral beliefs. I wanted to tell a story of a young boy going through the rites of passage to manhood navigating his way in the secret world of older men. Circumcision is a defining moment in a man's life, and in South Africa it is very much a male-dominated closed-door society'.
It is clear that John Trengove's motivations were not to criminalise the circumcision procedure. On the contrary he shows the occasional positive accounts of solidarity, bonding and resilience these young men show in the face of such an ordeal. Reflecting on the film, Trengove comments: 'The procedure is emotionally traumatic, but there are common beliefs in the Xhosa community (the second largest indigenous population in South Africa) that circumcision cures homosexuality.  Admittedly there are liberal views about same-sex relationships in major cities and urban areas, but in rural areas, homophobia is still rife. Conceptualising attitudes towards homosexuality in South Africa is complicated by the presence of different attitudes towards it in various points in time; in some regions, same-sex relations between adolescent men are seen as a preparation for later heterosexual relations and marriage. However if the same men, once they become adults, continue to harbour feelings towards other men, then they have to flee from their villages to avoid discrimination and ridicule. Such intolerance towards men having sex with men (MSM) remains a taboo, and explains the secrecy shrouding Xolani and Vija's affair'.
In making the film, Trengove and co-script writers Thando Mgqolozana, and Malusi Bengo recorded testimonials from several men from all walks of life, of gay and straight orientation. Working primarily with a cast of local non-professional actors from the Xhosa community, Trengove made a film of great authenticity and impact. A big part of the film's believability relies on the sensitive acting delivered by the three leads; Nakhane Toure is a well known South African singer and song-writer in his acting debut, Bongile is a theatre actor and Niza is a drama student.
With the noticeable rise of homophobia in Africa, The Wound is a serious step towards opening up a civilised debate around gender, sexual identity and human rights in South Africa and beyond. The recent film screening in Witwatersrand University in Johannesburg generated strong responses from demonstrators campaigning outside the screening venue both in favour of and criminalising the LGBT cause. The Wound has been selected to be the South African entry for best Oscar foreign film competition in 2018.
(Visited 1,375 times, 3 visits today)