After the great #FGDebate with Professor Andres Cardenas, we are delighted to announce our next #FGDebate will be with Dr Mark McAlindon (@rockinbanjo), Consultant Gastroenterologist and Capsule Endoscopy expert, Sheffield NHS Teaching Hospitals, on Tuesday 7th July 2015, at 8-9pm GMT and will discuss, 'Frontline Capsule Endoscopy: The end of the endoscope is nigh'.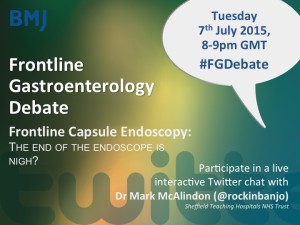 Dr Mark McAlindon BM BS, MRCP(UK), DM is a Consultant Gastroenterologist in Sheffield Teaching Hospitals NHS Trust and Honorary Reader at the University of Sheffield. He trained in Nottingham, Stoke-on-Trent and Melbourne, Australia. He received the British Digestive Foundation Research Training Fellowship between 1994-1996. He is currently the South Yorkshire Health Authority Clinical Lead for the National Endoscopy Programme and Co-director of the European Capsule Endoscopy Castle Course. He is a past member of the BSG Small bowel and Nutrition Committee and current member of the BSG Endoscopy Committee. He was the Previous chair of the UK Capsule Endoscopy Users Group.
Amongst his awards he was winner of the Medipex Innovation Award for the Small Bowel Endoscopy service and the Health Service Journal Patient Safety Award for the Percutaneous Endoscopic Gastrostomy service; runner up with the Croatian Institute of Telemedicine for the Medipex Telehealth award for live web-based training in capsule endoscopy and shortlisted for the Health Services Journal Hall of Fame (for the small bowel service) award 2015. His research interests include clinical aspects of capsule endoscopy, currently magnetically assisted gastric capsule endoscopy. His publications predominantly related to endoscopy, particularly capsule endoscopy. He is senior author of the BSG capsule endoscopy and small bowel endoscopy guidelines, contributor to the European Society of Gastrointestinal Endoscopy guidelines on the same topic, contributor to the 'Atlas of Capsule Endoscopy' (Springer) and co-editor of the 'Handbook of Capsule Endoscopy' (Springer).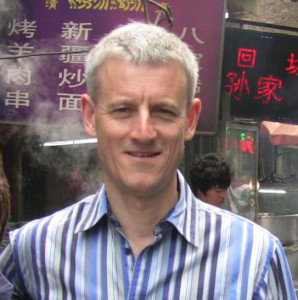 In advance of the #FGDebate, Dr Mark McAlindon says:
"We perform gastroscopy on 1% of the population per year, mainly for reassurance: most symptoms are functional, reflux- or H pylori-related and less than 1% of patients have malignancies. Similarly, colorectal cancer is an uncommon cause of symptoms in patients undergoing colonoscopy, and polyps, a common finding in older patients, are incidental findings in the symptomatic population. Yet endoscopy is uncomfortable, unpopular with patients and carries the risks of intubation and sedation. Colonoscopists need to remember that their practice is regarded as unusual by the lay public: common factors in non-compliance with colorectal cancer screening programmes is the embarrassment of exposing the buttocks and fear of 'accidents' during the procedure.
Capsule endoscopy involves swallowing a pill camera which passes through the gastrointestinal tract under the action of peristalsis. It is a first line investigative modality of the small bowel, more sensitive than push enteroscopy, barium radiology, CT and, at least for mucosal (as opposed to transmural) disease, MR radiology. Three large multi centre studies suggest a sensitivity of colon capsule endoscopy approaching 90% in the detection of adenomas of at least 10mm when compared to conventional colonoscopy. This is arguably as good as conventional colonoscopy when compared to itself in back to back or tandem colonoscopy studies. The data from the single multi centre study comparing colon capsule to CT colonography suggests that it is at least as good in polyp detection. The data from four studies comparing magnetically assisted capsule endoscopy to conventional gastroscopy in the upper gastrointestinal tract is promising.
Currently, there are a number of different capsule endoscopes aimed to image different parts of the gut, but the divisions are arbitrary. Small bowel capsule endoscopy identifies up to 10% of pathology causing anaemia in the upper gastrointestinal tract or caecum. The colon capsule provides excellent visualisation of the small bowel. The oesophageal capsule provides clear gastric images if the stomach is distended with water. All that is needed is improvement in technology to allow imaging devices perhaps at both ends of the capsule, maybe containing magnetic material to allow a degree of control, a transmitter and sufficient battery power in a small enough device to swallow to allow imaging of any part of the gut remotely, without intubation, without sedation and without irradiation.
In the debate, I hope to discuss the present and future role of capsule endoscopy alongside conventional endoscopy: diagnostic versus therapeutic tools."
Join us on Tuesday 7th July 2015 8-9pm GMT for the #FGDebate!
(Visited 427 times, 1 visits today)