Written by Dr Ruth E Barker, Dr Nicola Roberts, Ms Lisa Dow & Mr Russell Winwood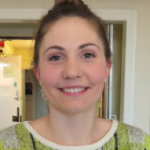 Back in 2019, Nicola wrote a blog about World COPD Day1. Since then, World COPD Day efforts have grown, and the national day has become gradually more supported on social media and more widely. However, the same issues still persist 4 years on, people still often ignore symptoms of breathlessness and/or cough as well as potentially having difficulty in getting respiratory diagnostic tests as highlighted in the recent BMJ article2. The most common symptoms of respiratory disease are shortness of breath and cough, and if these last longer than four weeks then these should be investigated3. A lot of the general public still don't know what COPD and other respiratory conditions are, hence the continued need for health promotion around respiratory conditions.
This year, World COPD Day will be marked by an inaugural global event involving a virtual baton pass. The Big Baton Pass intends to profile the importance of getting a respiratory diagnosis as well as raising the awareness of COPD in the general public and the importance of being active when living with COPD. More information about the awareness campaign is available via the weblink: https://copdbigbatonpass.wordpress.com/.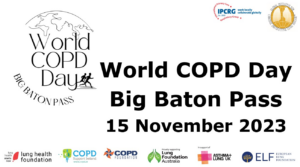 The 2023 Global Initiative for Obstructive Lung Disease Report for the Global Strategy for Prevention, Diagnosis and Management of COPD advise along with timely diagnosis that exercise should be recommended for those living with COPD3. This and the extensive evidence base demonstrating the clinical effectiveness is why pulmonary rehabilitation (PR) is considered a cornerstone is the management of COPD. 2023 has seen a publication of new clinical statement on PR from the British Thoracic Society4 and PR clinical practice guideline from the American Thoracic Society5.
We hope the 2023 World COPD Day Big Baton Pass event (#WorldCOPDDayBatonPass) on 15 November will be a triumph6, to help spread this message about being active and exercising when living with COPD and drive investment into PR services globally going forward. It is a campaign that has been collaboratively led by a patient living with COPD working in partnership with healthcare professionals. This co-creation model for the development of health promotion event feels like it has gained significant traction7, drawing in key international organisations and foundations as partners.
We feel this traction and global excitement has come from the fact those involved in the planning of the Big Baton Pass are bringing multiple perspectives, and so the event has struck a chord with both patient and healthcare professionals alike and is bring the right balance between being a novel idea and awareness raising. One of the baton host site leads, Lisa Dow, said:
"The Keep Breathing Respiratory Exercise Program is so excited to be part of the World COPD Day Big Baton Pass! Our group literally jumped at the chance to help spread the word about how they are living well by managing their lung disease. The Keep Breathers are shining examples of how being part of an exercise program, continuously learning about their lung disease and supporting each other results in living fuller lives. We plan to share our stories, virtually walk together, and connect with those across the world to share the news that "We can do hard things!" and have fun at the same time!  Come join us to see how good care results in great results!"
We feel this co-creation model which brings together and unifies the voices of healthcare professionals and patients in health promotion campaigns could be the way to sustain and successfully deliver an annual awareness campaign. Again, Lisa Dow really captured this when she said:
"The World COPD Day Big Baton Pass is bringing together worldwide champions of accessible, comprehensive care for all those living with Chronic Obstructive Pulmonary Disease. Researchers, clinicians, educators, and most importantly COPD clients themselves are sharing their experiences and spreading the word about what appropriate care should look like and the overwhelming positive benefits it can have."
We are excited to bring those living with COPD and healthcare professionals together from around the world, starting in New Zealand, with the baton travelling to Australia, Bangladesh, Uganda, Austria, England, Ireland, Brazil, USA, and Canada.
There will be programme of presentations from each of the batons host sites, and they will be live streaming activities for anyone to join in with via a live broadcast to raise the awareness of and promote the benefits of being active when living with COPD. The virtual walk being organised by Lisa Dow is just one example of how we are aiming to bring people together as part of the coordinated activities. Each country has decided on their strategy on how to bring the underlying message of the event to life in a way that is meaningful to them.
The link to join the live broadcast to hear the presentations, and to join in live with activities, will be available via our webpage on World COPD Day: https://copdbigbatonpass.wordpress.com/programme-and-link-to-live-event/.
As part of this, we are encouraging people to record their physical activity on Wednesday 15 of November 2023, this can be done in miles, minutes of activity, or steps. You could do this as an individual, counting any day-to-day activities you complete like walking around your home or up your stairs, or you could record miles, minutes, or steps as part of a challenge you complete. We are inviting you to get creative on the day, doing whatever activity you want in whatever way you would like, walking, cycling, rowing, kayaking, paddle boarding, swimming, skiing, … TUG OF WAR? The wackier or more unusual the activity, the better. We would love to see teams of family members, or colleagues, competing against each other to add a bit of extra motivation.
If you do get involved, please tweet (#WorldCOPDDayBatonPass) with a picture, or go to our webpage https://copdbigbatonpass.wordpress.com/ and send a photo via the contact us section, and add our event logo to your promotional materials. We cannot wait to hear about you have done, who has been involved, and your reasons for getting involved.
References
https://blogs.bmj.com/ebn/2019/11/17/catching-your-breath-how-do-we-help-the-missing-millions-who-dont-know-they-have-a-respiratory-condition/
Howard S. "Silent scandal" of missing lung diagnostics in England's most deprived areas—where respiratory disease is most prevalent. bmj. 2023 Sep 27;382.
Agustí A, Celli BR, Criner GJ, Halpin D, Anzueto A, Barnes P, Bourbeau J, Han MK, Martinez FJ, Montes de Oca M, Mortimer K. Global initiative for chronic obstructive lung disease 2023 report: GOLD executive summary. American journal of respiratory and critical care medicine. 2023 Apr 1;207(7):819-37.
Man W, Chaplin E, Daynes E, Drummond A, Evans RA, Greening NJ, Nolan C, Pavitt MJ, Roberts NJ, Vogiatzis I, Singh SJ. British Thoracic society clinical statement on pulmonary rehabilitation. Thorax. 2023 Oct 1;78(Suppl 4):s2-15.
Rochester CL, Alison JA, Carlin B, Jenkins AR, Cox NS, Bauldoff G, Bhatt SP, Bourbeau J, Burtin C, Camp PG, Cascino TM. Pulmonary rehabilitation for adults with chronic respiratory disease: an official American thoracic society clinical practice guideline. American Journal of Respiratory and Critical Care Medicine. 2023 Aug 15;208(4):e7-26.
Wolfson Palliative Care Research Centre at Hull York Medical School Breathlessness Blog. The Big Baton Pass: hoping to change the way we mark World COPD Day in the future. 2023 Oct 11. https://breathlessness.hyms.ac.uk/?p=1926
Grindell C, Coates E, Croot L, O'Cathain A. The use of co-production, co-design and co-creation to mobilise knowledge in the management of health conditions: a systematic review. BMC Health Services Research. 2022 Jul 7;22(1):877.
About the authors
Dr Ruth E Barker (PhD) (Respiratory  physiotherapist, AHPE co-lead) (rbarker256@gmail.com, @RuthEBarker1989)
Dr Nicola Roberts (Associate Professor, Edinburgh Napier university) (n.roberts@napier.ac.uk, @DrNRoberts)
Ms Lisa Dow (Physiotherapist, Keep Breathing Program, Evolve Wellness Studio) (lldow@me.com, @LisaDow1)
Mr Russell Winwood (COPD patient advocate who runs marathons to raise awareness and funds for COPD) (copdathlete@outlook.com, www.copdathlete.com)
(Visited 203 times, 1 visits today)