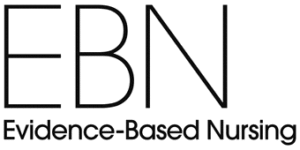 During 2020, Evidence Based Nursing (EBN) will be focusing on mental health. Throughout the year we will be highlighting key issues relating to mental health and identifying relevant EBN content and other useful resources. Watch out for a year-long series of tweets (@EBNursingBMJ) and Facebook posts (BMJ for Nursing). A summary of the mental health content already available in the journal is summarised in the latest EBN Perspectives paper.
In the UK, the week of 3rd February is Place2Be's Children's Mental Health week with the theme of Find your Brave. Given this we will have a week-long spotlight on child and adolescent mental health. We will be posting four Blogs and holding a Twitter chat on 12th February. The Mental Health Foundation say that 1 in 10 children and young people (CYP) experience a mental health problem. However, 70% of these CYP do not receive an appropriate intervention early enough. In England, despite several high profile press releases the Government has failed to provide sufficient funding to address this. Robin Barker's editorial is available online now, and reflects on the current state of play for CYP with mental health issues in England.
Over the past few years, the mental health of university students has been the focus of several media reports, usually when a tragedy has occurred, for example, a student committing suicide. The 5th March is University Mental Health Day (#unimentalhealthday) in the UK. During this week, we will be posting Blogs and holding a Twitter chat on 11th March. The editorial for the April edition of EBN will also focus on this issue.
World Maternal Mental Health Awareness day is on 6th May (#MaternalMHMatters). So during the first week of May we will be focusing on maternal mental health. Again, we will be posting a series of Blogs and holding a Twitter chat (13th May). The editorial for the June edition of EBN will focus on this area. The issue of perinatal health features prominently in many NHS policies across the UK. Within England, a commitment to investment in Maternal Mental Health services is evident in the Long Term Plan and Five Year Forward for Mental Health. This was partly prompted by the publication of the Mothers and Babies: Reducing Risk through Audit and Confidential Enquiry in the UK (2015) which highlighted that, across the UK, 23% of late maternal deaths were from mental health related causes. Together with a recognition of regional gaps in perinatal mental health service provision NHS England embarked on significant investment into perinatal mental health services. Maternal mental health is also embedded within the report of The (English) Maternity Review, Better Births, calling for 'better postnatal and perinatal mental health care'. This issue is also high on the agenda for midwives and maternity service providers in Scotland, Wales and Northern Ireland.
As World Mental Health Day is on 10th October we will be posting another series of Blogs and holding a Twitter chat (14th October). The editorial for the October edition of EBN will also focus on this area. Look out for more information as the year progresses.
Throughout the year we will also be highlighting issues related to the mental health of nursing and midwifery staff through our posts on social media. This issue was a key theme in the October EBN Perspectives paper (Kidd and Twycross 2019) which discussed EBN commentaries focusing on the influence of psychosocial and workplace characteristics that contribute to or mitigate against nurses' experiences of workplace stress and/or burnout. A recent study highlighted that midwives in the UK are experiencing high levels of work-related stress and personal burnout (Hunter et al. 2019). This is also an issue for nurses. The Royal College of Nursing's Bulletin in November 2019 focused on strategies for beating burnout and workplace stress.
The EBN team would like to thank all our readers and writers for their support during 2019. We hope that you will have a peaceful end of the year and look forward to hearing your views on the issues highlighted here and other nursing and midwifery related issues during 2020.
Reference
Kidd, L. and Twycross, A. (2019) EBN Perspectives: Nursing Issues, Evidence Based Nursing. 22(4), 101-104.
(Visited 635 times, 1 visits today)