This weeks ENB twitter chat on Wednesday the 2nd of March between 8-9pm(GMT) UK will be hosted by Kate Granger a doctor, but also a terminally ill cancer patient. and founder of the #hellomynameis campaign, and will focus on the importance of healthcare workers introducing themselves to patients. Participating in the twitter chat requires a Twitter account; if you do not already have one you can create an account at www.twitter.com. Once you have an account contributing is straightforward – follow the discussion by searching links to #ebnjc or @EBNursingBMJ, or better still, create a tweet (tweets are text messages limited to 140 characters) to @EBNursingBMJ and add #ebnjc (the EBN chat hash tag) at the end of your tweet, this allows everyone taking part to view your tweets.
Hello, my name is Kate Granger and I'm the founder of the #hellomynameis campaign, which will reach its third anniversary in August 2016.  Three years of tireless work trying to spread one simple message across the globe. Three years of trying to improve the experience for other patients all facing their own health problems. A straightforward premise that any healthcare worker who approaches a patient should first introduce themselves, with the innovative use of social media to spread the message.
When my husband and I conceived this idea during one hospital evening visiting time we never imagined that just over two years later we would have been on a UK wide tour and reached the incredible milestone of one billion Twitter impressions. We never thought that our work would have reached the majority of NHS organisations in the UK and across Europe, Australia, New Zealand, Canada, America and some African countries. That is, however the reality of what we have achieved.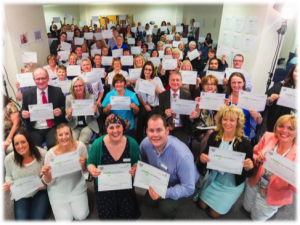 We now have several quality improvement projects showing the campaign can be used as a successful driver to increase the number of times staff introduce themselves to their patients. There is much more work to be done in this area with several projects ongoing.
The campaign does have its own inherent problems though. One of my main worries is that we have created something too "corporate"; that healthcare communications teams have done a sterling job using our friendly logo to create posters and badges, but that if staff are not living by the values of the campaign it means absolutely nothing. I have had several tweets suggesting this is happening.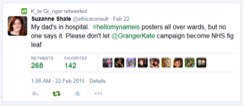 During the chat we will discuss the following questions at the chat:
1. What do you personally think of the #hellomynameis campaign? A good or bad idea?
2. What are the main barriers stopping staff from introducing themselves?
3. How do you think we can keep the momentum of the initiative moving forwards?
4. How do we combat the "corporate" problem?
References
Healthcare staff must properly introduce themselves to patients BMJ 2013;347:f5833
NHS Confederation Speech 2014 https://www.youtube.com/watch?v=hk6TydLCiy4 ; http://www.bbc.co.uk/news/health-31062042
(Visited 187 times, 1 visits today)