By Nathan Douthit
At the annual meeting for the Consortium of Universities for Global Health this year, the theme was Health Disparities: A Time for Action. The keynote address was delivered by Stephen Lewis, former UN special envoy for HIV/AIDS, Canada's Ambassador to the UN, humanitarian and broadcaster. He spoke about, "The drama of disparities," as viewed through the three-part lens of climate change, tuberculosis and conflict and sexual violence.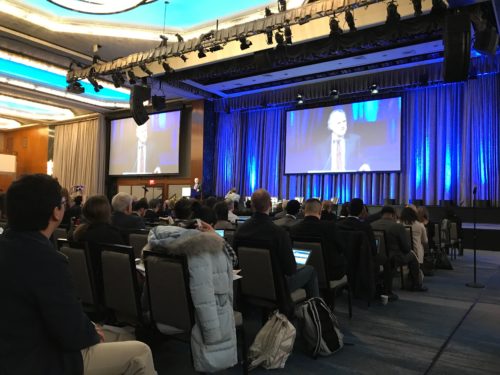 Stephen Lewis delivering the keynote address for CUGH 2018
Lewis spoke passionately about how the consequences of climate change for human health "fall far more heavily on the poorest country". He described tuberculosis as "the exemplar of disparity and inequality," affecting more people than HIV and malaria combined; the sufferers are the marginalized, who are, "always beleaguered, mostly without voice." He also spoke about the epidemic of conflict and sexual violence, quoting statistics from the recent conflicts in Syria; he especially emphasized the "explosion of rape that strangles credulity." He also mentioned that as the Rohingya are suffering attempted genocide in Myanmar, no UN Security Council resolution has been issued on their behalf.
He explained that disparities in education, income, economic advancement have profound effects on human health. He made it clear that while attempts to raise awareness and to advocate for work to improve poverty, nutrition, sanitation, and education have had limited success in bringing about meaningful change, highlighting the consequences these issues have for human health may be what is necessary to generate the political will and innovation needed for change. "When you concentrate on health you touch the mind and the heart." He criticized the tendency of Medicine to do objectively analyze but not go on to see change implemented. He encouraged an indefatigable and constant pressure on the powers that be in order to see health equity achieved in our generation.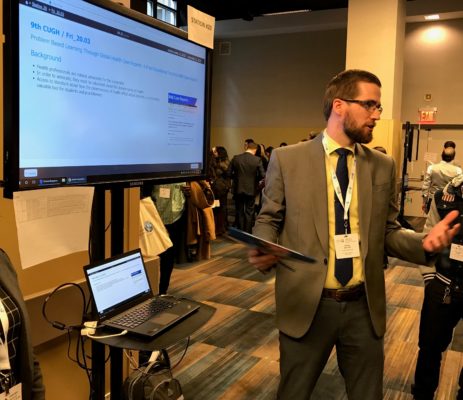 BMJ Case Reports was also at the conference.
We are an enormous repository for case reports. Our global health case reports analyze the literature on environmental health, tuberculosis, conflict and sexual violence, as well as a range of social determinants that profoundly impact the health of the patients the case reports are about. These case reports have an important role to play in advocacy for justice in our local societies and around the world. The patients are encouraged to add to the case reports in their own words. Writing and publishing these patient stories can make a difference in our world today.
BMJ Case Reports invites authors to publish cases that can be used to advocate for individual patients as we all work toward a more just society. Global health case reports can emphasize any social determinant of health, including:
-The effects of climate change on patient and population health
-How infectious disease afflicts the vulnerable and marginalized in society and what interventions increase resilience
-The disproportionate burden of conflict and sexual violence on individuals in economically and political unstable regions of the world – including the effects of migration and people trafficking
Manuscripts may be submitted by students, physicians, nurses and allied health professionals to BMJ Case Reports at http://casereports.bmj.com/. For more information, review our guidance on how to write a global health case report and look through our online collection.
Competing Interests
None Declared