By Hemali Bedi
World Blood Donor Day is celebrated by countries around the world on 14th June each year. [1] This day serves to raise awareness of the need for regular blood donations and thank blood donors for their invaluable contributions. [1] The theme of this year's campaign is "Blood connects us all". [1] Through this campaign, WHO aim to highlight the necessity of community par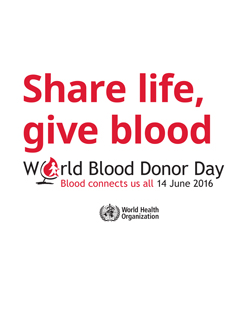 ticipation in ensuring a sustainable supply of blood donations worldwide. [1]
Each year, millions of lives are saved with the help of blood transfusions, but demand for safe blood is often exceeded by the supply. [1] According to the World Health Organisation (WHO), approximately half of the 108 million units of blood donated globally each year are collected in high-income countries, which contain less than 20% of the world's population. [2]
Blood transfusions play a vital role in treating life-threatening conditions, disaster care, surgical procedures and maternity/childcare services. [1] Currently, only 62 countries receive almost 100% of their national blood supplies from voluntary unpaid blood donors, while 40 countries still depend on contributions from family and paid donors. [1] WHO are calling on ministries of health to voice their gratitude to donors and strengthen blood transfusion services by committing to the collection of 100% voluntary and unpaid blood donations. [1]
BMJ Case Reports is the world's largest repository of case reports. You can read about the life-saving effects of blood and blood product transfusion by following the links below.
Severe folate-deficiency pancytopenia
Viktoriya Clarke, Simon Weston-Smith
BMJ Case Reports 2010:published online 21 October 2010, doi:10.1136/bcr.03.2010.2851
Recombinant activated factor VII as treatment for uncontrolled mucosal haemorrhage
J Gracia, I Prieto
BMJ Case Reports 2011:published online 30 June 2011, doi:10.1136/bcr.09.2009.2306
Myasthenia gravis and pure red cell aplasia: a rare association
Riya Balikar, Neelam Narendra Redkar, Meenakshi Amit Patil, Sunil Pawar
BMJ Case Reports 2013:published online 14 February 2013, doi:10.1136/bcr-2012-008224
Intractable intraoperative bleeding requiring platelet transfusion during emergent cholecystectomy in a patient with dual antiplatelet therapy after drug-eluting coronary stent implantation (with video)
Takahisa Fujikawa, Tomohiro Noda, Seiichiro Tada, Akira Tanaka
BMJ Case Reports 2013:published online 26 March 2013, doi:10.1136/bcr-2013-008948
To encourage new and returning blood donors, WHO have created a series of videos that showcase the personal stories of people whose lives have been saved by blood donations. [1] Achieving universal health equity and ensuring access to essential health care of good quality is a global healthy priority. Our global health case reports focus the causes of ill health and access to healthcare services in all parts of the world. For more information about global health, the determinants of health and medical anthropology, see our global health toolkit.
References
[1] World Blood Donor Day 2016: Blood connects us all. WHO. http://www.who.int/campaigns/world-blood-donor-day/2016/event/en/, accessed 6 June 2016
[2] 10 facts on blood transfusion. WHO. http://www.who.int/features/factfiles/blood_transfusion/en/, reviewed June 2015