I thoroughly enjoyed reading the BMJ Leader series of blogs on Core20PLUS5, written by the fabulous clinical fellows currently working across NHS England and NHS Improvement and Healthcare Quality Improvement Partnership (HQIP).
I am heartened that NHS England and NHS Improvement's national approach to tackling health inequalities is understood and interpreted so well by our rising stars working on the frontline. It is they, and many of you reading this blog, who have a real opportunity to make a difference to the communities that need us most.
The Core20PLUS5 approach will only be successful if we have the clinical leadership dedicated to deliver its ambitions. Our clinical fellows are leaders of the future – but from their blogs I know that they are already leading right now in all their different spheres of influence. From Tom's 'Bright spot thinking', to Emma's dedication 'beyond the norm of the day job', Liam's commitment to 'prevent the preventable' and Josie's data application – they are demonstrating exactly the kind of clinical leadership and attitude needed to tackle the immense challenge of reducing health inequalities.
The challenge isn't new. Health inequalities have been around for decades, and they certainly won't disappear overnight. As clinicians, the impact of health inequalities on the communities we serve is something we will see throughout our careers.  We need health and care leaders to be mindful of the challenge – and the opportunity they have to make a difference.
That's why one of our strategic priorities is to 'Strengthen leadership and accountability'. Without clear and accountable leadership at all levels of the NHS, progress will continue to be limited. That means clear, inclusive and accountable leadership from people like me and others in leadership roles across the NHS. All systems are now mandated to identify an executive board-level lead for tackling health inequalities. We are also supporting new ICS Chairs and NEDs to focus on bringing about the change we need to see to make a real difference in health inequalities.
The NHS's role in addressing health inequalities has also been enhanced by making sure our people reflect the diversity of the people we serve.
But this isn't just about hierarchical leadership. Everyone has a role to play and I urge you to think about these three ways:
In your patient interactions – being mindful of the impact of the social determinants of health and how they affect access, and your role in patient experience in patient-facing encounters given the impact of people's experience on their outcomes.
Building knowledge – being equipped with health inequalities knowledge and how it links to your specific role
Being an advocate – Influencing others and policy across the system wherever you can to ensure we have the right conditions to tackle health inequalities
I look forward to discussing this topic with some of you at the next #BMJLeaderchat on Thursday the 10th of February at 7pm and hearing your thoughts on what individual leaders can do to support health inequalities improvement.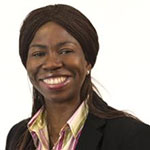 Dr Bola Owolabi
Dr Bola Owolabi MB BS DFFP MRCGP MSc is Director – Health Inequalities at NHS England and NHS Improvement. She works as a General Practitioner in the Midlands.
Bola has particular interests in reducing health inequalities through Integrated Care Models, Service Transformation and using data & insights for Quality Improvement.
Bola has held various leadership roles at local, system and national levels. She was until recently, National Specialty Advisor for Older People and Integrated Person Centred-Care at NHS England and Improvement where she led the Anticipatory Care Workstream of the National Ageing Well Programme. She has worked with teams across NHS England/Improvement and the Department of Health and Social Care as part of the Covid 19 Pandemic response.
She is an alumnus of Ashridge Executive Education/Hult International Business School and holds a Masters degree with distinction in Leadership (Quality Improvement).
She holds an NHS Leadership Academy Award in Executive Healthcare Leadership for Clinicians.
Bola is a Generation Q Fellow of the Health Foundation, an independent charity committed to bringing about better health and health care for people in the UK.
Declaration of interests
I have read and understood the BMJ Group policy on declaration of interests and declare the following interests: none.
(Visited 1,276 times, 1 visits today)