Blog entry written on: Correlation between chest CT and RT-PCR testing in India's second COVID-19 wave: a retrospective cohort study, (bmjebm-2021-111801).
Authors: Vishal Mehta, Divya Jyoti, Rishi Tuhin Guria, Chandra Bhushan Sharma.
---
As the COVID-19 pandemic rages on, researchers are toiling in their attempt to explain the unexplained – the crucial pathophysiological pathway, the appropriate diagnostic test, the most beneficial treatment modality. Radiological imaging in COVID-19 remains an important talking point. Use of the chest Computed Tomography (CT) scan is limited to hospitalized patients with complications or a worsening respiratory status. Does this necessarily have to be the case in all situations, though? With some countries running short on RT-PCR (the reference standard) test kits, or with reporting delays of up to 7 days, how useful is the chest CT in diagnosing COVID-19 patients?
We retrospectively analyzed the diagnostic capability of the chest CT (compared to the RT-PCR) on 112 Indian COVID-19 patients (bmjebm-2021-111801) and it had a sensitivity to be 90.6% (95% Confidence Interval 82.3% – 95.8%) – marginally higher than that in the latest Cochrane review. The diagnostic accuracy was 80.4% (95% Confidence Interval 71.8% – 87.3%). Chest CT Severity Scores (CTSS) were higher for patients who were RT-PCR positive. 
The Chest CT is an inexpensive, easily available and in the Indian scenario, probably the most overused diagnostic tool.  Understandably, a part of this is related to the lack of resources and RT-PCR testing facilities, but a large part may be due to failure to comply with evidence-based practices.
This got us wondering – when is it most appropriate to perform a chest CT and which patients would benefit the most from it? In our experience, the chest CT is a useful diagnostic tool for moderate-to-severe COVID-19 patients in resource limited settings. However, considering its low specificity (48.1%), clinicians need to think about alternative diagnosis. 
As is the nature of the pandemic, the virus as well as the data available are ever evolving. The work described in this study was done during the second COVID-19 wave in India. It will be interesting to see how the chest CT performs with the newer variants of the virus. Our study excluded patients with pre-existing respiratory illnesses. It is likely that the number of false positives would be higher in these patients. Our study has a relatively small sample size and further studies from developing countries are mandatory to validate our findings. As things stand, chest CT is useful only in specific situations. Whether it can be used routinely for COVID-19 diagnosis in the future remains to be seen.
---
Author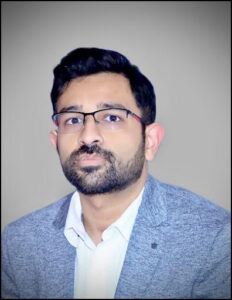 Vishal Mehta, MBBS, Internal Medicine Resident
Department of Medicine, Rajendra Institute of Medical Sciences, Ranchi, Jharkhand, India
Conflict of interest: None declared.
---
DISCLAIMER
The views and opinions expressed on this site are solely those of the original authors. They do not necessarily represent the views of the BMJ and should not be used to replace medical advice. All information on this blog is for general information, is not peer-reviewed, requires checking with original sources and should not be used to make any decisions about healthcare. No responsibility for its accuracy and correctness is assumed by us, and we disclaim all liability and responsibility arising from any reliance placed on such commentary or content by any user or visitor to the Website, or by anyone who may be informed of any of its content. Any reliance you place on the material posted on this site is therefore strictly at your own risk.
(Visited 367 times, 1 visits today)