14 May, 12 | by BMJ Group
Nestlé has just announced a three year partnership with the International Diabetes Federation (IDF)—an umbrella organisation representing national diabetes societies from around the world— as part of its contribution to the fight against non-communicable diseases (NCDs). Such diseases include cardiovascular disease, cancer respiratory illness and diabetes. 
"As part of our commitment to nutrition, health and wellness, we will work with the International Diabetes Federation to build awareness and promote healthy lifestyles including healthy nutrition and physical activity," Janet Voûte, Global Head of Public Affairs at Nestlé, said.
"It highlights our capabilities and expertise in addressing non-communicable diseases, while reaffirming our responsibility in tackling the growing challenge of chronic conditions such as overweight, obesity and diabetes worldwide," she added.
Recent figures released by the World Health Organization showed that more than 36 million people die from these kinds of diseases each year.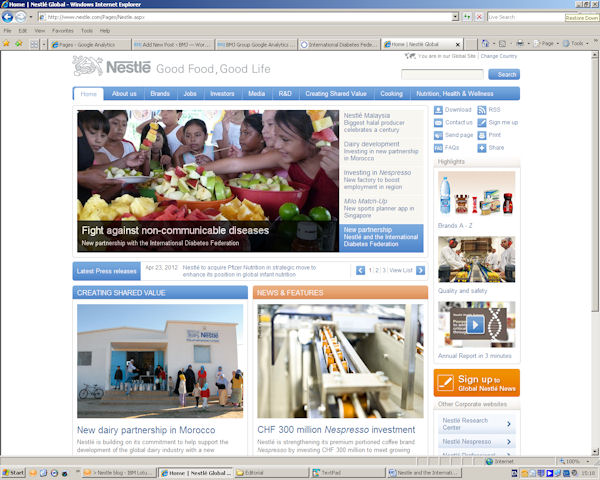 The IDF is slightly more coy about the partnership publicly. Nestlé has announced the collaboration on the homepage of its website, but the company's logo has been simply added to the IDF website in amongst the other supporters of projects—mainly drug and medical technology companies.

The move is in sharp contrast to the current sentiment within other parts of the global nutrition movement. Organisers of the World Public Health Nutrition conference held in Rio this month declined to take corporate sponsorship from companies such as Nestlé. Indeed, in the run up to the UN summit on non-communicable disease (NCD) last September—in which the IDF played a prominent role— the notion of public-private partnerships in tackling disease caused a rift between some non-governmental organisations and groups representing businesses.

But the IDF believes there is a role for partnership: "There is clear consensus that the conflict of interest between public health advocates and tobacco companies is fundamental and irreconcilable," a spokesperson told the BMJ, adding: "IDF believes that the food industry cannot be approached in the same way. Smoking is harmful in all its forms and at any level of consumption. The same cannot be said for food. Food is a basic necessity, and the right to adequate food is an enshrined human right."

The federation states that they seek to partner with "responsible corporations and foundations to advance its mission to promote diabetes care, prevention and a cure worldwide."

But campaigners such as Baby Milk Action say Nestlé's track record on prevention is patchy. It makes a range of sugary breakfast cereals targeted at children and one of its main product lines are chocolates and sweets. For example, a 30g serving of Cookie Crisp—which comes in a cartoon character box— contains 12% of a child's recommended daily sugar intake. Milo, a chocolate drink that's widely promoted across the developing world contains 46% sugar.

And whilst the company has signed up to pledges to limit junk food advertising to children in 45 countries including the EU states, the US, Brazil, India and Mexico, there are plenty of other countries where this does not apply.

However, the IDF points out that Nestlé is among the influential companies in the food industry: "They are helping pave the way to improve business practices through responsible marketing to children, food reformulation and fair labour codes," a spokesperson said. The IDF also points out that they have community based initiatives to promote healthy lifestyles since 1992.

One such programme that Nestlé and the IDF will join forces on is the "Healthy Kids Global Programme."  This works with partners in motr 60 different countries to teach school age children the value of good nutrition and physical activity.

But campaigners are worried that education allows marketing through the back door. In some countries were they will not be able to brand teaching materials, but in other countries they will. They also believe that messages will be filtered–they'll never say restrict the amount of junk food you eat.

Indeed, the company removed a page from an educational book in Russia following a complaint from campaigners. Its "Programme about correct nutrition – working notebook for school children" showed a mother telling her child that eating chocolate rather than a sandwich before an exam would help her manage the difficult exercises.

Nestlé wants to rebrand itself as a health food company, campaigners say. Indeed, the company has created Nestlé Health Science to provide nutritional products "designed to help patients in many countries manage diabetes and minimise its common side effects"—another reason the IDF suggest it's a good partner.

Back in September 2010, the Financial Times announced that the company had appointed one of their top execs to "pioneer a new industry between food and pharma" that will develop products to combat diabetes, heart problems and Alzheimer's."

The decision reflects a trend among food and pharmaceutical groups that are converging around high-margin non-prescription health products, for both humans and animals.

By setting up a standalone subsidiary, the group may avoid perceived conflicts between core products, such as chocolate, and obesity – which now affects a sixth of the world's population, the FT says.

You can read the IDF's full response to the BMJ's questions at the link below.

Deborah Cohen is investigations editor, BMJ

You can follow any responses to this entry through the