Rob Cunningham
On 10 June 2022, Canada announced proposed regulations for its third round of picture warnings, together with a requirement for a health warning to appear on every cigarette, a world first.  The draft regulations are subject to a 75-day consultation period, ending 25 August 2022.  Final regulations are expected to be adopted in the first half of 2023, with the new warnings for cigarette packages and sticks to be implemented 180 days later at the manufacturer level, and 270 days later at the retail level.
For the warnings on each cigarette, there will be two sets of 6 bilingual text warnings with black text on a white background, with the sets changed after 24 months.  The warning will appear on the tipping paper (paper that wraps over the filter) portion of the cigarette (see Figure), and will apply to cigarettes, cigars with a filter, and filtered cigarette tubes sold without tobacco. The on-cigarette warning featured at the announcement states "Poison in every puff".  Having a black on white warning will disrupt the manufacturer practice of having a fake cork appearance or off-amber type colour appearing on the filter for many brands.  Canada already bans brand names, logos and colours from appearing on the cigarette.
Dr. Carolyn Bennett, Minister of Mental Health and Addictions and Associate Minister of Health, made the announcement at a news conference also attended by health organization representatives.  She noted, among other points, that warnings on each cigarette "will help ensure that these essential messages reach people, including the youth who often access cigarettes one at a time in social situations, sidestepping the information printed on a package."
Wire stories by Associated Press and Reuters resulted in the Canadian announcement receiving widespread international media coverage.
The proposed Canadian packaging requirements include, for cigarettes, two new sets of 14 exterior picture-based warnings, two sets of 13 interior picture-based messages that are more cessation focused, and two sets of 6 text-only toxicity messages in black, red and yellow to cover a full lateral package side.  The interior messages will have enhanced visibility as the upper slide flap will be increased in size (see Figure). The 75% size requirement for the package front and back will be unchanged, however Canada's unique slide and shell package requirement increases the surface area for external warnings compared with a flip top package.  The new health warnings complement Canada's requirements for plain packaging.
This round of warning requirements had previously been the subject of a general Health Canada consultation on tobacco warnings for packages and on cigarettes, but without any draft regulations, initiated in October 2018.  A consultation summary by the Canadian Department of Health indicated that 141 submissions were received in response to the consultation, with tobacco manufacturers opposed to on-cigarette warnings, and health organizations in support.
Finalisation and implementation of the Canadian requirement for a warning on every cigarette – supported by a compelling evidence base including an increasing number of studies in multiple countries – will undoubtedly prompt other countries to do the same.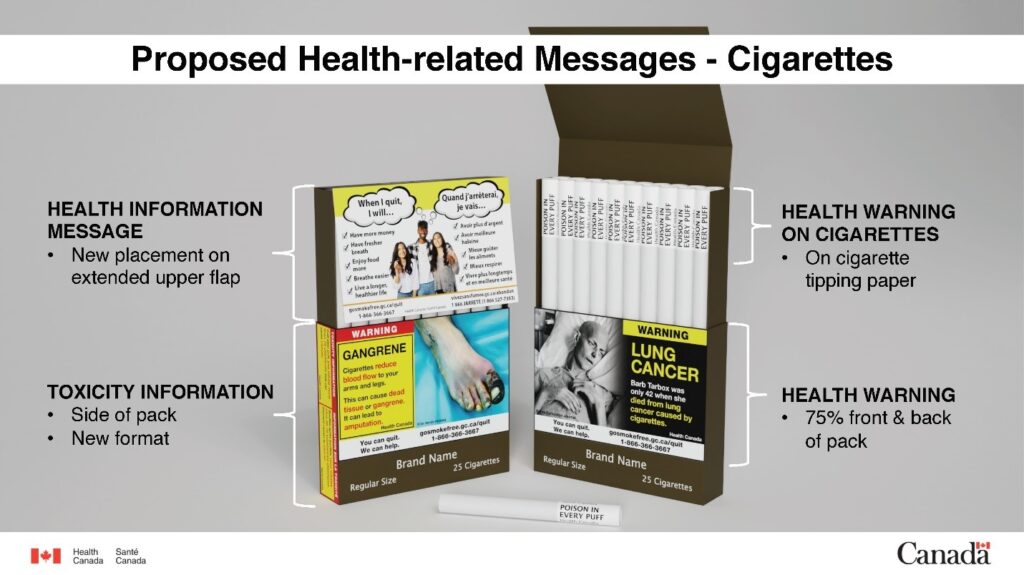 Rob Cunningham, is a Senior Policy Analyst at the Canadian Cancer Society, Canada.
(Visited 2,022 times, 6 visits today)