The following obituary is reproduced with permission from the ENSP network.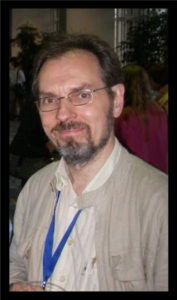 With much sadness we are writing about passing away of Konstantin Krasovsky, a distinguished member of our Network.
Konstantin Krasovsky has been known in the world as one of the top public health specialists in tobacco field and worked for decades to make a positive change in tobacco control in Ukraine and worldwide.
Konstantin's achievements in developing tobacco control laws and his efforts for smoke-free public places in Ukraine are truly remarkable. Thanks to these changes, the prevalence of smoking has decreased and the lives of many Ukrainians have been saved. Konstantin Krasovsky was a unique expert on tobacco taxation in Ukraine and internationally, and the author of more than 80 scientific publications on tobacco, alcohol, and drug problems.
Suffering from an autoimmune disease and despite all the efforts of his family and support of colleagues, Konstantin died on the night of September 20, 2021.
His memorial service took place on Thursday, September 23 at the Baikov Cemetery, Ukraine.
Tobacco control community from all over the world sent their kind words, thoughts, and prayers to Mr. Krasovsky's family and friends. May he rest in peace.
"Dr. Konstantin Sergeevich Krasovski lived and worked as a public health policy leader, expert, and activist. Something personal and important made him turn from an established career in geology to alcohol and tobacco control, and his almost 40-years-long work in public health deserves gratitude, honors, and appreciation. Konstantin worked tirelessly and successfully on public health advocacy as a civil society coordinator, academic faculty, WHO officer, governmental adviser. His life is a bright example of how a passionate, strong-minded, educated, highly motivated, and sincere one can conceive, promote, initiate and support the implementation of complex large-scale political, economic, and social changes, necessary for protecting the life and health of millions of humans. Konstantin's lifetime efforts have a truly international impact and will continue to benefit people in many countries besides his motherland Ukraine, including a large number of Russian speaking countries."
– Andrei Demin
"On behalf of all Polish tobacco control advocates, I am sending you words of deep compassion and regret. I never forgot Konstantin as a friend of mine and his input for tobacco control in our region and Europe. Together with Professor Witold Zatonski and his team, I worked for more than 30 years in tobacco control with Konstantin and Tatiana, and consider this collaboration an honour and a privilege.
Konstantin was a pioneer and leader in tobacco control in Ukraine. Meanwhile, he became a recognized expert in tobacco control and public health, particularly in the field of tobacco marketing, taxes, and industry strategy. His work and expertise have been appreciated by World Health Organization, World Bank, Open Society Institute, Advocacy Institue, and many other prominent international and national organizations. 
He did much to improve public health in his country and the CEE region. He did it when tobacco control required not only knowledge and skills, but above all, courage, backbone and determination. He did it despite the power, resistance or even opposition of government agencies, national tobacco monopolies and the international tobacco industry. And all these activities have been conducted in a country where the civil society movement was very weak for a long time and public awareness of tobacco-related health burdens very low!
For years, he and Tatiana worked hard almost alone for tobacco control. They were one of the early proponents of tobacco control in the former Soviet Union and probably founded the first NGO, at least in Ukraine, to start a fight for tobacco and alcohol control. Using their own private funds and, later on, small international grants, they both made a big step forward in the health education of Ukrainian society and in lobbying the Ukrainian government for enforcement of comprehensive tobacco control policies according to FCTC recommendations. They can also be considered "parents" of a new generation of Ukrainian tobacco control advocates, all these wonderful people who have continued their work and pushed Ukraine to a group of leaders in tobacco control in Central and Eastern Europe. Their work simply means that small may one day be much bigger than we can imagine. Rest in Peace, My Friend!"
– Krzysztof Przewozniak
"Konstantin was one of the most passionate and selfless colleagues I have had the pleasure of meeting and collaborating with. His contributions to tobacco control in Ukraine and in Europe (through the ENSP and in other ways), his personal charm, and his network of professional and personal contacts make his loss difficult to replace, if anyone ever tries. Thank you for everything, Konstantin, and our deepest condolences to his wife and his closest relatives and friends."
– Francisco Rodríguez Lozano
"Konstantin Krasovsky was a giant in the world of Tobacco Control. He and his wife Tatiana Andreeva were among the very few, very first people working on the topic in Ukraine when I first met them in 2008. He mentored an entire generation of public health advocates in Ukraine and across Europe, providing a model of integrity, passion, and a fierce intellect for us to follow. Konstantin's work has led to policies in Ukraine (and elsewhere) that are reducing tobacco use, saving lives, and keeping more people healthier. He is, and should be remembered, as a hero. Most importantly, Konstantin was a good man. He loved his family, loved what he did, loved his life. He tried his best to live a meaningful life and make a difference. I believe he succeeded. Світла пам'ять Костянтину Сергійовичу!"
– Joshua Abrams
"I remember Konstantin's tireless enthusiasm in the fight against tobacco smoke. He could speak for hours, even at a dinner table about strategies to set up in Ukraine. Of course, Tatiana could easily divert his enthusiasm towards traveling and discovering the world. I loved his curiosity about new cultures and places. I will miss him."
– Antonella Cardone
"I'm devastated to hear the sad news about Konstantin. It's a tragedy. My deepest condolence to his family and friends. Rest in Peace!"
– Raquel Fernández Megina
"I am extremely sorry to learn the news. I wish condolences to his family and friends."
– Elif Dagli
"The global family of tobacco control has lost a prominent figure and a colleague – Konstantin Krasovsky. I met Konstantin and his wife Tatiana in 2000 at the International Conference "Tobacco or Health" in Chicago. Since then we have had a close cooperation and friendship. Konstantin visited Georgia several times and eagerly helped us. He was a brave defender of health interests in Ukraine and abroad. He has played a historic role in implementing tobacco control measures in Ukraine and worldwide. We have had meetings at ENSP conferences in recent years."
– George Bakhturidze
"My heart is broken… I can't believe such a bright intellectual tobacco fighter has passed away… His impact is incredible and will never be forgotten! Rest in Peace my dear dear friend Konstantin and Hero!"
– Jamilya Sadykova
"It is with great sadness that I receive this news. I vividly remember that approximately 7 years ago, when I embarked on the tobacco control journey, you have introduced Konstantin to me as a "titan" of the community and as one to whom I should look up to as the level of expertise, dedication, scientific thoroughness, and commitment. May his legacy live on and hope all of us will be able to build on this legacy in the future!"
– Ramona Brad
"My deepest condolence to Konstantin's family and friends. Konstantin was a very charismatic tobacco control leader I have known for decades. His outstanding passion for tobacco control I have noticed many times in many meetings in Ukraine as well as in many other countries."
– Margaretha Haglund
"We are very sorry! The tobacco control community has lost a good expert! We have lost a good friend! Condolences to his family!"
– Gergana Geshanova
ENSP Board, Secretariat and all Network Members, including those at the BMJ's Tobacco Control send our most sincere condolences to the family and wish them strength to get through this difficult time of grief.
(Visited 301 times, 1 visits today)