Elizabeth Orlan, Rachel Grana, and Mark Parascandola
In early July, we authored an industry watch article JUUL from the USA to Indonesia, published in Tobacco Control. It outlined moves by JUUL to formally enter the Indonesian market, where the products were already being sold both online and in vape shops. JUUL has now officially launched in Indonesia in partnership with Erajaya Group, which distributes Apple and Samsung phones in Indonesia. Never before has an e-cigarette company in Indonesia had the financial resources or clout of JUUL.  As we foreshadowed, JUUL's pricing strategy and in-country advertising and promotion have evolved, reflecting a more strategic approach to achieving market reach and penetration in this loosely regulated market.
Sales locations
JUUL convened a press conference on July 11th, and has announced plans to sell their products in Alfamart and Minimart convenience stores, as well as Shell Select, Pepito, and food and beverage outlets. These are new sale locations for e-cigarette products in Indonesia; to date, e-cigarettes have mainly been sold through vape shops.
Though there are no JUUL kiosks in the U.S., JUUL has set up kiosks in other countries. In Jakarta, Indonesia there is a sleek booth on the first floor of a popular mall in South Jakarta (Figure 1A-D). Although the booth has 18+ signs, this mall is also the site of children's events like YUPI wonderland and permanent stores like Kidz Station and Kidzania. There is another outlet in the Bali mall, Beachwalk Shopping Center. Two more outlets are expected to open in popular malls, Plaza Indonesia (Central Jakarta) and Cilandak Town Square (Citos, in South Jakarta).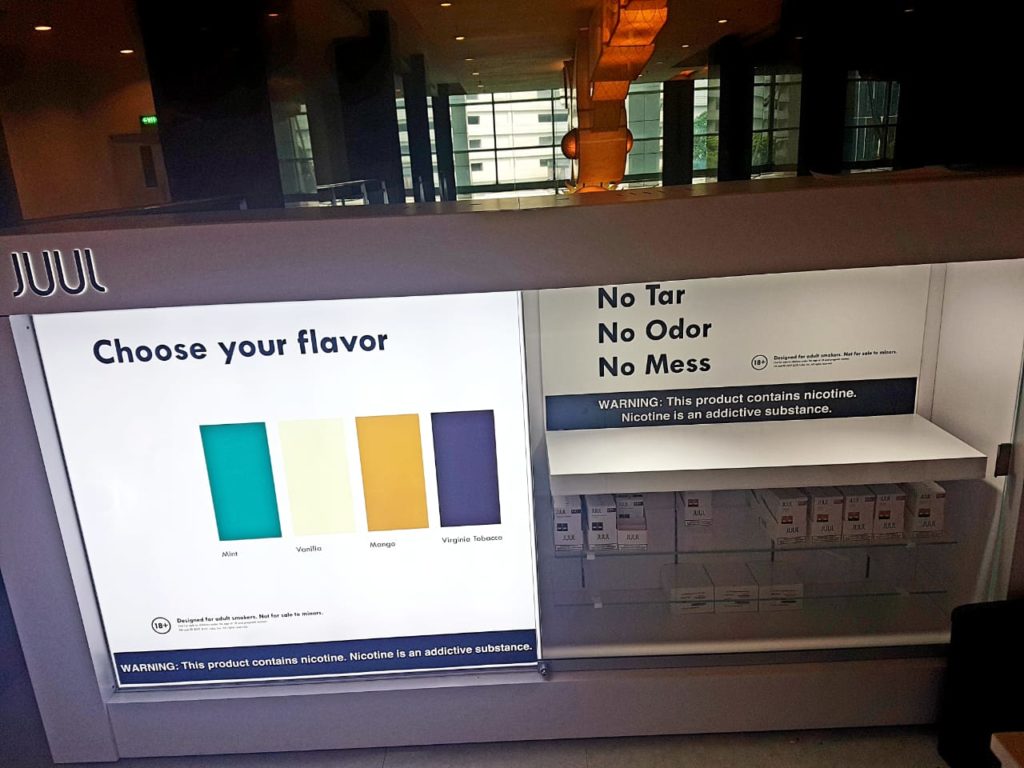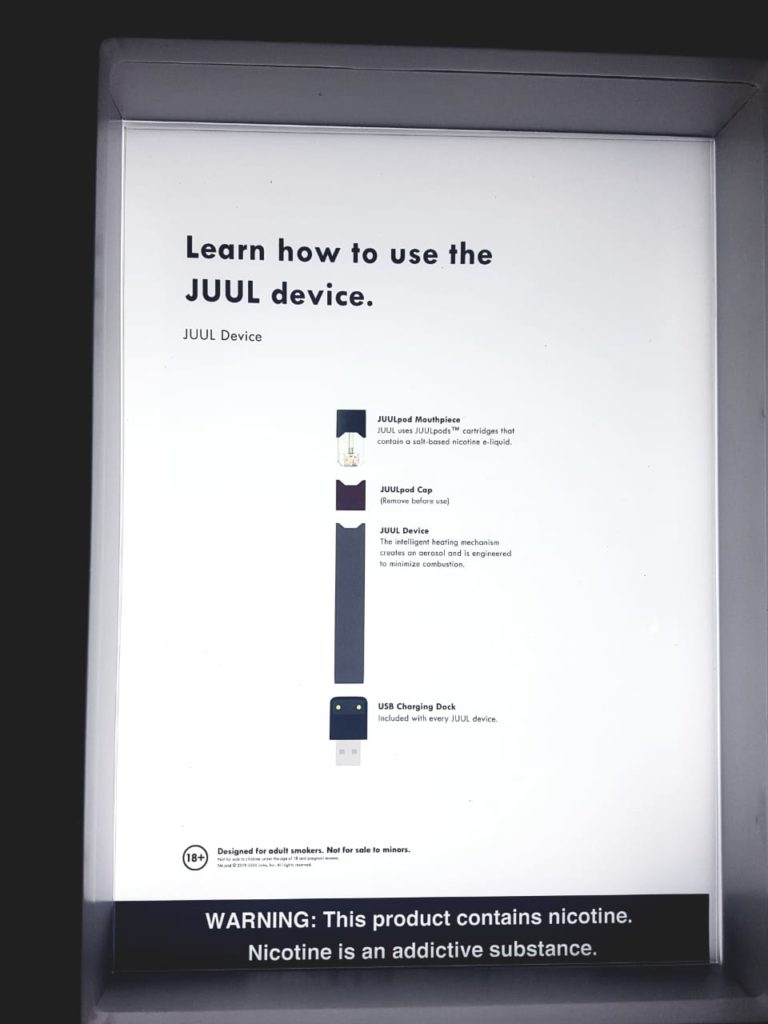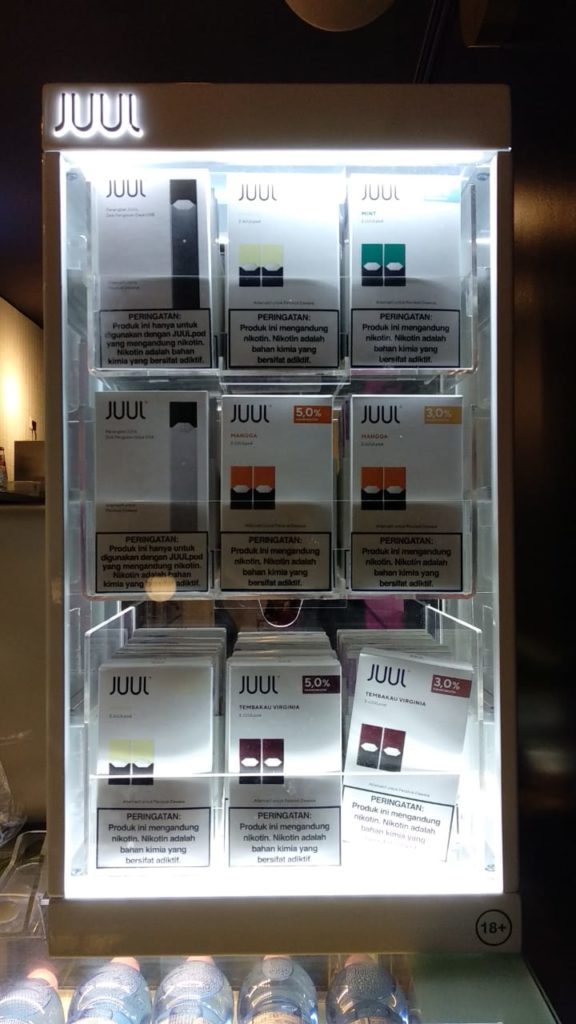 Outlets are planned to open in major cities throughout Java, including Bandung, Surabaya and Yogykarta.
Packaging
The JUUL packaging includes a warning label in Indonesian, which warning translates to "this product is only to be used with JUUL pods that contain nicotine. Nicotine is a chemical that has addictive properties." This warning primarily relates to concerns in Indonesia around use of other substances, specifically cannabis, in e-cigarette devices.
At the Pacific Place kiosk, those who buy the devices can get their devices personalized through engraving on the spot. This may be a way, for young people especially, to express their identity as JUUL users and vapers.
The flavors available thus far include mangga (mango), tembakau virginia (Virginia tobacco), mint and vanilla (as shown in Figure 1a).
Cost
In terms of cost, the device and the charger are sold at 450,000 rupiah ($32.08 USD). A 2-pack of JUULpods is priced at 100,000 rupiah ($7.05 USD). The 2-pack has a tax stamp showing a 60,000 rupiah ($4.28 USD) tax.
Web presence
Information on JUUL in Indonesia is available through juul.id.  Currently, the products are not sold through by JUUL via their website store, but they are still available through third party retailers such as Tokopedia and Bukalapak. The juul.id website guides users to nearby sales locations, including cafés and bars.
Other Media
Advertisements, which feature a letter from JUUL's founders, have appeared in many media outlets, including the popular national newspaper, KOMPAS (Figure 3). Thus far, it appears that social media advertising from JUUL has not yet begun.
Monitoring the industry
While it may not be possible to continue following every action JUUL makes throughout the world as they rapidly expand to new countries and adapt to local markets, it is important to document the types of strategies employed to target new users.
Tracking this new player in the tobacco industry will assist government stakeholders with identifying new and innovative marketing tactics (such as engraving) specific to JUUL and other new products.
In Indonesia, where the cigarette market is strong, highly saturated, and weakly regulated, it is essential to monitor the tactics used to expand the e-cigarette market. Further, with the introduction of a multinational e-cigarette brand, it is expected that subsequent policies by city, provincial and national governments will be implemented to regulate these products. JUUL is not the only new multinational tobacco product being released in Indonesia—iQOS will soon be released in country, according to market reports.
While published market assessments are not confident that products like JUUL and iQOS will disrupt the Indonesian cigarette industry, questions remain about how to regulate a multi-product tobacco environment in a country where cigarette pricing is so low, and advertising is rampant. Even with 18+ signs at kiosks, the JUUL presence everywhere from minimarts to malls and restaurants will expose young Indonesians to these new products, and may heighten curiosity in trying the products.
The U.S. media has covered story after story of young people becoming addicted to JUUL, including a recent finding that the company targeted schools and camps. It is important to consider the implications of this recent history as JUUL continues to expand and use new tactics in low and middle income countries, and how these tactics might be thwarted to prevent dual use and uptake of these products.
Elizabeth Orlan is a doctoral student Doctoral Student at the Gillings School of Global Public Health, University of North Carolina at Chapel Hill, USA. Rachel Grana is a Program Director in the Tobacco Control and Research Branch within the Behavioral Research Program of the Division of Cancer Control and Population Sciences at the National Cancer Institute, USA. Mark Parascandola is an Epidemiologist with the Tobacco Control Research Branch in the Division of Cancer Control and Population Sciences at the National Cancer Institute (NCI).
(Visited 4,434 times, 1 visits today)