May CI van Schalkwyk, Imperial College London
m.van-schalkwyk@imperial.ac.uk
Martin McKee, London School of Hygiene & Tropical Medicine
Based on true events, the movie I, Tonya is an American black comedy that follows the life of figure skater Tonya Harding and her alleged association with the attack of her fellow Olympic competitor Nancy Kerrigan. Since its world premiere at the Toronto International Film Festival on the 8th September 2017, at the time of writing, it has generated worldwide takings of nearly $46 million from an estimated budget of $11 million. Produced by Clubhouse Pictures (II) and LuckyChap Entertainment, it is distributed in the UK by Entertainment One UK Ltd.
It is not unusual for promotional material for movies distributed globally to differ according to the market, with well-documented examples in certain markets giving greater prominence to individual actors, often those who are white and male. I, Tonya has attracted comment because of its extensive portrayal of smoking, including a clip in which Harding's mother, played by Allison Janney, smokes in the ice ring, something that Harding has said never happened.
We searched online fora to identify promotional material for I, Tonya and, in particular, the inclusion of cigarettes. In the UK, Margot Robbie, who plays Tonya Harding, is depicted holding a cigarette in her right hand while the words "fitting in is overrated" feature on her left, as shown below.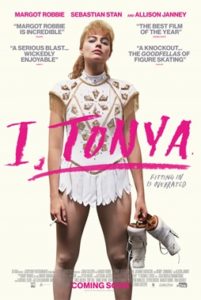 The idea of smoking as an act of adolescent rebellion has long been exploited by the tobacco industry. The UK image is absent from material displayed on mainstream cinema websites in Australia, America and France and in material used by the Internet Movie Database.
While paid placement of tobacco products in TV, film or other media is banned in the UK under The Product Placement Regulations and the Tobacco Advertising and Promotion Act 2002, only limited restrictions are placed on unpaid depictions of tobacco use or products. Youth in the UK have historically been exposed to high levels of tobacco imagery in films, and are also exposed through magazines and TV on demand. While exposure to smoking imagery has been shown to be causally related to initiation of smoking by youth only for movies, it seems likely that imagery in other forms of media will at least reinforce the effects of what is portrayed on-screen.
In India, renowned for its strong legislation on tobacco imagery, the Delhi government's State Tobacco Control Cell recently ordered the removal of all promotional material for the film 'Ittefaq' (English: Coincidence) as it featured tobacco imagery. Could the same be done in the UK? The British Board of Film Classification (BBFC), a non-governmental body, classifies cinema films, videos/DVDs and their trailers but poster advertising falls outside their remit. The Advertising Standards Authority regulates advertisements, including those featured on the internet, while Trading Standards departments in local government oversee false claims made on posters, but neither have a remit to act against portrayals such as that in I, Tonya.
Even where there is no evidence of industry involvement or intent to promote smoking by the film makers or distributors, the choice of poster is a form of tobacco promotion. I, Tonya exposes a regulatory gap in the UK. The inclusion of smoking imagery is obviously not essential. If it was, it would be consistent across markets. The argument for much stronger action by the BBFC against the portrayal of smoking in movies has been made before, although without success. However, as the example of I, Tonya shows, such action should not be limited to what is shown on the screen but to the promotional material that accompanies it.
(Visited 3,193 times, 1 visits today)