Pankaj Chaturvedi, Prakash C Gupta, Sanjay Seth, Ashima Sarin
Voice of Tobacco Victims
Voice of Tobacco Victims Campaign (VOTV) was launched on 31st May 2009 by a dozen cancer survivors of Tata Memorial Hospital, Mumbai under the leadership of Dr Pankaj Chaturvedi. The campaign aims to make Tobacco Victims (cancer survivors and their relatives) the public face of the anti-tobacco campaign and get them justice. There are more than 300 patients and their relatives who are engaged in battling a powerful industry that sold them cancer and suffering. Most are cancer patients who were treated by Dr Chaturvedi in Tata Memorial Hospital, Mumbai. They are supported by 168 motivated oncologists all over India who are performing exemplary voluntary advocacy with highest policy makers. 
Led by cancer survivors, VoTV conducted a sensitization programs for the Chief Ministers, Members of Parliament, State legislators, Police Departments, Education Departments, Food inspectors and other government officials. We took up the matter in several High Courts and the Supreme Court, where Dr Chaturvedi made a deposition in front of Justice Singhvi in Ankur Gutka matter. 
The Campaign played a pivotal role in the Gutka ban introduced throughout India, ban on all forms of flavoured, scented, packaged chewing tobacco in 9 states and the ban of flavoured supari (pan masala without tobacco) in Maharashtra. They were also instrumental in tax increases in several states. Prior to the recent budget, 300 doctors wrote to the Honorable Prime Minister to raise taxes on tobacco. 
VoTV team is also working with state governments for better implementation of tobacco control laws. VoTV has been instrumental in India's most graphic campaign for awareness in society. The clip is shown in all cinema halls and TV channels.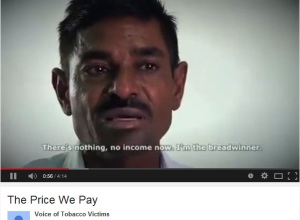 VOTV films are available on Youtube here.
Some patients filed compensation cases in the consumer court, actions that have rocked the tobacco industry.
VoTV has been recognised by the World Health Organization as an outstanding campaign. Dr Chaturvedi was nominated as a Global Cancer Ambassador by the American Cancer Society, invited as a speaker in special United Nations Summit, and served on various committees for the Ministry of Health. The campaign also received the Judy Wilkenfield Award by Campaign for Tobacco Free Kids, Washington. Most recently, on September 22, 2014, Dr Chaturvedi and VoTV won the British Medical Journal Awards in the Health Advocacy category.
According to several studies and Euromonitor, the campaign has contributed to a 26% reduction in volumes of chewing tobacco and 3% in cigarette volume. I am sure it will translate into reduction in prevalence of tobacco usage and eventually reduce the tobacco related mortality.
For more information visit www.votvindia.org
About tobacco in India:
In India, there are 275 million tobacco users – that means every third Indian adult uses some form of tobacco. It is the number one cause of preventable death.
Tobacco is responsible for nearly 50% cancers in India and 90% of mouth cancers. Half of the mouth cancer patients die within 12 months of diagnosis.
Around 1 million Indians die from tobacco-related diseases each year in India. This epidemic kills more people than tuberculosis, accidents, homicides, suicide, AIDS and malaria combined.
Among kids aged 13-15, 4 percent smoke cigarettes and almost 12 percent use other types of tobacco products. As with elsewhere in the world, children are the new consumer base for the industry.
Tobacco costs and enormous amount due to death, disability and diseases. According to government figures, the total revenue from tobacco excise makes up 17% of the health care cost.
While essential food items have become expensive over decades, tobacco has become cheaper every year.
The main form of tobacco consumption in India is chewing and bidis. These two industries are run by only a few dozen families in India.
(Visited 1,307 times, 1 visits today)