With increasing shift work, clinical handover can sometimes merely mean the passing over of a bleep rather than the sharing of responsibility. Effective handover is important for patient care as well as benefiting the multi-disciplinary team environment. Despite the clearly recognised importance and impact on continuity of care, it is rarely given appropriate airtime on teaching programmes and ultimately not assessed as a core competence of a clinical practitioner, which could lead to bad habits and loss of emphasis on the process.
In an attempt to counter this, many professional bodies have produced guidelines on written handover documentation – however, such guidelines are often seen to be both time and financially heavy to implement. As a surgical trainee wanting the best for my patients, I spent some time understanding what messages and simple measures can be taken from these guidelines and implemented without the need for large investments in time or money.
This got me wondering, what does handover really mean and what does a good handover look like?
I worked with my colleagues to trial some ideas within my current trust, which serves a population of nearly 900,000 people across four hospital sites. My departmental team consists of six junior doctors providing 24/7 care, resulting in frequent shift changes with challenging handovers.
My ideas were based on guidance from the General Medical Council's (GMC) Good Medical Practice, (which has a section, Domain 3, dedicated to communication: "Partnership and Teamwork"), advice from the Medical Defence Union[i], and the Royal College of Surgeons of England's Good Surgical Practice[ii]. The main focus of the guidance is on communication and documentation.
Domain 3 has a subsection titled, "continuity and co-ordination of care", highlighting that we must contribute to the safe transfer of patients between healthcare and health and social care providers, further specifying the following:
Share all relevant information with colleagues involved in your patients' care within and outside the team, including when you hand over care as you go off duty, and when you delegate care or refer patients to other health or social care providers
Check, where practical, that a named clinician or team has taken over responsibility when your role in providing a patient's care has ended
You must be satisfied that the person providing care has the appropriate qualifications, skills and experience to provide safe care for the patient.
Just as important as communication is record keeping and accountability; explaining observations and actions taken. This is not only important to ensure the patient gets the best care, but also to protect ourselves since we are accountable in the following areas:
To the profession for maintaining the standards in the General Medical Council's code of conduct
To the public under both criminal and civil law for the safety of patients
To our employers under employment law.
We took two actions to work towards a best practice handover;
1. We introduced a dedicated electronic handover template (figure 2) requiring key information including patient location, responsible consultant, duty consultant, management plan and any outstanding jobs. This follows the recommendations and guidelines (figure 1) from the Royal College of Physicians (RCP)[iii], Royal College of Surgeons (RCS)[iv] and the British Medical Association (BMA)[v]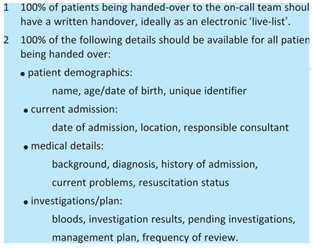 Figure 1: British Medical Association/Royal College of Physicians/Royal College of Surgeons guidelines on written handover
2. A simple monitoring exercise was conducted over four weeks where juniors were asked to sign at the start of their on-call duty if they were happy with the handover they received and felt able to adequately continue patient care. Only seven of the 28 days (25%) had handover signed by junior doctors.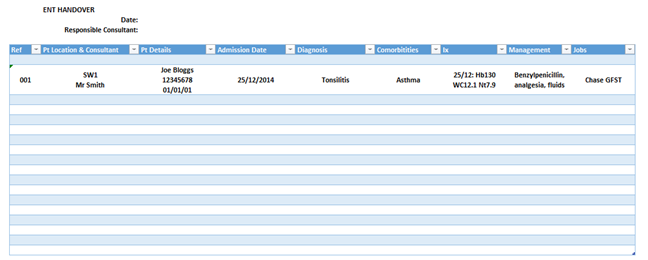 Figure 2: Example dedicated handover template trialled
We undertook focused teaching sessions and incorporated a 15-minute crossover period for handover in our rotas, with registrars intermittently supervising handover to provide constructive personal feedback and ensure high standards were maintained.
A second cycle of 56 days was monitored, showing an improvement with 41 days (73%) signed.
Assuming signatures related to effective handover, our results showed improved handover with simple measures. This continuous monitoring can improve and maintain high standards of handover and is easily replicable across other departments.
Got your thoughts or ideas about handover? Join junior doctors Jennifer Perry, Avi Mehra, Christin Henein, and BMJ Quality on Wednesday 29th April 17:30-18:30 GMT for a Tweet chat as they share their experiences of handover projects. Full information available here.
[i] http://www.themdu.com/guidance-and-advice/latest-updates-and-advice/gmc-publishes-new-good-medical-practice
[ii] http://www.rcseng.ac.uk/news/new-good-surgical-practice-published-by-rcs#.VQDAxELA4dU
[iii] Metz D, Chard D, Rhodes J, Pounder P. Continuity of care for medical inpatients: standards of good practice 2004 London Royal College of Physicians
[iv] The Royal College of Surgeons of England (2007) Safe handover: guidance from the Working Time Directive working party (RCS, London) www.rcseng.ac.uk/publications/docs/publication.2007-05-14.3777986999/.
[v] British Medical Association (2004) Safe handover: safe patients. Guidance on clinical handover for clinicians and managers (BMA, London).
(Visited 129 times, 1 visits today)