"To improve is to change; to be perfect is to change often" – Winston Churchill
It's hard to believe that we are now on our final rotation at UCLH. It feels like only yesterday that we were nervous FY1s with an impending sense of doom as we shadowed our predecessors. The clocks have changed and the days of arriving and leaving work in black and white have vanished; slowly but surely technicolour is creeping in. The change is scary but exciting. We are actually trading places on the acute medical unit, with Howell finishing a job in clinical pharmacology and Ranu embarking into the world of breast surgery.
As FY1s, we have learned to expect change every day – different bosses, different colleagues, different patients. There are always new tasks to undertake, new problems to overcome, and new things to learn. When it comes to change, we have experienced the good, the bad, and the downright ugly. Regardless of how overwhelmingly off course from the yellow brick road we felt along the way, one thing is for certain: we are better doctors because of it.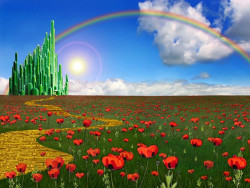 As comfortable as we have become over the last eight months, there are still times where we are reminded that we have a long way to go. As a junior doctor you often feel powerless to execute change yourself. Sometimes you feel as if you are just a small cog in a giant wheel of change that is rusty and stuck; a wheel crying out for oil like the Tin Man from "The Wizard of Oz".
This rusty, unchangeable wheel is where quality improvement groups come in. Trying to make a change in an institution as big as UCLH is hard, but it would be even harder if we were to try it alone. Working together in our #UCLHQI group has been great as it provides us and other junior doctors with a time and place to come together to develop our teamwork, leadership and communication skills. It prevents burnout by giving us a forum with which to discuss any problems or difficult scenarios we have experienced in our quality improvement journey in a safe and supportive environment.
Balancing our QI project with our day job has been tricky at times, with tight deadlines and rate limiting steps up against gruelling night shifts, stacks of unavoidable paperwork, and TTAs. We consider ourselves lucky to have each other to help pick up the slack when work becomes hectic and all you wish for is a good night's sleep. For anyone looking to undertake a QI project at their hospital, take it from us – don't do it alone! Working together is fun; you can bounce ideas off each other, have some interesting debates, and have people to turn to when things aren't going to plan. It makes your journey to the Emerald City that much easier.
Good teamwork is the oil helping you move easily towards your goal. Whether it is revolutionising medical notes, reducing confusion around blood tests, or the bright lights of the Emerald City, we all need a supportive hand at some point to make our goals achievable.
If you are thinking of trying to make a change in your hospital but are worried it won't be successful, just remember, "Dreams that you dare to dream really do come true" (take it from us!).
For further advice and discussion around the benefits of junior doctor led quality improvement groups, check out the following: Bethune R, Soo E, Woodhead P, Van Hamel C, Watson J. Engaging all doctors in continuous quality improvement: a structured, supported programme for first-year doctors across a training deanery in England. BMJ Qual Saf 2013;22(8):613-7.
If you have any ideas or tips to help our FY1 QI team please tweet us with #UCLHQI at @UCLHmeded and @BMJQuality.
(Visited 11 times, 1 visits today)