Written by George Malekela and Ayikai Poswayo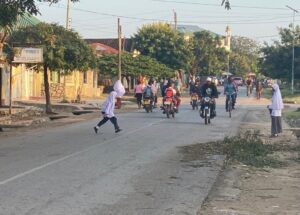 Hasina is a fourteen-year-old student in Tanga who set off one morning – as she always did – on her walk to school. It was a warm humid day. She walked down the dusty dirt road, jumped over the wide-open drain, darted between a fast-moving car and sluggish bicycle as she crossed the first of the two paved roads on her journey. The morning was going as it usually did until she was crossing the second road to get to school when she was hit by a motorcycle. She fell unconscious and was rushed to the nearest hospital by another passing driver in his private car. Hasina missed weeks of school because of the injuries she sustained and has been left psychologically scarred as a result of the whole experience. This is the story of many children in fast growing cities in developing nations, where children face the world's highest levels of road traffic injury.
In response to this emerging crisis Fondation Botnar initiated the Child Road Safety Challenge, managed by the Global Road Safety Partnership. The programme is being implemented across 13 cities in seven countries and began in 2017 and will run for five years. Amend, a non-governmental road safety organisation, is implementing the "Safe and Healthy Journeys to School for Children and Adolescents" project in Tanga, as part of this global initiative.
Tanga is a rapidly growing coastal city in Tanzania, north of the business capital, Dar es Salaam. Tanga currently has a population of around 300,000 people – many of whom walk or cycle instead of using a car. For many years Tanga was known as a city of bicycles but in recent times, bicycles are gradually being replaced by motorcycles.
The current child road safety situation
The Safe and Healthy Journeys to School project in Tanga began in 2019. At the outset of the project Amend set about gathering information on the existing road safety situation for children and adolescents in order to inform programme activities. This first step was to get a sense of the extent of the road safety challenge and how children and adolescents travel.
The effects of a child being involved in a road crash can be great: the child's education may be affected, and the cost of treatment can drive a family into poverty, having ramifications for decades, and sometimes even generations to come. The human suffering, and consequences are more difficult to quantify. To prevent these injuries before they happen, a thorough understanding of the existing situation is required.
Contact information was obtained for all 45 primary and 14 secondary governmental schools within Tanga City. Amend contacted all headteachers to understand their road safety concerns. These investigations revealed that in nearly 40% of the primary schools, there was at least one child who had been injured in road traffic in the previous 12 months. This assessment enabled Amend to identify those schools with the highest injury rates. For example, the headteacher of one school reported that five children had been injured in road traffic collisions in the year preceding the survey while four children (including three with hearing impairments) from a cluster of four schools were reported to have been hit by vehicles on the road outside the schools during the same period.
Mobility surveys were carried out at six of the highest risk schools. These surveys showed that the majority (66.5%) of the school children in Tanga walk to and from school every day unaccompanied by an adult.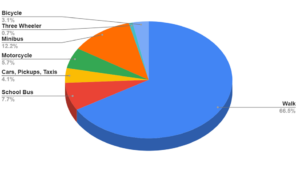 An assessment of the existing road infrastructure in Tanga revealed that in many areas, particularly around schools, children do not have footpaths or safe crossing points to reduce the risk of being injured by motorised vehicles as they walk or cycle to and from school.
What Amend did to make the journey safer
Following the road safety situational assessment in Tanga, a multi-pronged  project was designed to address the road safety challenge.
The project, which started in September 2019, will run through until at least June 2022, and comprises of the following activities:
Environmental modification
To date, Amend has improved pedestrian infrastructure around six primary schools in Tanga where children were at high risk of road traffic injury, and is in the process of improving infrastructure at two additional schools.
The motorcycle barriers installed at the section of one footpath were added after construction of the other infrastructure was complete as it was found that motorcycle riders were misusing the footpath as a roadway. The specially designed barriers allow access by pedestrians and wheelchair users but not motorcycles.

Safety promotion
Road safety education to children and adolescents
After the infrastructure improvements were complete, Amend also delivered tailored road safety education at all six primary schools on the best use of the improved infrastructure and tips on making journeys to and from schools safer. Amend's road safety education has also been delivered to five nearby secondary schools.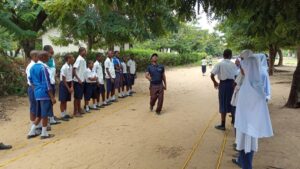 Road safety clubs and Kids' Court program
Amend has established a road safety club at Usagara primary school, with 20 children who completed comprehensive training on road safety and who have in turn have become road safety ambassadors in their schools and communities. The club helps children to continue learning about road safety issues but also encourages them to share the knowledge with fellow children at school and with their families at home.
Subsequent to the establishment of the club, Amend implemented it's Kid's Court programme at the same school (Usagara primary school). Kids Court is a programme which involves the police stopping drivers who are breaking traffic laws in front of the school, by for example, speeding, speaking on their mobile phone while driving, or not wearing a seat belt. The police then give drivers the option of being ticketed or immediately appearing before a Kids' Court. Those who appear in front of the Kids' Court face a panel of child "judges" who educate the driver on road safety. The drivers then sign a pledge to drive safely in the future and are free to go.
Capacity development
Amend has not only improved road safety knowledge of children and adolescents, but also that of motorcycle taxi riders. As in many other parts of Tanzania and sub-Saharan Africa, motorcycles are common in Tanga and motorcycle taxis (known locally as "boda-bodas") are very popular. Unfortunately, the majority of the boda-boda riders never attend or complete formal motorcycle training, hence they have little to no riding skills and knowledge of traffic laws and road safety matters in general. This leads to a situation where the riders are not only a risk to themselves and other road users but also to children on their journeys to school.
Amend's boda-boda training programme includes multiple aspects of road safety. During the training, riders learn about the importance of conducting motorcycle inspections before starting their daily trips, how to balance and control the motorcycle, how to ride safely at roundabouts and junctions, how to overtake safely and how to make safe U-turns. The riders are also taught traffic laws and the meanings of various road signs and signals, including special signs which alert them to the presence of people with disabilities, particularly around special needs schools. Before the training, most riders do not know the meaning of most road signs.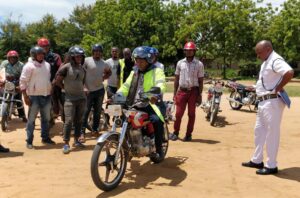 Stakeholder engagement
Since the start of the Safe and Healthy Journeys to School project, Amend has conducted a number of workshops and meetings, bringing together road safety stakeholders to discuss road safety challenges in Tanga and to brainstorm on possible solutions. Some of the stakeholders who have been attending the workshops include leaders such as the City Mayor, City Director, District Commissioner, Regional Traffic Officer, Road Authority Managers, City Engineers, Schools and Motorcycle Taxi Association.
Policy development
Following a series of stakeholders' workshops, Amend is working with all road safety stakeholders to develop a Safe and Sustainable Mobility Action Plan for Tanga. The Plan will help stakeholders develop specific, actionable, evidence-based commitments to road safety issues that will endure even beyond the completion of the project.
Monitoring, evaluation and study
All the programme work described above is routinely evaluated via process measurements. For instance, through before-after measurements of children's retention of road safety lessons, motorcycle rider's knowledge of regulations, and vehicle speeds around schools.
Additionally, Amend is currently conducting a population-based road traffic injury study in fourteen wards within Tanga. The aim of the study is to gain a deeper and holistic understanding of how children across Tanga travel to and from school, the road safety challenges that children face on their journeys, and the road traffic injury levels amongst this segment of the population. The findings of the study will help in planning future programmes and policies for the safety of children and adolescents across the City of Tanga. Monitoring and evaluation aspects are supported by The George Institute for Global Health.
The Future
The interventions implemented through the Safe and Healthy Journeys to School for Children and Adolescents project in Tanga have already had a positive impact – for instance, there have been no reports of injuries outside schools receiving interventions since the start of the project compared to seven injuries reported previously, and stakeholders are working together with a recognition of the importance of road safety that they never have before.
Through this stakeholder commitment to road safety and the Action Plan, it is hoped that the work to date will continue to be built on for many years to come in Tanga. And with new global commitments to road safety, such as the recently launched Second UN Decade of Action for Road Safety, it is our hope that, as Tanga grows in the decades to come, it will do so in a way that is safe and healthy for all children. Amend will be there for the long run to support stakeholders on this path, and the Safe and Healthy Journeys to School for Children and Adolescents project has provided a successful lift off.
(Visited 1,016 times, 2 visits today)