Apply Now- International Safety Media Awards for the Safety 2020 Conference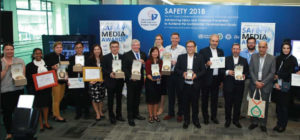 Enter the International Safety Media Awards for a chance to showcase your Safety Promotion Injury Prevention Work.
The International Safety Media Awards (ISMAs) have been a part of the World Health Organisation's SAFETY Conferences since 2006 in Durban, South Africa. ISMAs recognize the best safety media produced around the world.
ISMAs will provide a platform to recognize evidence-based best practice, good buys, and proven methodologies.  It will also provide an opportunity for contribution to further strengthening the strong collaborative partnerships between sectors; which are needed to underpin the development of effective responses to the injury challenge around the world.
At the last conference over 600 pieces of media was received from every continent except Antarctica.
Thank you to The Big Canvas as a proud sponsor and media partner of the seventh International Safety Media Awards 2020.
Award entries close on 31 March 2020. Safety 2020 Conference is in Adelaide, Australia 8-11 November, 2020.
(Visited 507 times, 1 visits today)