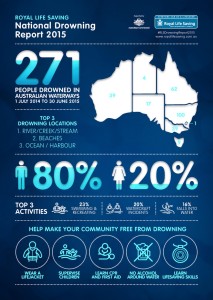 Kudos to Royal Life Saving for releasing both an infographic and video along with their National Drowning Report 2015, making the content more accessible and easier to share. The video – linking data, story, and prevention measures – is an excellent example of a clear, simple way of disseminating research findings.
This important information, in these formats, speaks for itself – and in lieu of an in-depth post.
Two recent Injury Prevention articles on this topic for further reading:
Interventions associated with drowning prevention in children and adolescents: systematic literature review
Does teaching children to swim increase exposure to water or risk-taking when in the water? Emerging evidence from Bangladesh
On a cheeky note: unfortunately no infographics to summarise these – something I feel we as researchers/authors/bloggers should consider for key papers!
On a related note: Justin Scarr, the Chief Executive Officer, Royal Life Saving Society – Australia, and Convenor, Australian Water Safety Council will be a keynote speaker at the 12th Australasian Injury Prevention and Safety Promotion conference – hosted by the Australian Injury Prevention Network, and The George Institute for Global Health – in Sydney from 25-27 November 2015. There is still time to register today to hear him, or indeed for any of the other speakers on the program, present. More information here.
(Visited 1,200 times, 1 visits today)