Professor El-Omar has chosen Professor Anjan Dhar to do the next #GUTBlog. Professor Dhar is a Professor of Gastroenterology, at the County Durham & Darlington NHS Foundation Trust, Darlington Memorial Hospital, Darlington, UK and a Professor of Medicine, School of Health & Life Sciences, Teesside University, Middlesborough, UK.  Professor Dhar is joint first author with Dr Hasan Haboubi from the Department of Gastroenterology, University Hospital Llandough, Llandough, UK. The #GUTBlog focusses on the latest guideline "British Society of Gastroenterology (BSG) and British Society of Paediatric Gastroenterology, Hepatology and Nutrition (BSPGHAN) joint consensus guidelines on the diagnosis and management of eosinophilic oesophagitis in children and adults" which was published in paper copy in GUT in July 2022.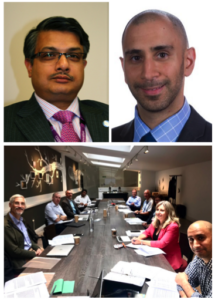 Professor Dhar writes:
"The BSG/BSPGHAN Joint Consensus Guideline on the diagnosis and management of Eosinophilic Oesophagitis (EoE) in children and adults is the latest updated guideline amongst published European and American guidelines for this condition. We know from a number of published reports that the diagnosis of EoE in both children and adults suffers from a long delay between onset of symptoms and endoscopy, particularly so in patients who present with food bolus obstruction to Accident & Emergency units. Management of the condition is still sub-optimal with a significant proportion of patients being discharged back to primary care without appropriate follow up and endoscopic confirmation of remission. For a fibro-stenotic inflammatory disease like eosinophilic oesophagitis, it is crucial for patients to receive goal directed treatment, preventing complications of stricturing disease and consequent endoscopic dilatation.
The new guideline is different from previous guidelines in that: (1) the diagnosis of eosinophilic oesophagitis incorporates digital pathology for the first time, (2) there is a strong recommendation for multiple oesophageal biopsies to be taken in patients presenting with dysphagia, and a normal endoscopy as well as in patients presenting with food bolus obstruction at index endoscopy, (3) the need for follow up endoscopy to confirm histological remission is emphasised, even in patients who are symptomatically better due to the fact that upto 40% patients with symptomatic response may not have histological remission of the disease, exposing them to the risk of long term complications (4) the histological thresholds for both diagnosis and remission of EoE are clearly laid out, (5) the principles of dietary management, appropriately supervised by a specialised dietitian, and the need for follow up endoscopies is described, (6) the relationship between gastro-oesophageal reflux and EoE is described, including the need for stopping proton pump inhibitors (PPIs) for 3 weeks prior to endoscopy, (7) principles of management of EoE using either PPI and oro-dispersible budesonide as the preferred option are clearly laid out based on the induction and maintenance pivotal trials (BUL-1 and BUL-2), the emerging role of biologics in EoE and the safety of oesophageal dilatation in stricturing disease, (8) future research needs in EoE have been detailed encompassing all aspects of the care pathway.
The guidelines took just over 3 years to compile, with many face-to-face and virtual meetings, with 19 co-authors, drawn from paediatric and adult gastroenterology, allergy and immunology, pathology, physiology, dietetics, patient advocates and surgery. It has 63 recommendations, 3 algorithms for diagnosis and management and almost 250 references and covers every aspect of basic and clinical science related to EoE. The guideline addresses an important patient need for this rare disease specifically in the UK and in other countries of the world, to have a pathway and standard of care for clinicians, who may not be very experienced in the management of this relatively new condition. The algorithms allow clinicians to develop a structured service for EoE in their hospitals, as well as implement the principles of long term management for chronic diseases to EoE. We also describe in detail the approach to the management of EoE by dietary restriction, and of complications such as oesophageal stricture and spontaneous perforation.
In summary, this guideline fulfils the longstanding demand of patients and clinicians in the UK to provide them with evidence based recommendations for the management of EoE, and hopefully will improve the outcomes for patients in the future."
References:
Dhar A, Haboubi HN, Attwood SE, et al. British Society of Gastroenterology (BSG) and British Society of Paediatric Gastroenterology, Hepatology and Nutrition (BSPGHAN) joint consensus guidelines on the diagnosis and management of eosinophilic oesophagitis in children and adults. Gut Epub ahead of print. doi:10.1136/ gutjnl-2022-327326
Ben Shillitoe, Ji Ching Lee, Mohammed Hussien, Iosif Beintaris, Mark Stothard, Matthew Johnston, Helen Jane Dallal, Louise J Michaelis , Stephen Attwood , Anjan Dhar. Clinical spectrum of paediatric and adult eosinophilic oesophagitis in the North East of England from 2016 to 2019. . Frontline Gastroenterology 2021;0:1–6. doi:10.1136/flgastro-2021-101814
Lucendo AJ, Molina-Infante J, Arias Ángel, et al. Guidelines on eosinophilic esophagitis: evidence-based statements and recommendations for diagnosis and management in children and adults. United European Gastroenterol J 2017;5:335–58.
Lucendo AJ, Miehlke S, Schlag C, et al. Efficacy of budesonide Orodispersible tablets as induction therapy for eosinophilic esophagitis in a randomized placebo-controlled trial. Gastroenterology 2019;157:74–86. e15.
Straumann A, Lucendo AJ, Miehlke S, et al. Budesonide Orodispersible tablets maintain remission in a randomized, placebo-controlled trial of patients with eosinophilic esophagitis. Gastroenterology 2020;159:1672–85.
Anjan Dhar, Hasan Haboubi, Marcus Auth, Stephen Attwood. Eosinophilic oesophagitis: improving diagnosis and therapy – reducing the burden of repeated endoscopy. Frontline Gastroenterology 2022;13:e51–e56. doi:10.1136/flgastro-2022-102118.
Social Media
@anjan_dhar6 – Professor Anjan Dhar
@HasanHaboubi – Dr Hasan Haboubi
(Visited 291 times, 4 visits today)