After the great #FGDebate with the Dr Patch and Dr Tripathi, we are delighted to announce our next #FGDebate will be on Tuesday 29th December 2015, at 8-9pm GMT and will discuss, 'Frontline IBS: An approach to treatment pathways'.
Dr Anton Emmanuel, Editor in Chief, Frontline Gastroenterology
Anton Emmanuel obtained his medical degree from London University. He is a Senior Lecturer in Neuro-Gastroenterology at University College London and Consultant Gastroenterologist at University College Hospital at the National Hospital for Neurology and Neurosurgery (Queen Square) and the Royal National Orthopaedic Hospital (Stanmore). Prior to this he was Senior Lecturer at Imperial College and St Mark's Hospital. His current clinical work encompasses being director of the GI Physiology Unit at University College Hospital as well as providing a specialist clinical neuro-gastroenterology service. His research includes basic gut neurophysiology and the study of the aetiology and management of functional gastrointestinal disorders of the upper and lower gut. He currently supervises 5 post-graduate research fellows undertaking higher degrees. He is ex-Chairman of the NeuroGastroenterology (NGM) section of the British Society of Gastroenterology and is the Medical Director of Core, the UK gastrointestinal charity. He is editor in chief of Frontline Gastroenterology, a specialist clinical journal. Best of all he is married with four children and a dog.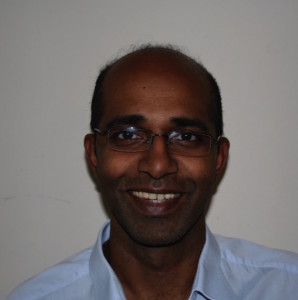 During the #FGDebate Dr Emmanuel will cover the relevant treatment pathways in IBS.
Join us on Tuesday 29th December 2015 8-9pm GMT for the #FGDebate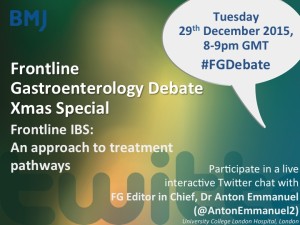 (Visited 153 times, 1 visits today)