After the great success of the #FGDebate with Dr Simon Gabe, we are delighted to announce our next #FGDebate will be a #DDW15 Special debate with world renowned IBD expert Professor Edward Loftus (@EdwardLoftus2), Professor of Gastroenterology and IBD, Mayo Clinic, Rochester, Minnesota, USA, on Monday 11th May 2015, at 9-10pm GMT and will discuss, 'Frontline IBD: Hot topics of IBD'.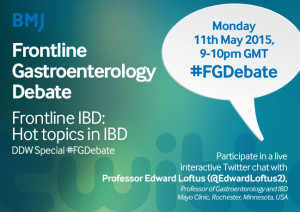 Dr. Loftus is a Professor of Medicine and Director of the Inflammatory Bowel Disease Interest Group, Division of Gastroenterology and Hepatology, Mayo Clinic, Rochester, Minnesota, USA.
Edward V. Loftus, Jr. earned a medical degree at the University of Pennsylvania and completed a residency in internal medicine at Temple University Health Sciences Center in Philadelphia. He served one year as a general medical officer in the Indian Health Service at Fort Belknap P.H.S. Indian Hospital in Harlem, Montana, and then completed a fellowship in gastroenterology at the Mayo Graduate School of Medicine. He has been on the Mayo Clinic consulting staff since 1995.
Dr. Loftus is a Fellow of the American College of Physicians (ACP), the American College of Gastroenterology (ACG), and the American Gastroenterological Association (AGA). He is a member of several professional societies, including the ACP, AGA, ACG, American Society for Gastrointestinal Endoscopy, and the Crohn's & Colitis Foundation of America (CCFA). He served as Chair of the Patient Education Committee of the CCFA from 2002 to 2005. He has served on several ACG committees, and has been an abstract reviewer for both AGA and ACG for a number of years. He is currently the Chair of the Immunology, Microbiology, and Inflammatory Bowel Disease section of the AGA Institute Council.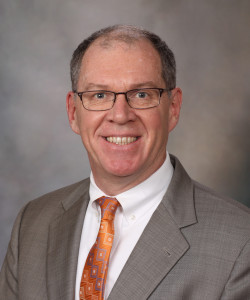 Among Dr. Loftus' awards are the Mayo Department of Medicine Laureate Award (2007) and the CCFA, Minnesota – Dakotas Chapter, Physician of the Year Award (2008). He was elected to membership in the International Organization for the Study of Inflammatory Bowel Disease (IOIBD) in 2008. Dr Loftus was named Teacher of the Year by the Mayo gastroenterology fellows in 2010-11. He has been named to the list of Best Doctors in America since 2005 and to Castle Connolly's Top Doctors in America list since 2010.
He served as Associate Editor of the American Journal of Gastroenterology between 2003 and 2009, and as Associate Editor of Inflammatory Bowel Diseases from 2006 to 2013.
Dr. Loftus has published over 270 original articles, book chapters, or editorials and more than 300 abstracts, and has lectured extensively on the epidemiology, natural history, diagnosis, and medical management of inflammatory bowel diseases. Dr. Loftus has served as the principal investigator on several funded studies focusing on the epidemiology and natural history of inflammatory bowel disease.
In advance of the #FGDebate, Professor Edward Loftus says:
"To (badly) paraphrase a certain 19th century English author, now is the "best of times" and "worst of times" in the field of inflammatory bowel disease (IBD). While it has been an "age of wisdom", it has also been an "age of foolishness." Huge advances have been made in understanding aspects of IBD pathogenesis (think genetics, immunology, microbiome, etc.), but we are still frustratingly far from understanding enough to result in a cure for IBD. In the United States, there are now six biologic agents commercially available for the treatment of Crohn's disease or ulcerative colitis, and, over the next 3 to 5 years, we could very well see approval for several more effective therapeutic agents. Several jurisdictions in Europe have seen the advent of a biosimilar for infliximab, which ultimately could result in cost savings and perhaps improved access to biologics. Yet, at the same time, we are just scratching the surface in understanding how to properly use individual medications and combinations of medications to not only make our patients feel better, but also to achieve disease modification, or alteration in the natural history of these diseases. Later this week, thousands of physicians and scientists will be streaming into Washington, D.C., for Digestive Disease Week 2015, where we'll hear about cutting edge science and medicine related to gastroenterology. Over 1,000 abstracts were submitted to the IBD section of the American Gastroenterological Association meeting during DDW.
In tomorrow's Frontline Gastroenterology Debate, I hope to be able to highlight some of the advances which have been made in recent years to manage patients with IBD. Since Dr. Charlie Lees did such a nice job reviewing issues related to pathogenesis of IBD in his October 2014 #FGDebate, much of my focus will be on advances in clinical management, such as risk stratification, earlier intervention in the disease course with effective therapies, objective assessment of inflammation to make treatment decisions, early reassessment of changes in therapy to determine if the change has been successful ("treat to target"), and therapeutic drug monitoring. However, I am happy to take any questions related to the field of IBD. Looking forward to this interaction on social media!"
Join us on Monday 11th May 2015, 9-10pm GMT for the #FGDebate!
(Visited 666 times, 1 visits today)