Elizabeth Bailey, Associate Editor for Midwifery and Women's Health discusses what healthcare can learn from recent developments in women's sports.
This week saw the start of the Women's World Cup. Thirty-two countries have a national female football team competing for the top spot with more prime-time TV coverage in the UK and USA than before. These kinds of tournaments are seen as catalysts to encourage more women and girls into sports. Following England's Lionesses European Cup win in 2022, there was a financial boost from the UK government to drive opportunity for equal time for girls and boys to participate in sport [1].  Research reports from Women in Sport have highlighted that only 49% of 5–11-year-old girls took part in a team sport compared with 70% of boys [2], that 61% of teenage girls felt judged when doing sport [3] and almost a quarter of women aged 45-54 are inactive [4]. This represents lost opportunities for the physical and mental health benefits of exercise across the life course. The barriers to women's participation in sport are complex but teenage girls report avoiding exercise while having periods due to pain, fear of leakage, tiredness, and self-consciousness [3].
World Cup kits for England and New Zealand have abandoned white shorts opting for darker colours to relieve anxiety about leaking [5,6] and the Australian team shorts incorporate absorbent period protection in the base layer underneath [7]. This closely follows the relaxing of the strict white kit rules of another international sporting competition – Wimbledon – who are now including dark undershorts as permitted wear on the court [8].
These high-profile examples feel like an opportunity for many other organisations to follow suit and adapt their professional uniforms to improve experiences for those wearing it. Could this also extend into healthcare uniforms? Research in nurses has shown that menstrual health can be impacted by night shift working and workplace stress [9]. The Covid pandemic had additional impacts on many aspects of menstrual health including NHS workers experiencing reduced access to shops and supplies and being 'caught out' at work with no access to period products on hand [10].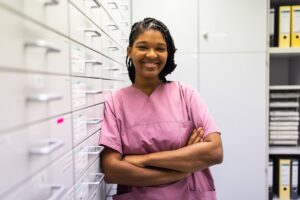 NHS Supply Chain has recently undertaken a consultation exercise for a standard national uniform with one of the project values included being that the needs of all potential wearers are considered [11]. The consultation results confirmed a preference for a national standardised uniform with colour being an important way to differentiate job role. The need to be culturally sensitive was noted but no explicit mention of colour and menstruation [11]. The consultation of colours for Allied Health Professionals has completed, and interestingly white was more popular amongst female respondents (39.2% of first choices) compared to males (30.9% of first choices) and non-binary (25% of first choices) individuals [12]. However dark magenta was the overall favourite, and all will be paired with dark coloured trousers. Many healthcare professionals wear scrubs in the workplace and light colours are important as an outward show of cleanliness and hygiene. In addition, they are often poorly fitted to female shapes and sizes being 'unisex' and due to them being provided by the organisation, availability and choice of sizes is variable [13]. This can lead to being self-conscious about undergarments and period protection also being noticeable.
There are many points of discussion within the desirability of workplace uniforms, the hierarchy it represents, patient perceptions and what constitutes a professional presentation. Menstrual protection is only one of those points that needs to be part of the conversation. Within the social perception of menstruation there is further debate on whether the desire to conceal menstrual blood supports people with anxiety and minimise embarrassment or feeds into the sense of shame and stigma associated with menstrual blood [14]. Cultural attitudes to menstruation vary and it may be that workplace approaches to need to be sensitive to this, and it is important that the discussion on menstrual health is inclusive and considers contextual health and social inequalities [14]. It is now more common to see free period products available in schools and many workplaces as well as the NHS who also offer free products to patients [15, 16]. Against the backdrop of a cost-of-living crisis this is also an important stand against period poverty [10].
Blood loss is only one symptom of menstruation that has a workplace impact. Other symptoms such as pain and tiredness can also impact workforce wellbeing which nurses, midwives and other health professionals may feel unable to disclose to colleagues or flag as needing additional consideration or support [9]. At a time when many healthcare workforces are also facing a rising tide of workplace stress, sickness and absence and challenges with staff retention, perhaps further focus on menstrual and other reproductive health needs is needed. This could also be alongside the promotion of opportunities to take part in sport and active lifestyles; a great example of sports supporting nurses wellbeing is the Filipino Sports Fest organised by the Association of Filipino Nurses in Suffolk [17].
Such developments might support healthcare staff feel better placed to perform at their best. Let's hope the same is true of the inspirational sportswomen taking to the pitch over the next few weeks. Undoubtedly there will be a lot to cheer on and champion and hopefully a continued legacy that will feed into further discussion, debate and improvements in women's health.
References:
(Visited 99 times, 1 visits today)