In our latest 'Day in the Life of Series' showcasing the diversity of roles within learning disability nursing, Isla McGlade Professional Learning/Intellectual Disabilities and Neurodevelopmental Nursing Advisor with the Autism and Learning Disabilities Team,  Scottish Government  (www.gov.scot), Health and Social Care Directorate, talks about her role.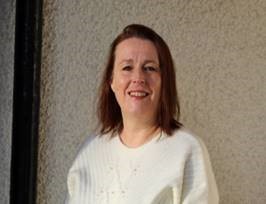 What is your job title and your main role/responsibilities?
In my role, I provide professional advice from my clinical and nursing experience on all matters relating to learning disability, autism and neurodevelopmental conditions to help civil servants develop high quality advice for Scottish Government and UK Government Ministers.
How did you get into your current role/line of work?
I am a Registered Nurse for people with Learning Disability (RNLD). Throughout my career in the NHS I have had the privilege of supporting and working with, people with learning disabilities. My career path began as a staff nurse/senior staff nurse working in inpatient services before moving to a Community Learning Disability Team as a Senior Charge Nurse in NHS Greater Glasgow and Clyde. The Primary Care Liaison Team was my next post as Primary Care Liaison Nurse and following promotion , Acting Lead Nurse supporting General Practice to deliver locally enhanced service requirements, working with researchers and providing training and education across primary care. Heralding early integration, I took up post as Clinical Team Leader within a joint health and social care team and in tandem was invited to contribute to the Learning Disability pre-registration programme at Glasgow Caledonian University alongside contributions to other fields of nursing, psychology at the University of Glasgow and health care programmes across a number of other Higher Education Institutions in Scotland.
Having completed my BSc in Health Studies and Masters in Primary Care, I was fortunate to have opportunities to undertake qualifications in Cancer Genetics, Adults with Incapacity: Part 5 CH32254, Social Work Services Management Programme, Clinical Leadership and Family Planning. Straddling a joint role across health and lecturing, my next role was Clinical Academic for Learning Disability Nursing at Glasgow Caledonian University. Funded by Scottish Government, this new role supported the "National Model" working across seven territorial health boards: NHS Ayrshire & Arran, NHS Dumfries & Galloway, NHS  Forth Valley, NHS Greater Glasgow & Clyde, NHS Highland, NHS Lanarkshire, NHS Western Isles and The State Hospital NHS Scotland specialist board. During this time, I embarked on my PhD and continued this journey taking up post as Nurse Consultant Learning Disabilities in NHS Grampian, a fantastic role with professional responsibility for Learning Disability Nurses in NHS Grampian, NHS Shetland and NHS Orkney, Associate Lecturer Robert Gordon University and Scottish representative to the UK Learning Disability Nurse Consultant Network.
I next took up post as Associate Nurse Director for Learning Disability and Mental Health Services across NHS Grampian and Clinical External Examiner University of Stirling. Chief Nurse for Transformation of Mental Health and Learning Disability Services NHS Grampian followed, heralding a new and innovative role across Health and Social Care Partnerships and NHS transforming services for people with Learning disabilities and Autistic people. I chaired the Scottish Learning Disability Nurse Leads Group until the role of Professional Learning/Intellectual Disabilities and Neurodevelopmental Nursing Advisor Autism and Learning Disabilities Team at Scottish Government, a fabulous role and continue to represent Scotland at the UK Learning Disability Professional Senate.
Consequently, I have worked across a variety of clinical areas; inpatient services, secure units, community learning disability teams, primary care liaison team and health and social care partnerships and policy teams. Owing to my profession I have been invited to join and or participate in a number of user and carer groups for people with learning disabilities and their supportive carers. Prior to joining the NHS, I worked in a variety of local authority settings. This scope has afforded me opportunities to observe, participate in, reflect, listen and learn from people with lived experience.
As a RNLD, I have had the privilege to participate in the development, implementation and evaluation of the National model for pre-registration RNLD in Scotland (Glasgow Caledonian University, 2016). I participated in the development of the United Kingdom legacy document for Learning Disability Nursing, Sustaining the Commitment (2019). I am immensely privileged to be an Associate Nurse Director, Chief Nurse and Scottish Government Professional Advisor to the people we serve and the profession from which I am so proud to be a part. Desire and curiosity to explore in greater depth the profession of which I am part has led me to my PhD journey.
 Can you tell us what a typical day in your role/line of work involves?
 I am ver proud to be a Registered Learning Disability Nurse. Our role and function is to work in partnership with people with learning disabilities and their supporters to enable and collaborate with health and care services, third sector, and integrated services, private and public agencies to meet the evolving needs of a growing population. Registered Learning Disability nurses work with children, adults and older adults, their families/carers, staff and support teams and the wider workforce to enable each person to achieve their full potential and have a fulfilling life. Working collaboratively improves autonomy, promotes health and wellbeing and supports inclusion; enhancing lifestyles that help achieve the best health outcomes. The centenary of learning disability nursing celebrated the many different roles and functions of the Registered Learning Disability Nurse.
Any civil servant will tell you that that there is no typical day. Although I do often find myself in many meetings! I might be meeting with colleagues from 4 nations to discuss reactive or longer term developments and provide a Scottish perspective for those discussions. I can be reviewing and shaping draft guidance and strategies, or working with colleagues across Government such as workforce planning to input into government strategies. My work also involves meeting with Nurse Directors and Scottish Learning Disability Nurses to understand the real challenges on the frontline. I'm undertaking work on the Scottish Government's National Care Service, the new Mental Health Strategy as well as working to introduce annual health checks in Scotland.
What would you say are the 'best' or most rewarding parts of your role?
I chaired the Scottish Learning Disability Nurse Leads Group until the role of Professional Learning/Intellectual Disabilities and Neurodevelopmental Nursing Advisor Autism Government and continue to represent Scotland at the UK Learning Disability Professional Senate. My path has been celebrated with two developments attracting cross party support, NHS Scotland Endorsement, British Medical Association, Queen's Nursing Institute for Scotland and Scholarship Awards. I have been fortunate to work closely with numerous stakeholders including pre registrants, new graduates and our RNLD workforce , social care, third sector, private, voluntary and charity organisations, policy leads, civil servants, supportive family and carers and most importantly individuals with a learning disability.
 I am very fortunate to enjoy  rewarding roles, to have travelled widely for work, covering dense urban, remote and rural and island health boards, as well as UK and international destinations for both the NHS and as my PhD progressed.  I enjoy very much the post I hold currently working alongside civil servants as well as the many other posts I have been fortunate enough to hold.
 What advice would you give to others who would like to follow a similar pathway? 
RNLDs need to understand the ways in which systems exert their influence and how we can provide advice and influence policy. Transformation across all organisations is needed to target the skills, knowledge and competencies of RNLDs to the right people, in the right places and at the right times.
We are looking for the right people to become RNLDs and welcome school leavers and adult returners to consider this profession either via university degree routes or widening access opportunities. Knowledge, passion, commitment, drive, care and strength are key skills. In Scotland, Edinburgh Napier University, Glasgow Caledonian University and The Open University would welcome your enquiry.
(Visited 679 times, 1 visits today)