Claire Carswell, PhD student, Queen's University Belfast.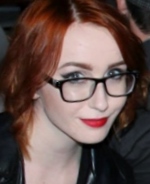 This week's EBN Twitter Chat on Wednesday 25th April between 8-9 pm (UK time) is being led by PhD student Claire Carswell, Queen's University Belfast. This Blog provides some context for the Chat. You can contribute to the chat by adding #ebnjc to your tweets.
End-stage kidney disease (ESKD) is the final stage of chronic kidney disease. Patients with ESKD are poly-symptomatic and experience difficult symptoms including fatigue, pruritus, pain, nausea, sexual dysfunction and muscle weakness, which can profoundly impact quality of life (QoL). ESKD is treated with renal replacement therapies (RRT), such as haemodialysis. Haemodialysis is a difficult and time consuming treatment that requires patients to attend hospital up to three times a week for up to four hours each time. During treatment the patient is connected to a dialysing unit that filters their blood and removes waste products and excess fluid; replacing the role of the kidneys. Patients receiving haemodialysis have lower health-related quality of life (HRQoL) than the general population and lower QoL is associated with increased mortality in patients on haemodialysis. Patients receiving haemodialysis also have higher rates of anxiety and depression than the general population or patients with ESKD who receive a renal transplant.
The application of arts in health has received recent interest because of its potential to improve patient outcomes and reduce costs for the National Health Service (NHS). Emphasis in research remains on arts therapies which are a form of clinical intervention, administered by a professional therapist within a psychotherapeutic framework, to meet clinical objectives. Less attention has been given to participatory arts-based interventions, which involve the use of arts in the clinical environment for the purpose of creativity and personal enhancement. The main benefit of arts-based interventions, compared to art therapy, is the shift away from the clinical focus and the opportunity to develop a sense of identity separate from the illness and the clinical environment. They have been shown to improve QoL, symptom burden and mental health in a variety of settings, including medical-surgical units (Sonke et al., 2015), primary care (Crone et al., 2012) and cancer care (Kim et al., 2017), but there is a lack of research exploring their effect in renal populations.
While the literature exploring the impact of arts-based interventions on patients with ESKD is limited, it provides some insight into their potential benefits. One study found that patients receiving haemodialysis who participated in an arts-in-medicine programme reported the time seemed to go faster while on haemodialysis, that they felt a sense of productivity and accomplishment, it relieved their boredom and lifted their mood. Arts-based interventions may induce a flow state (https://www.ted.com/talks/mihaly_csikszentmihalyi_on_flow), a sense of total absorption in an activity and a feeling of productivity linked to improved QoL and mood. However there have been no randomised controlled trials conducted to establish the effect participatory arts-based interventions can have on the QoL and mental health of patients receiving haemodialysis.
The EBN twitter chat on Wednesday 25th April will discuss the use of arts in healthcare settings, their potential to improve the lives of patients and healthcare staff, and the possibilities of conducting research to guide future practice and policy.
Questions
• What are your experiences of the use of arts in healthcare?
• In what way could arts-based interventions improve the lives of patients and healthcare staff?
• How can arts-based interventions be implemented in clinical environments?
• How can we best apply research methodology to establish the effectiveness of arts-based interventions?
(Visited 1,481 times, 1 visits today)