By Roberta Heale, Associate Editor EBN, @robertaheale, @EBNursingBMJ
A few months ago I blogged about taking courses in acupuncture. At that time, I promised to blog again about my experience in implementing acupuncture into my primary healthcare nurse practitioner practice. I had been frustrated by the lack of options for people with chronic pain and had decided to learn acupuncture as a way to offer patients an alternative to medication. After completing an acupuncture program and practicing on a few family members and friends, I worked out a deal with the agency where I practice as a NP to offer the service to clinic patients. My schedule quickly filled up with patients who had been referred by other NPs at the centre. Finally, one warm and sunny day at the end of June, I put my kit together and got started.
The patients who had taken appointments with me each suffered from multiple pain issues as a result of fibromyalgia, osteoarthritis, previous injury and more. I took the time to explain acupuncture risk and benefits to each person. I showed them photos of me taken during my courses to demonstrate that I'd needled and been needled every point in the course work, including the one attached where I've been given shoulder points. Everyone asked me 'does it work?'. I told them about research showing the effectiveness, but from my own experience I had to say honestly 'I don't know'. I worked out a plan of care for each patient based on their symptoms and the areas that they felt were the priority.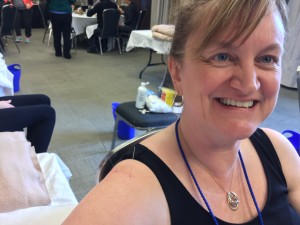 With no expectations, I was amazed at both the immediate and delayed response to acupuncture treatment. I estimate that over 80% of the patients had some positive reaction and although I began by treating local pain issues, I was totally unprepared for the wide range of benefits experienced. Almost all patients indicated that their pain was reduced, but they also described lessened anxiety and increased relaxation. There were reports of better sleep, feeling happier and even less constipation. In one instance, a patient was treated for bilateral lower leg pain. The treatment reduced the pain significantly, but the extensive varicose veins on her lower legs faded to almost nothing during the treatment! We were both quite surprised and she was thrilled and even moreso when the effect lasted.
In the short time I've practiced acupuncture I've learned that it's difficult to quantify a patients' reaction to treatment. The pain scale of 1-10 just doesn't seem to be appropriate in capturing a response. It appears that the tendency in western healthcare to compartmentalize diagnoses and treatments doesn't work as well with acupuncture. The benefits are more ubiquitous, more indefinable. While I can't honestly say to an individual patient that 'acupuncture will work' for them, I certainly feel much more confident in saying that they will likely have some benefit from treatment.
I'm excited to continue to offer acupuncture to my patients. I hope as I become more proficient, I'll be able to provide them with even more benefit.
(Visited 2,362 times, 2 visits today)