FMCH Editorial office
Reference:
Zhu J, Zhong Z, Ji P, et al Clinicopathological characteristics of 8697 patients with COVID-19 in China: a meta-analysisFamily Medicine and Community Health 2020;8:e000406. doi: 10.1136/fmch-2020-000406
What are the clinical and laboratory characteristics of Chinese patients affected by the coronavirus disease 2019 (COVID-19)? By the progress of the pandemic and the publish of new researches, the evidence in this area is continuously updated.
This meta-analysis included 55 cohort or case series studies published between 6 February 2020 and 16 March 2020 and involving 8,697 Chinese COVID-19 patients. By the limitation of the original research included, it is not an evidence with highest confidence. However, depending on the large sample size and comprehensive outcomes (including the main symptoms, minor symptoms, asymptomatic, laboratory indicators, etc.), it provides a practical and relatively reliable evidence for primary care practitioners and specialists in controlling and treating Covid-19 patients worldwide.
This study showed that a higher proportion of infected patients were male (53.3%), and the two major symptoms observed were fever (78.4%) and cough (58.3%). Other common symptoms included fatigue (34%), myalgia (21.9%), expectoration (23.7%), anorexia (22.9%), chest tightness (22.9%), and dyspnea (20.6%). In addition, it also demonstrated the characteristics of the minor symptoms, asymptomatic patients, and laboratory indicators. The detailed characteristics of the patients are shown in the following figures:
Figure 1: Main clinical characteristics
Figure 2: Minor clinical characteristics and the proportion of asymptomatic patients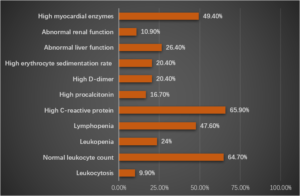 Figure 3: Laboratory characteristics
In addition, in a subgroup analysis, this study found that all patients diagnosed before January 31 (the early stage of the Covid-19 outbreak in China) had a higher incidence of fever and cough. Considering the publication bias of the meta-analysis (only confirmed patients admitted to the hospital and participating in the study are likely to be included in this study), this finding shows a potential possibility: In the early stage of community-level screening and self-report of suspected patients, the two main symptoms may be given more weight in the judgement of "if somebody may be infected by Covid-19". It suggests the importance of timely screening and identification of asymptomatic patients.
This study provided a most extensive, up-to-date description so far of clinical characteristics of COVID-19 patients and to provide a reference for clinical decisions and future research. It is particular practical for general practitioners and family physicians.
Conflict of interest: None
(Visited 30 times, 1 visits today)