By Marcus Chong
In 2016, while conducting medical research in a rural village of Northern Samar, the Philippines, Professor Allen Ross and his global health research team met a patient with severe electrical burns. He was a construction worker who had suffered an electrical burn at work from an overhanging high voltage electrical wire carrying 20,000 Volts. He had sustained burns to 25% of his body with significant scarring on the skin under the armpits and the amputation of all four limbs.
After the accident, he was transported to a local hospital by a family member; he remained there without medical treatment for eight hours. Public hospitals in Metro Manila are typically overwhelmed – with a lack of physicians available to treat emergency patients. Approximately eight hours later an ambulance was found to transport the patient to a local burns centre. By then his untreated injuries had resulted in thromboses requiring amputations of all four limbs. His relative in Manila sold their company truck in order to pay for his surgical procedures and hospital care. He remained in hospital for a few weeks after the operation. At this point his family had used up all their savings. He was discharged in a wheelchair as physiotherapy, prostheses and rehabilitation were prohibitively expensive. He returned to his home village in Simora Palapag, Northern Samar (Image, left).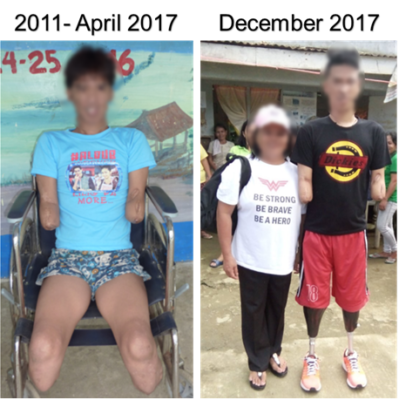 The published BMJ case report that resulted can be found here.
In 2017, with the patient and family's consent, Thao Ross (Allen's wife) organised crowd funding on a Go-fund-me website. Funds came from people of all walks of life. It took several months to raise the required funds for four prosthetic limbs.
We were able to buy prostheses made of aluminium and coated with an alloy that made them durable and water-proof in Manila, from the prosthetic limb company Ottobock. There were also sufficient funds to provide the patient with rehabilitation and prosthetic fitting services. The prostheses provided by the company for the lower limbs can be seen in the above image (right) and the patient is currently (2018) having his upper limbs custom made and fitted. The patient was able to walk again after a few weeks of physiotherapy and rehabilitation. The patient waited almost seven years to walk again and we are very happy to have made this possible!
Competing Interests
None Declared