By Manasi Jiwrajka
The 6th of February marks the International Day of Zero Tolerance to Female Genital Mutilation.
Last year I had the privilege to listen to Khadija Gbla at the Global Health Conference in Newcastle, Australia organised by the Australian Medical Student Association. Khadija is the voice and face of female genital mutilation (FGM) in Australia and worldwide. She addressed an audience of ambitious future doctors interested in global health, and what struck me was the simple message: take a good history and examine the patient.
As junior doctors and medical students, we often forget that we may be closer to patients than anyone else because there is not that white coat barrier between the patient and us. We forget that although we don't always make major clinical decisions, the information we relay to our seniors is what determines their clinical decision, and as such a thorough history and examination is crucial.
Patients who have had FGM inflicted on them may present with common symptoms such as  incontinence, dysmenorrhea, dyspareunia or all of these. In this case report by Abdulcadir and Dallenbach 1, a 27 -year old female presents with the above symptoms after having consulted a gynaecologist. They write:
"She had been living in Europe for more than 5 years and mentioned having consulted a gynaecologist some years ago, but no treatment had been proposed. She added that she had felt uncomfortable because the physician did not seem familiar with FGM/C. After that experience, she never consulted again in spite of worsening symptoms."(Abdulcadir and Dällenbach 2013)
One of the key learning points from the case report, as authors write, is "Overactive bladder post female genital mutilation/cutting type III is a very distressing condition, probably under-reported due to shame, poor medical reception and cultural barriers." We in the medical profession can at least make ourselves aware of FGM and reduce the stigma associated with this.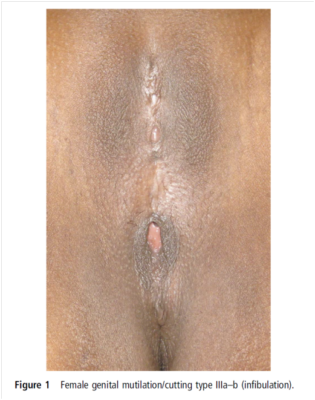 Khadija's message to us still holds true. When in doubt, ask. When in doubt, examine.
Here is a video of another one of Khadija's inspiring talks: https://www.ted.com/talks/khadija_gbla_my_mother_s_strange_definition_of_empowerment
References
1 Abdulcadir, J. and P. Dällenbach (2013). "Overactive bladder after female genital mutilation/cutting (FGM/C) type III". BMJ Case Reports 2013. http://casereports.bmj.com/content/2013/bcr-2012-008155.full (accessed 03.02.2017).