By Hemali Bedi
"The two public health interventions that have had the greatest impact on the world's healt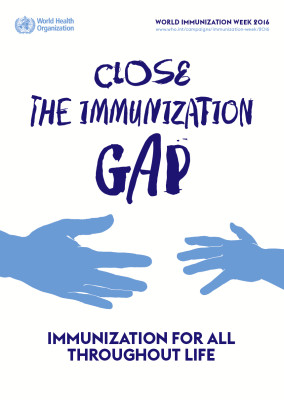 h are clean water and vaccines." – The World Health Organization [1]
World Immunisation week takes place each year during last week of April (24-30). Last year, over 180 countries took part in the campaign, which is coordinated by The World Health Organization (WHO). [2] During this time, WHO encourage the uptake of vaccines and highlight need to improve equitable access to immunisations worldwide. [2]
Immunisation prevents between 2 to 3 million deaths each year. [2] The theme of this year's World Immunisation Week is "Close the immunisation gap". [2] This is because, despite promising advances in vaccine coverage so far, WHO estimate that 18.7 million infants worldwide (approximately 1 in 5) still do not receive immunisations for preventable diseases, such as diphtheria and tetanus. [2] Furthermore, over 60% of children who do not receive vaccinations live in just 10 countries, including the India, Iraq, the Philippines and South Africa. [2]
Barriers to vaccine uptake include social, political and economical factors [3]. Inequitable access to health care services, a lack of information about vaccines, insufficient political support, and in some areas, an improper supply of vaccines, all contribute [3]. Cost is also an issue, with new vaccines being more expensive. [2] But what can be done to address these challenges? We want to know just that. Leave a comment below, and let us know what you think.
Our global health case reports highlight important global health issues including the lack of access to health services in all parts of the world. With the resurgence of polio and measles in areas of conflict and disaster, we want to hear from you about vulnerable patients and populations.
For more information about global health, the determinants of health and medical anthropology, see our global health toolkit. 
References
[1] Public Health England. Information for immunisation practitioners and other health professional https://www.gov.uk/government/collections/immunisation, updated 1 April 2016
[2] World Immunization Week 2016: Immunization game-changers should be the norm worldwide. WHO. http://www.who.int/mediacentre/news/releases/2016/world-immunization-week/en/, published 21 April 2016
[3] World Immunization Week 2016: Close the immunization gap. WHO. http://www.who.int/campaigns/immunization-week/2016/event/en/, accessed 25 April 2016