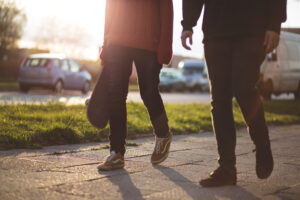 By Nicole Martin
World Heart Day takes place annually on 29 September, providing a platform to raise global awareness of cardiovascular diseases (CVDs). It was created by the World Heart Federation to educate people about the actions they can take to prevent and control CVDs and to drive international action to encourage heart-healthy living across the world.
Cardiovascular diseases are a group of disorders of the heart and blood vessels and include coronary heart disease, cerebrovascular disease, rheumatic heart disease, peripheral arterial disease, congenital heart disease, and deep vein thrombosis and pulmonary embolism.  According to the Global Burden of Disease (GBD) Study from 2019, cardiovascular diseases "are the leading cause of global mortality and a major contributor to disability". This study discusses nine modifiable risk factors, including low physical activity. 
This year's challenge for World Heart Day addresses this risk factor by asking people around the world to walk, run, or bike a heart shaped route. "Whatever distance you make, every step counts for your heart health". 
Activity-promoting environments
This aligns with WHO's Global Action plan to reduce physical inactivity by 15% until 2030 by creating active societies, environments, people and systems. The GBD study recognised that this goal is influenced by many factors, including "transportation, education, urban planning, workplace health strategies, and environmental protection". 
BMJ Open has published research related to this goal and factors that influence it. Let's look at the built environment. Does having a park near your home inspire you to walk or run more often? Does the presence of a bike lane encourage cycling to work or school? 
A paper published in BMJ Open assessed the association between built environment and physical activity in Latin American countries in a multicentre cross-sectional study.11 The author team assessed data from 9218 adults who reside in urban areas from eight countries in Latin America. This study found that people are more likely to be physically active if they lived within 20 minutes walking distance from sport facilities or childrens' playgrounds. Only 14.5% of the study's participants felt that their neighbourhood was adequately built for walking or cycling. 
A nationwide Canadian study also found that "on average, people walk more in favourable ALEs [active living environments]". Similarly, a cross-sectional study from Canada found a "clinically meaningful association between living in the most walkable neighbourhoods and having lower BMI in adults of all ages".
Making space
A cross-sectional ecological analysis in New South Wales, Australia, assessed data from over 5000 students from 43 primary schools and found better physical activity outcomes by increasing space up to 25 m2 per student and providing loose play equipment.
Cycling was the topic of a retrospective natural experimental study in Shanghai and noted the importance of cycling-friendly built environments. This is echoed by a systematic review looking at interventions to increase cycling to work. This review synthesised 12 studies from six countries, differentiating between individual- and group-based interventions as well as environmental interventions. Both types were found to have a small positive effect on increasing commuter cycling with the benefit of environmental interventions reaching a much larger population.
Have you completed the World Heart Day challenge yet? Here is my heart shaped walking route (4.3km) in London, UK: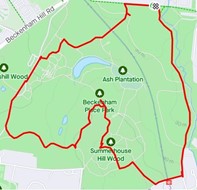 (Visited 241 times, 1 visits today)