It will be no surprise to anyone that NHS dentistry is at crisis point. Increasing media coverage over recent months has highlighted legitimate concerns around access to NHS dentistry, with the deeply worrying impact this has on those with the greatest need for oral care. Whilst this situation feels desperate, it is often in the midst of crisis where profound opportunity can be found.
The NHS Regional Clinical Leadership Fellow Scheme provided time and space to explore these challenges and lead positive change on pressing NHS priorities around dental access, expanding the dental workforce and oral health promotion. It also provided space for us, as dental fellows on the regional scheme, to explore leadership opportunities beyond our clinical speciality such as improving HPV vaccination uptake for school children and supporting national incentives such as the 'Vaccination as a Condition of Deployment' and 'Getting it Right First Time' work streams. Stepping out of our comfort zones in this way has enabled us to both collaborate with, and learn from, our multi-professional workforce in order to deliver regional and national NHS England objectives, which would be otherwise inaccessible for dental clinicians.
It has been a fascinating time to work in the dental leadership landscape, but it was, unsurprisingly, far from a smooth ride. Navigating some of the challenges as part of the regional NHS dental team was frustrating at times, as we found ourselves restricted by the limitations around the national dental contracts and the challenges around advocating prioritisation of dentistry in the wider healthcare system. This highlights an important leadership lesson around understanding what is achievable in the contexts we work in, whilst also considering where we may have influence for wider change. Connecting with the national fellows on the Chief Dental Officer's Clinical Fellow Scheme enabled us to explore this more meaningfully, as we discussed and debated the differing challenges we all faced as aspiring dental leaders working in varying leadership contexts.
It has also been empowering to develop creative and novel solutions to the challenges within our profession. This includes the development of a bespoke website for antimicrobial resistance, as well as constructing aspirational urgent care pathways and supporting the development of the stabilisation dental pathway; the latter aiming to ensure high needs patients have access to the care they need. It has been rewarding to watch as these potentially high impact actions unfold, particularly with the aim of improving access to dental care and taking meaningful action on the health inequalities that exist across our services.
Whilst the crisis in dentistry comes as no surprise to any chair-side dentist, it often feels as though the dental voice is not heard as loudly as it should be. With greater primary care dental representation in particular, and a louder leadership voice, it is possible we may be able to explore early preventative action before we reach a space of crisis in the future. The regional scheme provided opportunities to provide that dental voice in spaces it is rarely heard, which was incredibly empowering. Attending meetings with the Fuller Stocktake team on integrating primary care provided an opportunity to challenge the notion that primary care is solely about general practice; reminding colleagues that oral health is critical to general health, particularly for health inclusion groups who experience much of the burden of oral diseases in society. The opportunity to sit on the Midlands Clinical Senate Assembly also provided a unique and interesting opportunity to partake in discussions about the wider healthcare system in a multi-professional team.  Whilst there have been notable improvements to dental representation and some positive opportunities have unfolded for us throughout the year, a key leadership challenge that remains for the dental profession is to ensure it has an equal voice in advocating for high quality care for our patients and communities.
The multi-professional aspect of the scheme enabled us to develop a shared understanding of the leadership challenges colleagues from all different professions face, whilst creating valuable networks for our future careers. For dental professionals on speciality or core training pathways, the emphasis on developing clinical competencies can often overshadow the importance of developing leadership skillsets. This regional fellowship has also encouraged deeper reflection on the leadership offering within dentistry itself, especially as dentistry moves to greater "skill-mix" models, utilising the whole of the dental team to respond to patient need and improve access to dental care and treatment. It, therefore, follows that there must also be equity in the leadership development offering for all our talented colleagues in the wider dental team, to create a culture of distributed and collective leadership which we know is crucial for improving patient outcomes.
As regional fellows, the opportunity to work with such dedicated and enthusiastic regional teams at an undeniably challenging time, has been inspiring. Watching our teams grow and develop, whilst entering new spaces and integrating dentistry into general health care, has been a highlight of the year. However, there is still room for further integration, and a pressing need for the raising of the dental professional voice.
The fellowship experience has been revitalising and empowering. Whilst some of us return to full-time dentistry, others have secured leadership positions within academic primary care dentistry, sought out additional fellowship opportunities or further postgraduate courses. The fellowship has acted as a springboard to fast-track our development as clinicians and leaders.
Whilst this has undoubtedly been a challenging and turbulent landscape to enter as clinical leadership fellows, it has left us filled with hope and inspiration for what the future of dentistry may hold. However, it is clear to us that a positive future requires the dental profession to both use our collective leadership voice, whilst simultaneously finding ways to ensure it is heard, in order to navigate the inevitable challenges that are yet to come.
Christina Worle 
Christina qualified as a dentist at Peninsula Dental School in 2015. She completed her dental foundation training and a further year in general dental practice in Bristol before returning to Plymouth to work at Peninsula Dental Social Enterprise (PDSE). With colleagues at PDSE she started and ran the PDSE community dental clinic for vulnerable people in Plymouth for five years. Along-side this she has completed a Masters in Restorative Dentistry and has recently completed the Faculty of Medical Leadership and Management Regional NHS leadership fellowship. During her fellowship Christina's work focused around improving access and patient pathways to urgent dental care in the southwest. She is in the process of relocating back to Bristol and is excited to join the team at Bristol Dental School as they relocate and reimagine the Dental School. Christina is passionate about working with socially excluded populations, with significant experience of treating people suffering homelessness and those that have suffered abuse, she is especially interested in the application of trauma informed dentistry. Twitter: @ChristinaWorle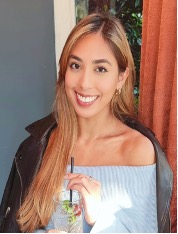 Dr Shima Chundoo
Shima graduated as Bachelor of Dental Surgery at the University of Birmingham in 2016. She achieved her MFDS postgraduate qualification (RCSEd) in 2018. Shima completed foundation training within the City Scheme of HEE West Midlands Deanery. After completing Dental Core Training Years 1 and 2 at Shrewsbury and Telford Trust, Shima served as a Dental Core Trainee 3 in Paediatric Dentistry and Oral and Maxillofacial surgery at Birmingham Children's Hospital. She subsequently completed the NHS regional leadership fellowship based at NHSE and FMLM. During the fellowship, Shima developed strategies to improve HPV vaccination uptake and antimicrobial prescribing in the Midlands. She is currently a Post Graduate Virtual Learning Environment fellow based at HEE and working part-time within Wolverhampton Special Care Dental Service. Shima has had her work published at national and international conferences. She plays a very active role in clinical governance, completing over 11 audits in the past five years and over 100 patient interviews. She has an active interest in teaching and has completed PG Diploma in Medical Education with distinction.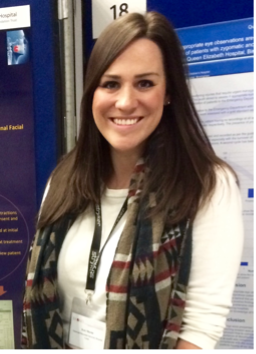 Katy Martin
Katy Martin is a Specialist in Oral Surgery at Birmingham Dental Hospital and School of Clinical Dentistry. She qualified as a dentist from the University of Sheffield in 2014 and completed her specialty training in the Midlands. Most recently she has completed the Faculty of Medical Leadership and Management Regional NHS leadership fellowship. She is actively involved in improving patient safety, including a division-wide conscious sedation safety project. She has also initiated an award-winning trust wide oral health ambassador project, designed to improve the oral health of community-based patients and support interprofessional education. Katy is the National Recruitment Training Representative in Oral Surgery, and one of the Regional Representatives for the British Association of Oral Surgery in the West Midlands. She has completed a Masters in Dental Education, conducting a research project on the adaptations in learning approaches adopted by dentists in response to the COVID-19 pandemic. She is actively involved in the delivery of undergraduate and postgraduate teaching.
Declaration of interests
We have read and understood the BMJ Group policy on declaration of interests and declare the following interests: none.
(Visited 188 times, 1 visits today)