This week's Evidence Watch highlights the risk of acute kidney injury, appropriate use of antibiotics, chest pain rules, interventions to reduce pre-term birth and calcium and vitamin D supplements
Carl Heneghan, Editor in Chief
---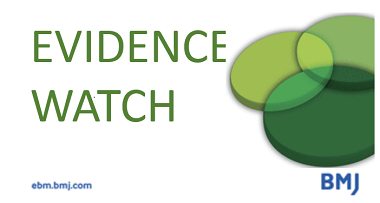 Concern over renal injury with contrast-enhanced CT was laid to rest with a meta-analysis of 28 studies in the Ann Emerg Med. [1] The review found no difference in risk of acute kidney injury between those patients receiving contrast-enhanced CT versus those receiving non-contrast CT.
Curbing the use of antibiotics is not just about restricting their use, but also about ensuring appropriate use in any given situation. A retrospective cohort study, published in JAMA, found in children with acute respiratory tract infections broad-spectrum antibiotics did not lead to better outcomes compared with narrow-spectrum antibiotics. It seems like the systematic review is needed next [2]
There's seemingly a lot of rules for how to diagnose chest pain. This Australian study described the performance of five of them alongside high-sensitivity troponin I assay. [3]
In patients at low risk of acute myocardial infarction and acute coronary syndrome the Vancouver Chest Pain Rule or No Objective Testing Rule meant one third of patients could be discharged after 2-hours with no further testing. Use of The EDACS, m-ADAPT, or HEART (you'll have to read the paper to decipher what these all mean) pathways led to half the patients referred for objective testing.
It's those patients in the middle, the indeterminate ones, the diagnostic conundrums, which are the hardest to manage.  We, therefore, need less validation and instead cluster trials that compare those ED depts that use rules to those that don't, to see if they make a difference to patients outcomes.
An RCT of 300 women with short transvaginal cervical length and no prior spontaneous births reported a cervical pessary halved the rates of spontaneous (<34 weeks of gestation) preterm births (Number needed to treat 13). [4] Given the size of the effect and the importance of this issue, I'd expect to see some confirmatory trials sometimes soon.
If your over 50 and living in the community then taking calcium, vitamin D, or both do not affect your risk of hip fracture. [5] A meta-analysis of 33 RCTs found with calcium or vitamin D did not affect the risk of hip fracture compared with placebo or no treatment. There was no effect of combined calcium and vitamin D,  and no impact on the incidence of nonvertebral, vertebral, or total fractures.
---
Evidence Watch provides the articles likely to impact practice: access the summaries at BMJ Evidence-Based Medicine:
References 
[1]. Acute Kidney Injury After Computed Tomography: A Meta-analysis. Aycock R.D. et al. 2018. Annals of Emergency Medicine, 71(1), 44. (PMID)
[2].  Association of broad- vs narrow-spectrum antibiotics with treatment failure, adverse events, and quality of life in children with acute respiratory tract infections. Gerber J.S. et al. 2017. JAMA: The Journal of the American Medical Association, 318(23), 2325-2336. (PMID)
[3]. Diagnostic Accuracy of a New High-Sensitivity Troponin I Assay and Five Accelerated Diagnostic Pathways for Ruling Out Acute Myocardial Infarction and Acute Coronary Syndrome. Greenslade J.H. et al. 2017. Annals of Emergency Medicine. (PMID)
[4] Effect of cervical pessary on spontaneous preterm birth in women with singleton pregnancies and short cervical length a randomized clinical trial. Saccone G. et al. 2017. JAMA: The Journal of the American Medical Association, 318(23), 2317-2324. (PMID)
[5] Association between calcium or Vitamin D supplementation and fracture incidence in community-dwelling older adults a systematic review and meta-analysis. Zhao J.-G., Zeng X.-T., Wang J., & Liu L. 2017. JAMA: The Journal of the American Medical Association, 318(24), 2466-2482 (PMID)
---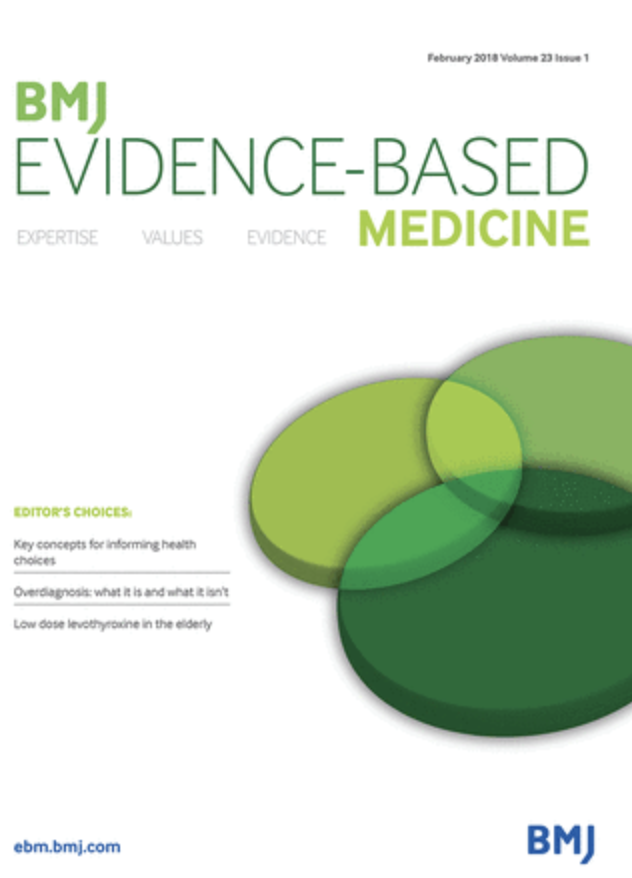 BMJ Evidence-Based Medicine – original evidence-based research, insights and opinions on what matters for health care.
BMJ EBM accepts submissions of a wide range of article types, including original research, debate, analysis & opinion, and clinical spotlight.
We select from over 100 journals reliable and useful evidence summarised in BMJ Evidence-Based Medicine.
Read more about BMJ EBM content in the Welcome to BMJ Evidence-Based Medicine Editorial.
Carl Heneghan is Professor of EBM at the University of Oxford, Director of CEBM and Editor in Chief of BMJ EBM
Follow on twitter @carlheneghan
Competing interests
Carl has received expenses and fees for his media work including BBC Inside Health. He holds grant funding from the NIHR, the NIHR School of Primary Care Research, The Wellcome Trust and the WHO. He has also received income from the publication of a series of toolkit books published by Blackwells. CEBM jointly runs the EvidenceLive Conference with the BMJ and the Overdiagnosis Conference with some international partners which are based on a  non-profit model. 
(Visited 296 times, 1 visits today)