Harlington Hospice is excited to announce a partnership with MyWishes to launch the Digital Wellbeing Hub, for this year's Hospice Care Week. This innovative offering provides a unique platform that seeks to empower and improve the overall wellbeing of people living in and around Hillingdon.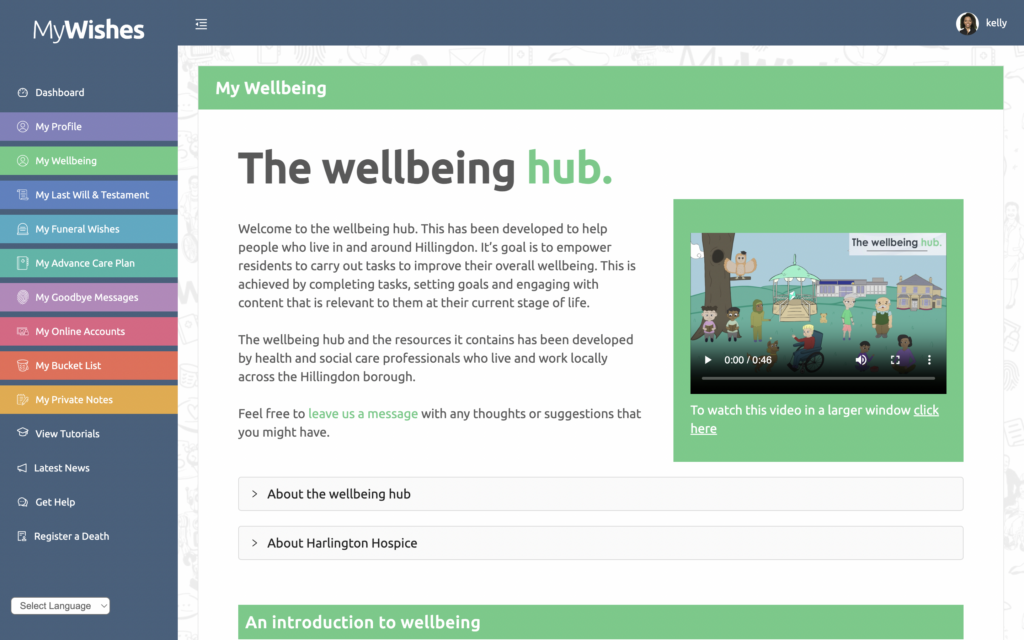 A video highlighting some of the wellbeing hub's features can be watched here: https://youtu.be/3OSdCiaWCpU
The new 'Wellbeing Hub' is now available for all Hillingdon residents; it hosts newly created content to better engage with the local community. By integrating modern, hospice wellbeing content alongside more generalised wellbeing content it is hoped that a symbiotic bridge between the two areas will be created. It is also hoped that by providing the general public with engaging hospice wellbeing content prior to the need for receiving care, the transition to hospice care will be easier and less daunting in the future.
Whirlpool of Grief (reimagined using animation)

Initial sketch and animation by Tom at MyWishes. Voiceover by Paula from Harlington Hospice. The animation can be watched in full here https://www.youtube.com/watch?v=VpNViACSKw4
Trupudio class (reimagined using video and animation)
Trupudio class by Nikki from Harlington Hospice. Filming & editing by James & Tom from MyWishes. The video can be watched in full here https://youtu.be/1cM455vqbHY
The wellbeing hub stands as a pioneering initiative that empowers people to enhance their wellbeing in a holistic way with their own unique wellbeing journeys. To enable this, the platform allows for users to set personal goals and accomplish tasks that align with their individual wellbeing aspirations.
The core aim of this project is not only to attract new people to the wellbeing hub but also to reach those who may be unaware of the extensive services offered by Harlington Hospice. It is important to note that the wellbeing hub is not exclusively focused on Harlington Hospice's services, but rather it serves as a public facing community service and resource. The platform also efficiently signposts residents to a number of other local organisations that can support residents with their wellbeing.
Future development
Harlington Hospice and MyWishes are actively seeking individuals to provide feedback about the site's content and functionality. Research, collaboration and validation has taken place throughout the project between different members of the team and service users.
"Just to say a big thank you to you and your team for doing this. I am finding it much more convenient for me as I can choose the time of day when I have the most energy." – Feedback provided by a current, Trupudio service user after she was granted early access.
Further improvements and development will be directed by feedback and insights provided by the local community.
Tanya Willis, Wellbeing Manager at Harlington Hospice, expressed the organisation's commitment to individualised care and wellbeing, "At Harlington Hospice, each individual matters to us, and we work with every person so they are able to shape their own care. This includes their wellbeing. We'd be grateful for your feedback on the wellbeing hub and welcome any ideas for new content."
Accessibility and user-friendliness were key focus areas when developing the hub and accessing the site is very straightforward and only takes users a few minutes to register. When registering, a Hillingdon postcode needs to be added in order to access Hillingdon specific content. The resident then needs to select the 'My Wellbeing' tab from the menu on the left hand side, which brings them to the wellbeing hub and its resources.
To create a free MyWishes account visit MyWishes.co.uk
If you are interested in being part of the Digital Wellbeing Hub group, please contact Cath Cole at ccole@harlingtonhospice.org.
Project funding
This project was generously funded through a grant programme from the Middlesex Freemasons through the Masonic Charitable Foundation and managed by Hospice UK.
About Harlington Hospice:
Since 1977, Harlington Hospice has been dedicated to supporting local individuals with serious and terminal illnesses, as well as their loved ones. Operating from two centres – Michael Sobell House in the north of the Borough and Lansdowne House in the south – Harlington Hospice provides care not only for medical needs but also endeavours to enhance the overall wellbeing of their patients.
For more information, please visit www.harlingtonhospice.org.
About MyWishes:
Planning for the future and areas relating to future care can be confusing and challenging. MyWishes makes planning personalised and relevant to each person's unique personal circumstance. MyWishes is free for everyone in the UK.
For more information please visit: www.MyWishes.co.uk.
About Hospice Care Week
Hospice Care Week, which is taking place from the 9th to the 15th of October this year, is an annual celebration of hospice care nationwide and the incredible work that is being done to make sure everyone can benefit from the very best end of life care. This year's theme, 'We are hospice care', focuses on the workforce and highlights the important and rewarding work that hospice workers do.
For more information, please visit https://www.hospiceuk.org/our-campaigns/hospice-care-week
Author
James Norris
James is the founder of MyWishes and the Digital Legacy Association. He consults various governmental and non-governmental organisations across the globe in areas relating to death and the internet. He also often contributes and provides thought leadership in areas relating to death, bereavement, technology and the internet on TV, online, print and in scientific journals. Appearances and publications range from BBC Breakfast and the BBC's Morning Live to the New Scientist and Vice magazine. MyWishes is an holistic end of life planning software that empowers the general public to document and share their future care and wider wishes. It utilises technology and innovation to take a public health and person centred approach to end of life planning.
(Visited 108 times, 1 visits today)