I spent last week travelling in Adjumani district (located in Northern Uganda) as part of an exercise in improving the quality of immunization data through support supervision and mentor-ship. This required us as a team to visit as many of the health facilities in the district as possible. Due to the limited sources of our country, we had to make do with one of the hospital ambulances as a means of transport. In between ferrying us from one health facility to another, the driver would get calls to go pick up emergency cases that required urgent transportation to hospital.
In this scenario, all the ambulance is manned by only a driver (no paramedic, no nurse) whose role is to pick you up and drop you at the nearest health facility.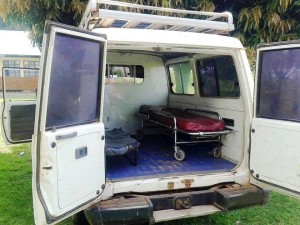 No triage, no first aid, no prehospital care until arrival. This could contribute to the trauma mortality rates, which are already higher in rural areas before victims reach the hospital. It is known that travel time is a predictor of the outcome of an injury and as such many fatal injuries or their severity may be reduced by adequate prehospital trauma care. A previous study in Uganda found that fewer than 5% of injured patients are transported by ambulance to hospital  most of which ambulances are privately run and expensive. In neighboring Tanzania, a study evaluating access to prehospital care found there was no prehospital care in the region.
This highlights a major need to prioritize the development of prehospital trauma care if we are to address the issue of injuries. In addition, while the presence of an ambulance will reduce the travel time to hospital and thus increase the chance of survival, the ambulances themselves should be equipped with materials to offer some basic first aid during the course of transportation. They key policy and clinical practice questions we should ask ourselves should include; how equipped are the ambulances?; what should be the minimum standards a vehicle should attain before it is designated as an ambulance?
(Visited 304 times, 1 visits today)