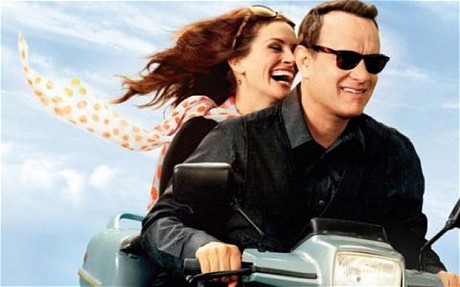 Authorities in Spain have fined the producers of Hollywood film Larry Crowne £25,000 for failing to ensure the lead actors, Tom Hanks and Julia Roberts,  were wearing helmets as they rode on a scooter on the film's promotional poster. The absence of headgear is a violation of Spain's strict traffic rules. These rules ban "any publicity, in print, audio or video that may incite excessive speed, reckless driving, situations of danger or any other circumstance involving conduct contrary to the principles of the law". Apparently, the producers thought the fine was a joke and added that  in the film, all actors riding on scooters wore helmets.
P.S.  The singer Shakira was fined last year for failing to wear a helmet in one of her music videos.
Comment: We need much more such action. Can we give credit to Maria Segui-Gomez?
(Visited 105 times, 1 visits today)