Professor El-Omar has chosen Professor Joseph Sung to do the next #GUTBlog. Professor Sung is a Distinguished University Professor from the  Lee Kong Chian School of Medicine, Singapore, Singapore.  Professor Sung is the first author on the guidelines covered in the #GUTBlog.  The #GUTBlog focusses on the guidelines "Third Asia-Pacific consensus recommendations on colorectal cancer screening and postpolypectomy surveillance" which was published in paper copy in GUT in November 2022.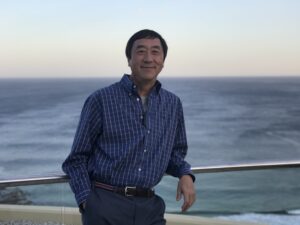 Professor Sung writes:
"As a consequence of massive population, rapid economic growth and ageing of population, the Asia-Pacific region contributes the largest burden of Colorectal Cancer (CRC) cases and CRC mortality (over 50% of total in both cases) in the world1. About two decades ago, the Asia Pacific Working Group started to coordinate research in this area2, from studying the epidemiology, methods of screening, risk stratification of colorectal cancer, to quality assurance of screening program, the Asia Pacific Working Group has been trying to produce evidence to promote colorectal cancer screening in Asian countries in order to reduce the incidence and mortality of the disease. Are we successful? From the data of cancer incidence provided by WHO, we are not doing that well3. The uptake of CRC screening in Asia-Pacific countries is still low and the adherence to FIT has much room for improvement.
Screening for cancer is not a single diagnostic test, but a program. It involves educating the public, providing easy access to screening, offering screening tests (subsided or non-subsided) that are acceptable to the population, follow-up on test-positive cases, surveillance on high-risk individuals, assuring quality control and collection of morbidity and mortality data. Consensus and guidelines alone are not enough to reduce cancer rate unless the public accept, take up the advice and adhere to the follow up and surveillance. In Asia, few countries/cities have been able to achieve this goal. Korea, Japan and Taiwan may be good example of success, Hong Kong and Singapore are struggling to achieve better results. But in the three most populated countries in the world, China, India and Indonesia, screening is still largely "opportunistic".
Our previous studies have shown that doctor's recommendation and knowledge of screening tests were significant predictors of CRC test uptake4. In countries with low-test participation, the general public had the least knowledge of symptoms, risk factors, and screening tests and reported the lowest physician recommendation rates. Family physician's recommendation and family history are the two largest "push factor" for CRC screening5. However, this is offset by financial and access barriers. The government and policymakers can do a lot more to promote CRC screening by developing strategy and offering financial support.
The Third Asia Pacific Consensus published recently in GUT6 has highlighted three main points to colorectal cancer screening. First, risk stratification and sequential offering of tests are reasonable and pragmatic way in CRC screening in Asia to maximize cost-effectiveness. This strategies have been recently validated by two large scales studies from China both demonstrated that this risk stratification method can optimize the detection of advanced neoplasia in the colon7,8. Second, there is a rising trend of young CRC which are more common in males and more frequently occur in the rectum. These early onset CRC appear to related to family history, obesity and diabetes/pre-diabetes. Screening age may not need to be altered at this stage but awareness of the trend is important. In fact, inherited CRC are often missed as family history is not explored adequately in many Asian countries. Finally, Asian doctors should also be more alerted of the often-missed sessile serrated lesions (SSL). The apparently low incidence of SSL in scattered reports from Asia is likely to be a result of unawareness of this condition. Detection of SSL may be greatly improved by proper training of endoscopists using even just white light colonoscopes but trained eyes.
While western societies are seeing a decline in CRC incidence and mortality, Asia should wake up to the call of rising incidence of CRC, higher frequency of young CRC and the blind-spot of SSL. The large burden of CRC screening should justify the use of the Asia Pacific score, which should be validated in non-Asian countries. Evidence is now on the wall. Policy makers and healthcare providers have an important task in their hands to inform the public of this preventable but lethal condition of CRC.
References:
Rabeneck L, Chiu HM, Senore C. International perspective on the burden of colorectal cancer and public health effects. Gastroenterology 2020; 158:447-52.
Sung JJY, Lau JYW, Goh KL et al. Increasing incidence of colorectal cancer in Asia: implications for screening. Lancet Oncology 2005; 6: 871-876
Bray F, Ferlay J, Soejomataram et al. Global Cancer Statistics. CA Cancer J Clin 2018; 68:394-424
Koo JH, Leong RWL, Ching J et al. Knowledge of, attitudes towards, and barriers to participation of colorectal cancer screening tests in the Asia-Pacific region: a multi-centre study. GIE 2012; 76:126-135.
Sung JJY, Choi SYP, Chan FKL et al. Obstacles to colorectal cancer screening in Chinese: a study based on health belief model. Am J Gastroenterol 2008;103:974-981.
Sung JJY, Chiu HM, Lieberman D et al. Third Asia-Pacific consensus recommendations on colorectal cancer screening and postpolypectomy surveillance. Gut 2022; doi.org/10.1136/gutjnl-2022-327377
Kong Y, Zhuo L, Dong D et al. Validation of the Asia-Pacific colorectal screening score and its modified versions in predicting colorectal advanced neoplasia in Chinese population. BMC Cancer 2022 org/10.1186/s12885-022-10047-y
Xu J, Rong L, Gu F et al. Asia-Pacific Colorectal Screening Score combined with stool DNA test improves the detection rate for colorectal advanced neoplasms. Clin Gastroenterol Hepatol 2022; org/10.1016/j.cgh.2022.09.002
(Visited 78 times, 2 visits today)