Professor El-Omar has chosen Dr Sharmila Subramaniam and Professor Pradeep Bhandari from the Department of Gastroenterology, Portsmouth Hospitals University NHS Trust, UK, to do the next #GUTBlog.
The #GUTBlog focusses on the paper "Recovery of Endoscopy Services in the era of COVID-19 – recommendations from an international Delphi consensus" published in Gut in November 2020.  Dr Subramaniam and Professor Bhandari are first authors on this paper, who worked with a team of endoscopy specialists to produce this paper.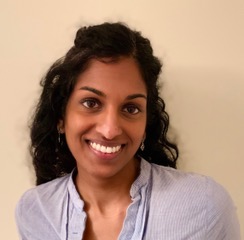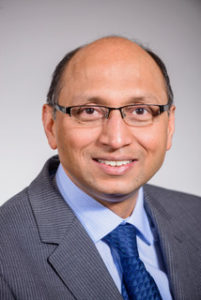 "Unfortunately, much of 2020 has been marked by the devastating effects of the COVID-19 pandemic that has affected millions around the globe. The strain on healthcare systems was immediately apparent and whilst much attention has been focused on the direct harm posed by this disease, as time progressed, the serious unintended consequences of this pandemic on other aspects of healthcare provision have become clear. Endoscopy services ground to a halt for all but emergencies due to valid concerns on virus transmission through infected aerosol generated by these procedures. This has led to a rise in the number of missed or delayed cancer diagnoses given the vital role endoscopy plays as a diagnostic and therapeutic tool for gastrointestinal cancer.
We observed that stopping most elective endoscopy services based on guidance issued by many national and international gastroenterology societies was considerably simpler than the uphill battle of resuming these services as prevalence decreased. It was clear that we could not simply return to the old way of working whilst the disease continued to linger, albeit at lower levels. This provided the basis for our international effort in producing a series of recommendations that could be applied to endoscopy units globally to guide the resumption of endoscopy services in a safe and effective way. We aimed to draw on the expertise of key endoscopy leaders from 24 countries representing Asia, Europe, Middle East, Russia, USA, Australia and Latin America utilising their knowledge of running endoscopy services in a variety of settings with different levels of resources in order to produce a unified approach that would be broadly applicable internationally. We used a modified Delphi consensus methodology to finalise 27 key recommendations.
What is unique about these guidelines?
Firstly, it is the recognition that the recommended processes before, during and after endoscopy will differ according to the level of disease prevalence in a particular area. For example, we strongly recommend testing for SARS-CoV-2 infection in all patients attending for endoscopy in high prevalence regions.
Asymptomatic transmission of infection is acknowledged and the role that healthcare workers play in nosocomial transmission should not be underestimated. Therefore, these guidelines advocate that all healthcare workers in endoscopy should be tested once for infection and undergo daily symptom screening and temperature checks. Cyclical retesting could be considered in high prevalence regions although there is insufficient data at present to recommend this universally.
The validity of the current standard PCR test has also been considered and again here, it is clear that the much touted fear of the risk of false negatives is linked to the underlying disease prevalence, that is, with low levels of disease prevalence, the negative predictive value of the test remains extremely high.
Risk stratification according to testing and disease prevalence can also guide the level of personal protective equipment (PPE) that is required during endoscopy. This consensus recommends that enhanced PPE (with the use of FFP-3/N-95 masks) is used for both upper and lower gastrointestinal endoscopy procedures in high prevalence regions. In low prevalence regions, the risk of infection transmission via colonoscopy is considered negligible, and PPE may be stepped down (surgical masks instead of FFP-3).
This consensus also addressed aspects of the endoscopy environment such as 'donning' and 'doffing' areas, where PPE is worn and removed. We advocate that these areas should be separated (i.e. donning outside the endoscopy room) but acknowledge that given the space constraints in most units, it would be pragmatic to keep the 'doffing' area in one corner of the room, a safe distance away from the endoscopy.
Finally, we hope that these consensus recommendations will act as a catalyst to kickstart endoscopy now that the first wave of the pandemic has passed. With no realistic prospect of a vaccine or robust treatment soon, it is clear that the pause on endoscopy or very low levels of endoscopy cannot be sustained and a balance needs to be struck between increasing procedural volume whilst acknowledging and mitigating the potential infection risk from these procedures with a cohesive and evidence based approach."
Dr Sharmila Subramaniam @Sharm_Sub
Professor Pradeep Bhandari @Gastro3570
(Visited 394 times, 1 visits today)