Continuing our new 'What's hot and what's new?' blog series for Evidence Based Nursing, we share reflections on the latest news, research and updates to clinical practice and guidelines from different areas of healthcare and topics.  This week, Natasha Carr, Senior Lecturer in Midwifery and course lead for the BSc (Hons) and MSci Midwifery programmes at Birmingham City University, United Kingdom shares her insights and reflections on the recent 33rd International Confederation of Midwives Triennial Congress.
The ICM congress was a celebration of being 'Together again: from evidence to reality'. It had a purpose of promoting the role of midwifery, contributing to better maternal and child health and being a forum for knowledge, skill exchange and striving for midwifery international standards.
The congress boasted a diverse and engaging programme that reflected the immense global impact that midwives make, addressing a range of key issues in midwifery, maternal and newborn health. The congress heard from world renowned expects and midwives working on the ground floor covering topics from the midwifery workforce, health inequalities, leadership, digital health, humanitarian issues, research, and international partnerships.  Presentations, posters and workshops were selected through a rigorous blind peer review process from more than 1100 abstracts.
Some of the key highlights of this year's congress included:
Opening ceremony: over 113 country flags of member associations created a colourful extravaganza and a joyful cultural contribution of dance, music and inspirati
on from Young Midwife Leaders and other presentations. Young Midwife Leaders is a group of 16 midwives from 15 different countries who discuss a variety of themes related to fostering outstanding leadership in young midwives. The ICM will strengthen young midwives to be excellent leaders and tackle some of the major global health concerns of the present by fostering the future generation of midwives. In addition, the ICM will establish a global network of young midwives to promote learning and support as well as open doors for advocacy, research, and innovation.
Ukrainian midwives:  midwives are on the frontlines, often working outside of their usual scope of practice with limited resources to support women and are the last healthcare professionals standing in war zones. An exploration of the role of midwives in humanitarian and fragile settings saw the sharing of birthing triplets in a bomb shelter in the Ukraine. The tools, resources and training midwives require for this gruelling, unpredictable work, and the underlying need for more resilient health systems with midwives' voices and leadership at the centre was explored. Standing ovations were received.
Poster presentations: a multitude of posters were presented on a range of topics, but particularly advancing midwifery research and practice, generous sharing was seen.
Wellness for midwives: concurrent session were held with yoga, water healing meditation and a conversation on self-care for midwives. Midwives matter: developing compassionate selfcare skills workshop promoted that as midwives we need to look after ourselves.
International support and working together: Twinning between midwives' was promoted in a workshop and an inspirational way of strengthening associations with stories of for example, India's midwifery journey: milestones reached and way forward. A dedicated professional cadre of Nurse Practitioners in Midwifery (NPMs) was introduced under the Government of India Midwifery Initiative. The audience heard from Indie Kaur and the amazing education for midwifery and midwifery led services at Fernandez Foundation in Hyderabad India. Birmingham City University is proud to have a partnership with Fernandez, visiting, teaching, and taking part in exchanges.
Education and assessment: Global midwifery educators shared innovations and good practices. The value of the conference lay in networking, sharing ideas and learning from each other. Higher income countries need to share knowledge and experience with lower income countries. Midwives in education posts can and do make a difference.
Transitioning to midwifery models of care: The evidence is clear. Midwives saves the lives of mothers and their newborns, and improve the experience of care for women, newborns and their families. Many countries are in the process of transitioning to a midwifery model of care or would like to start planning to strengthen midwifery. The conference shared the knowledge and experience for countries to do this. Networking was evident everywhere. See the Twitter hashtag #ICM23 @world_midwives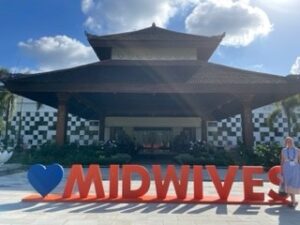 The Future
Looking to the future: The tenure of the current ICM present Dr. Franka Cadee came to an end and the former Chief Midwifery Officer for England, Jacqueline Dunkley-Bent took up the helm as the first Chief Midwife for the International Confederation of Midwives.
Midwives around the world continue to be at the bottom of the pay equity ladder, despite the fact that they quite literally bear the costs of supporting women and families—from giving birth to treating victims of gender-based violence—in locations where there would otherwise be no services. The State of the World Midwifery Report for 2021 is a call to action that emphasises the necessity of giving midwives the knowledge and abilities they need to deliver high-quality care and of improving the standard of midwifery education in low- and middle-income nations. ICM published the updated Global Standards for Midwifery Education that same year.
The next congress is in Lisbon, Portugal in 2026, and it is absolutely worth attending.
Reflections
Has it renewed my passion and vigour for midwifery? Yes, it was a much-needed boost as midwives have emerged from Covid 19 and face workforce and practice challenges in all countries.
Can midwives make a difference, even in these difficult times? Yes, the ICM envisions a world where every childbearing woman has access to a midwife's care for herself and her newborn.
Do governments and employers need to support midwives better? Absolutely, as we really do make a difference. Investment is required.
Do our midwifery students make a difference? Yes, I was witness to two of my ex-students presenting here at the ICM and working globally making an impact; Anna Byrom and Jama Egal making a difference in the midwifery world.
All presentations have been made available to delegates on the online platform for 4 months following the conference and these can be accessed to further promote shared knowledge of midwifery care, however ideally these would be available to all midwives.
(Visited 194 times, 2 visits today)