Tiffany Decosse BEd (Masters Student) & Stacey Roles RN MScN PhD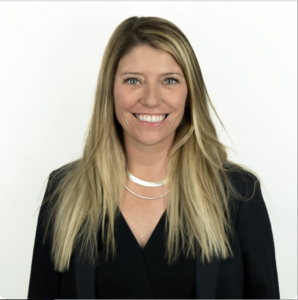 Stacey Roles, RN, MScN, PhD has a unique story.  She took her passion related to health care for those with mental health concerns and developed a business which offers training to health care providers and enhances health care service delivery. Her story offers insight into the potential of nurses in creating meaningful change.
Stacey Roles was born and raised in Northern Ontario, Canada. She trained and worked as a registered nurse and quickly became passionate about mental health care where she noted a tremendous gap in service for those suffering from mental health issues.  She sought additional education and qualifications to prepare her for advanced clinical care.  At the same time, she developed a business with the purpose of not only expanding psychotherapy services across the northern regions of Ontario, but also to train other health care professionals. Stacey has taken a specialization in psychiatry and mental health to a new level by empowering others who are passionate about helping to become educated and clinically skilled to better treat clients through effective psychotherapy techniques. Now, as the owner and director of Roles & Associates Psychotherapy Services Inc., Stacey leads a team of 15 contractors and multiple graduate students all over Ontario; with brick and mortar offices in three locations in the northern province and virtual offices offering services to those in other cities. Team members include nurses, social workers, social service workers, occupational therapists and psychotherapists in order to meet the needs of the communities they serve. Stacey is able to reach health care professionals throughout Canada and the United States in sharing her knowledge and experience through training, supervision and workshops.
In the early stages of development of her business, Stacey decided to complete a PhD program in order to conduct research in her field.  Her PhD study focused on the quality of life for those with borderline personality disorder.  The research clearly demonstrated the need for interprofessional and intersectorial strategies to address the care of those with complex mental health concerns.
She learned from this research and several aspects of the services offered to mental health clients in Ontario.  Stacey's very committed to meeting client's needs. She was quick to offer virtual counselling free of charge to health care providers during the pandemic.  She also offers a sliding scale for counselling for clients who are not able to afford the full costs of her services, or who do not have insurance coverage for it.
Stacey has created a business that exudes a culture of empathy and inclusion.  She offers a sense of community to all members, offering supervision and encouraging opportunities for consultation between specialties and those with different therapeutic backgrounds. As a result, the Roles & Associates team is uniquely able to be collaborative in becoming more socially and culturally responsive, and are consistently updating collective knowledge on current best-practices and research in CBT and other research-based therapies. All members of the Roles & Associates team share the goal of utilizing research-based modalities and a holistic approach to make positive differences in the lives of their clients.
Being a trainer and supervisor as well as a practicing psychotherapist, Stacey guides all professionals working in her practice in continuing education through her CBT training center and through other organizations, recruiting associate psychotherapists who are highly knowledgeable and able to help clients with almost any mental health struggle. Stacey also encourages those with specialized training to share their knowledge more widely as well, offering opportunities for associates to lead workshops through her organization.  These workshops cater to learning counseling techniques or skills for specific modalities or foci such as psychotherapy, workplace wellness, health care charting, Socratic dialogue, PTSD, policy or staff development processes as well as regarding specific demographic groups, such as youth, 2SLGBTQ+, those struggling with bereavement among others. These sessions can be adapted for clinicians, organizations, clients, the public or students.
Stacey Roles has demonstrated the potential of the knowledge and skill of a nurse in having the ability to create meaningful change to a health care system. She exemplifies the clinical and leadership competencies of expert nurses and has made a real difference in the lives of people with mental health concerns.
Facebook @roles&associatespsychotherapservicesinc
Instagram @rolesandassociates
Website rolespsychotherapy.com
Linkedin https://www.linkedin.com/company/roles-associates-psychotherapy-services-inc/
(Visited 711 times, 1 visits today)