This weeks EBN Twitter chat is on Wednesday 17th July (8-9pm UK time) and will be discussing quality of life (QOL) in people with dementia. It is often assumed that a diagnosis of dementia is inevitably associated with a reduced QOL. Certainly, dementia makes a big impact on functional and cognitive status and this is known to be associated with increased risks of depression and anxiety, as well as social difficulties. Dementia is progressive, incurable and life-limiting. People with dementia (PWD) require ongoing care, often in a variety of clinical settings, and the focus is to promote well-being and to maintain optimal function (as viewed by the PWD).
Existing ways of measuring QOL include observational tools such as Dementia Care Mapping1 (where staff are invited to take the perspective of the PWD and observe responses and behaviours in different situations), self-reported tools like the World Health Organisation's WHOQOL2, and proxy tools (where the person's carers are interviewed about the previous week) such as the Quality of Life in Late Dementia Scale (QUALID)3. Yet a recent study demonstrated significant differences in QOL measurement between staff ratings and self-reported QOL4, a paper discussed in a recent EBN commentary5 by Terri Kean. But how do we make meaningful measurements of QOL? Is it even possible? And where cognitive function is significantly impaired, is it possible to make use of proxy measures to evaluate a person's QOL? How might the ways we measure QOL change across the dementia trajectory, from diagnosis through to end-of-life? Finally, what is the purpose of trying to make such measurements?
It is often assumed that PWD are not able to make valid and reliable self-evaluations of QOL because of cognitive impairment. Reports by proxies (such as carers) may tell us more about the state of mind of the carer than the PWD. There is some evidence that PWD are able to make both reliable and valid evaluations of their own wellbeing6.
We invite you to bring your clinical, personal and academic ideas and experience to this Twitter chat as we explore this important topic. You do not need to be a nurse to participate; caring for people with dementia is a multidisciplinary, multi-agency effort. The Twitter chat will be jointly hosted by @heblau (Lecturer in Nursing, University of Manchester) and @terri_kean (Assistant Professor in Nursing, University of Prince Edward Island)
Participating in the Twitter chat requires a Twitter account; if you do not already have one you can create an account at www.twitter.com. Once you have an account, contributing is straightforward: you can follow the discussion via @EBNursingBMJ and #ebnjc, and contribute by tweeting with the hashtag #ebnjc.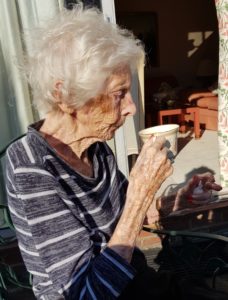 Kitwood, T. & Bredin, K. A new approach to the evaluation of dementia care. J. Adv. Heal. Nurs. Care 1, 41–60 (1992).
WHO. WHOQOL: measuring quality of life. Psychol Med 28, 551–558 (1998).
Weiner, M. et al. The quality of life in late-stage dementia (QUALID) scale. Am. J. Am. Med. Med. Dir. Assoc. 1, 114–116 (2000).
Dewitte, L., Vandenbulcke, M. & Dezutter, J. Cognitive functioning and quality of life: diverging views of older adults with Alzheimer and professional care staff. Int J Geriatr Psychiatry 33, 1074–1081 (2018).
Kean, T. Quality of life among older adults with Alzheimer's disease in residential care: who knows best? Evid. Based. Nurs. Online first: doi: 10.1136/ebnurs-2018-103005 (2019).
Thorgrimsen, L. et al. Whose Quality of Life Is It Anyway? The Validity and Reliability of the Quality of Life-Alzheimer's Disease (QoL-AD) Scale. Alzheimer Dis. Assoc. Disord. (2003)
(Visited 1,317 times, 1 visits today)