Clare Carswell, Undergraduate mental health nursing student  & Dr Helen Noble, Lecturer, Queens University Belfast
Deliberate self-harm is a term that can be used to describe a variety of behaviours that involve an individual inflicting some form of physical harm to their own body. It is most typically associated with self-inflicted lacerations and self-poisoning. Self-harm is a growing issue, with an increase in the incidence within Britain and worldwide. A longitudinal examination of presentations to Irish hospitals for self-harm found an increase of 2-6% per year between 2006 and 2009 [See Perry et al 2012 http://journals.plos.org/plosone/article?id=10.1371/journal.pone.0031663]. The most recent report by the Royal College of Psychiatrists (2010) also noted that self-harm is one of the five top causes of hospital admissions, although this report is due for review. http://www.rcpsych.ac.uk/pdf/position%20statement%204%20website.pdf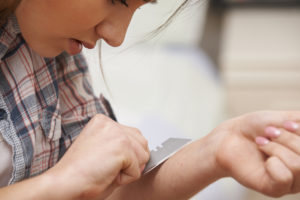 A number of studies suggest that only 10-20% of people who self-harm present to hospital or seek treatment and as the incidence of self-harm is typically measured by the number of people who present to hospital the scope of the issue could be vastly underestimated. While the increase in rate of self-harm globally, coupled with the existing high incidence, is valid justification for developing an understanding for practice in this area; another rationale for exploring the topic is the link between self-harm and suicide. Self-harm has been shown to be the most important factor when assessing risk of suicide meaning that appropriate early intervention is essential. Mental health trained practitioners are the professionals typically associated with providing comprehensive assessment and interventions, however the vast majority of individuals who self-harm will make first contact with emergency department personnel. It is crucial that the practice of emergency department nurses is compassionate, empathetic and effective in assessing and treating these patients, especially due to the associated risk of repeat episodes of self-harm and suicide following an initial presentation.
Attitudes can have a significant effect on behaviour meaning that the attitudes nurses hold can have an impact on their nursing practice. Patients who self-harm report high levels of stigma and negative attitudes, stating that they have been called 'attention seeking' or 'manipulative' as a result of the self-injurious behaviour. The text Blades, Blood and Bandages tells the stories of 25 people's experiences of self-injury and investigates how those who self-injure are 'affected by suffering, ritual and stigma' http://www.palgrave.com/br/book/9780230252813
These negative attitudes and beliefs have originated from not only their friends and family, but also from medical professionals and emergency department personnel following presentation for their injuries. These attitudes can be interpreted through the professional's behaviour and can have a profound effect on the patient. They can determine whether the patient decides to stay in the hospital for assessment, treatment or referral and whether they are instilled with a sense of hope and validation which in turn can help reduce the risk of further incidents of self-harm and even suicide. Attitudes can also have a more direct impact on nursing practice, for example nurses may feel unequipped or unprepared to perform a comprehensive assessment or to refer on to specialist mental health services. Referral to services can be problematic with this patient group. An understanding of the attitudes held by emergency department nurses may be able to inform areas for improvement in the education and practice of general nurses. One potential area for improvement could be a need for further education or training on the subject of self-harm, as an increased knowledge of self-harm has been shown to improve attitudes towards this patient group. Another area for improvement may be in the practice of emergency department nurses and improved access to mental health services, either through a mental health liaison nurse, a crisis intervention team or an unscheduled care team. More collaborative working between emergency departments and acute or community mental health services, and the opening of the lines of communication between services, may also be an appropriate change to practice. NICE Guidelines (2004) on self-harm recommend that emergency department services and mental health services should play a joint role in developing training on the treatment, assessment and management of self-harm. Emergency department nurses may feel that they do not have the resources, the capabilities, the appropriate skill set or be in the correct setting to adequately address the needs of the patient group meaning that involvement of mental health nurses could be crucial to improving the service provision for individuals who self-harm.
(Visited 7,536 times, 1 visits today)