The UK Government is holding a review after patient-led campaigns on 3 NHS treatments: the hormone pregnancy test Primodos used up until 1978; the anti-epileptic drug sodium valproate and its use in pregnancy and the use of vaginal mesh.
Carl Heneghan
---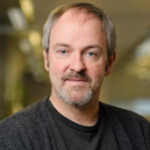 Next week I've been asked to present evidence to the Independent Medicines & Medical Devices Safety Review. Led by Baroness Cumberlege the review is conducting meetings with a broad range of stakeholder groups. In this post, I briefly outline some of the problems that necessitated a governmental review, while collecting my thoughts about the cross-cutting issues.
Jeremy Hunt MP, the former UK Secretary of State for Health and Social Care, said the response the three groups of patients (Primodos, sodium valproate and surgical mesh) received from the NHS and its regulators were "not good enough," and announced the Government's review  due to patient concerns and patient-led campaigns.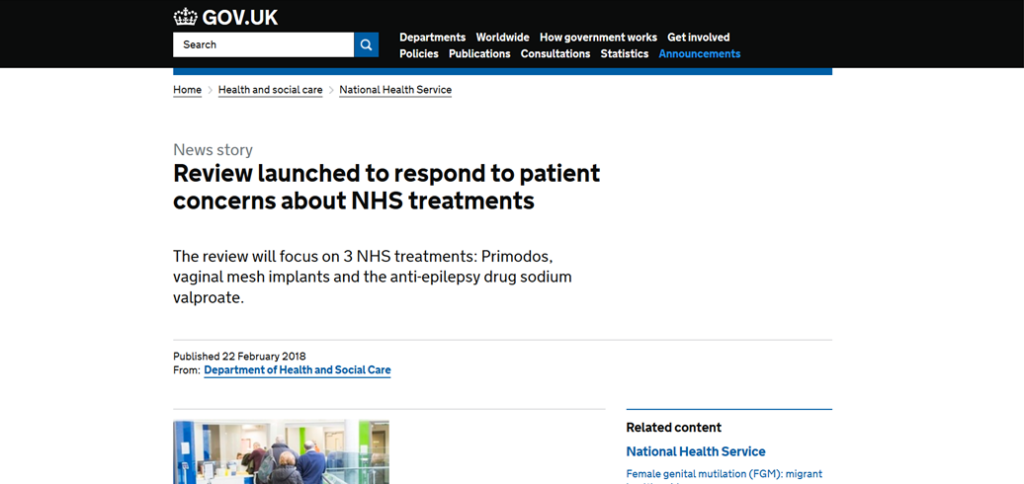 Sodium Valproate: What's the problem?
In 2014, the European Medicines Agency (EMA) recommended strengthening the restrictions on the use of valproate in pregnancy and women of childbearing potential, In February of this year, the Pharmacovigilance Risk Assessment Committee of the EMA published recommendations that valproate should not be used in pregnancy unless the woman has epilepsy unresponsive to other anti-epileptic drugs.
Evidence shows that valproate exposure is a major risk to the intrauterine development of children: about 11% of exposed children are born with congenital malformations, roughly three times the risk than in the general population. I wrote about this here in BMJ EBM.
The evidence is clear: individuals should have been switched over thirty years ago to treatments with lower risks; given minimum effective doses of valproate if alternative treatments were not available or advisable and given routine folic acid supplements (a fourfold risk of neural tube defects was apparent in the evidence from 1992).
Regulators, governments, drug companies, journal editors, prescribers, and systematic reviewers have all acted too late. Many women's children have been harmed.
Hormone pregnancy tests: what's the problem?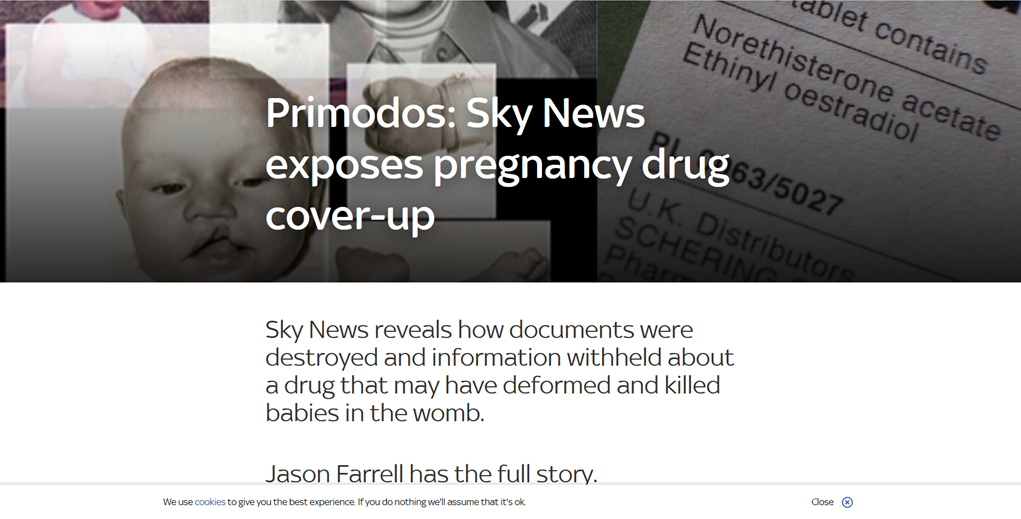 Oral hormone pregnancy tests (HPTs), such as Primodos, containing high doses of norethisterone, were given to over a million women until it was withdrawn from use in 1978. The discovery of previously confidential documents led to renewed concerns about its potential harms in 2014 when the UK's Medicines and Healthcare products Regulatory Agency (MHRA) reviewed the evidence. Published in 2017 the report stated there was insufficient evidence for an association between oral HPTs and congenital malformations.
However, recently we published a systematic review, that showed the use of oral HPTs in pregnancy is associated with increased risks of congenital malformations. We found significant associations for all congenital malformations and for congenital heart malformations, nervous system malformations and musculoskeletal malformations – Why not read the review? I'd be interested in your thoughts as to why didn't the previous reviews found no associations.
Want to read up on the full-story then take a look at a historical argument for regulatory failure in the case of Primodos and other hormone pregnancy tests
Transvaginal mesh: what's the problem?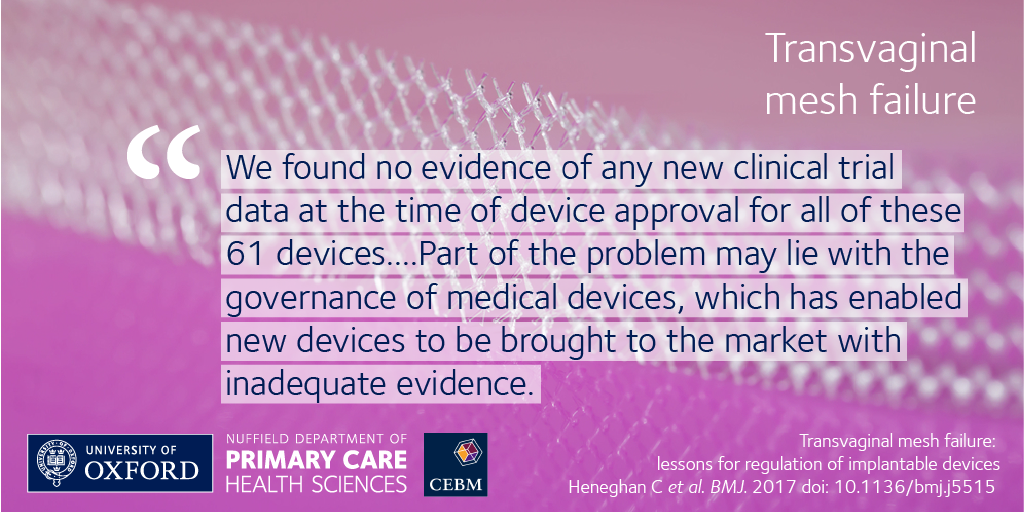 Transvaginal mesh products for pelvic organ prolapse and stress urinary incontinence have been approved on the basis of weak if any, evidence over the last 20 years. Devices have gained regulatory approval based on a few products. We described the failings in the approval of transvaginal mesh devices that exposed women to avoidable harms and how to avoid their repetition in the BMJ and written about the five reasons why the UK banned transvaginal mesh. These include lack of long-term outcomes; ignoring FDA warnings; failure to take notice of removed devices; use of equivalence for approval and the continual denial and dismissal of the problems with mesh.
If you want to find out more about the review then take a look here. At this moment it's not clear when the report will be made available but given the scope and the remit, I'm guessing, it will likely be about this time next year.
---
BMJ Evidence-Based Medicine – original evidence-based research, insights and opinion
Read more in the Welcome to BMJ Evidence-Based Medicine Editorial.
---
Competing interests
Carl has received expenses and fees for his media work including BBC Inside Health. He holds grant funding from the NIHR, the NIHR School of Primary Care Research, The NIHR Oxford BRC  and the WHO. He has also received income from the publication of a series of toolkit books. CEBM jointly runs the EvidenceLive Conference with the BMJ and the Overdiagnosis Conference with some international partners which are based on a  non-profit model.
(Visited 2,260 times, 1 visits today)